Show
23+
sites like

BondageMe

:
BondageMe
Bondage Me! There are many reasons to love BDSM porn. The blending of pain and pleasure is a potent force. It crosses wires in the brain and creates orgasms that could snap a cock in two.
If You Can't Join 'em, Beat 'em
There's another reason my readers love BDSM, and it's because of the B. My readers adore bondage because it's the only way you fucks will ever get laid. You need a woman with no power for you to realistically put yourself in the driver's seat.
I, for one, compliment your realistic self-image. You're fully aware that no woman would ever want to fuck you. They could try, but it's like holding back a sneeze. No matter how much a bitch might want to force herself to fuck you, her body won't let it happen.
But all that reluctance melts away once a bitch is a slave. Now she has to say yes, and if she doesn't, she gets the rope. All you have to do is find an alpha male with a slave he is willing to donate to you. I'm sorry, did you think a bitch would voluntarily be your slave? Incorrect.
As you can guess, the scenario where you meet an alpha slave master and convince him to let you borrow a bitch is a rare one, so in the meantime, you better have a backup plan. I don't know about you, but anytime I have plans that don't involve masturbating to internet porn, my backup plan is masturbating to internet porn.
As for where to do said masturbating, let me recommend Bondage-me. Bondage Me is a BDSM porn tube site with enough content to keep you going for months. You could try to get through it all, but I fear you will die of a heart attack first.
Bondage Me has a classic tube site design with a dark background great for hours of porn watching. The main menu resides up top and includes the options Home, Search bar, General, Bondage female-female, Bondage male-female, Bondage female-male, Suspension, and Bondage metal.
Down the left side is a column of the most popular content on Bondage Me. By far, the most popular content on the site comes from Prison Teen studios. They feature recently arrested teens trying to fuck their way out of trouble. Is this a regular occurrence? Maybe I should get a side gig as a campus police officer at a party school.
Below the popular content is a list of tags that includes such hits as Ball gag, Chair tied, Crotch rope, Damsel in distress, Cleave gag, Mouth stuffing, Tape bondage, Leg iron, Hogtied, MILF, and Struggling.
The center of the page is taken up by content thumbnails organized by most recently added. And on that note, let's look at some of the great content here.
Bookie Bondage
You love MILFs, I love MILFs, we all love MILFs, so let's start with "MILF Dakkota Grey - Gamble on Bondage, Cinched and Secured." Dakkota Grey has a gambling addiction, and her husband is fucking sick of it. She is spending up all of his hard-earned money on bookies and lotto tickets. What the fuck?.
This last round of gambling is the final straw. He can't put up with it a day longer, so he ties her to a dining room chair. Once secured, he nabs her phone in an attempt to call her bookies and cancel her most recent bets. The problem is that her phone is locked, and she refuses to give up the password.
Well, if she won't give up her password, why should he have to listen to her constant babbling. All she does is spout bullshit excuses for her shitty behavior, so hubby steps into the other room and comes back with a gag.
Now that her mouth is stuffed, she struggles hard against the ropes, but they are so tight that every movement sends pain through her body. She also won't stop fucking screaming against her cleave gag. It's annoying enough the hubby steps out again, but this time to grab tape, which he applies without removing the previous gag.
The hubby is finally able to get her phone unlocked, and to his dismay, his wife wins all her bets. The last thing he needs is another excuse for her to justify her gambling, so he leaves her on the chair to go pick up the winnings himself. Who knows? Maybe he won't bother coming back.
Jim Hunter's Lair is another popular studio on Bondage Me. To learn why all you have to do is watch "Carmen Valentina Curvy Blonde Hogtied with Leather Belts, Nipples Clamped, with Steel Clamps, Jim Hunter's Lair."
Jim is a Hunter, but instead of deer or antelope, he hunts sexy bitches, and Carmen Valentina has been unlucky enough to end up in his grasp. When she awakes, she's sitting on a tall stool tied up by burly leather straps. This is not fucking good.
Her wrists are tied up tight behind her, and her shoulders are clamped to her sides. I must say that it perfectly frames her ample breasts. Her thighs didn't escape the rope either. They are also bound by the same thick leather straps on her chest and wrists.
Carmen does her best to loosen her bonds, but it's no hope, so she changes her tactic to hopping around the basement, searching for something sharp enough to cut her wrists free. Unfortunately for her, the Hunter returns before she can make any progress.
He pushes her to the floor and puts the icing on the cake of her bindings by hogtying her. She is now officially immobile, and it's time to bring out the implements of torture. He exposes her perky tits and applies sharp nipple clamps that dig deep into her sensitive areola flesh.
The pain makes her scream, and she struggles against her restraints, but it's hopeless. All she can do is grin and bear it. The pain increases tenfold when the Hunter rolls Carmen over onto her belly to tighten her straps. The cement basement floor pushes the nipple clamps deeper into her tits.
It's Classes or Crotch Ropes
Old Jimmy boy has some of my favorite content on Bondage Me, and "Michelle Peters - Party Girl Left Tied to a Tree Deep in the Woods, Jim Hunter Lair" is in my top ten list.
Michelle Peters is a sexy little party animal with the habit of skipping classes to go clubbing and get fucked up. After a couple of semesters of this behavior, she is about to flunk out of college. To stop that from happening, Michelle's parents have hired Jim to follow her around and keep her in line. If only more parents were as attentive as these.
Despite his warnings, Jim catches her sneaking out in a skimpy pink dress on a school night. It's clearly not the uniform of a student about to do some late-night studying at the library. Words aren't going to be enough for this cunt. Jim is going to have to get physical in order for Michelle to learn anything.
So, Jim Hunter kidnaps Michelle and hauls her deep into secluded woods where no one can hear her scream. Perhaps some quiet time tied to a tree will give Michelle a chance to think about her poor decisions.
He pulls her arms behind the tree and binds her wrists. Once the wrists are secured, he pushes her elbows together and ties them up also. This puts Michelle in a highly uncomfortable position. As a bonus, it also forces her chest out and advertises her delicious titties.
At this point, Michelle is putting up a fight and starting to scream. She'll regret yelling once Jim shoves a dirty old rag down her throat. She begs him not to do it, but this dumb hussy can't be trusted to shut up.
Once Michelle is fully attached to the tree and not going anywhere, Jim prepares the crotch rope. If she isn't regretting going out to party yet, she will once this rope is buried in her cooter. He ties that crotch rope so tight I thought he was going to cut her in half. Nobody will be fucking that pussy for a couple of weeks.
Bondage Me has all the sick, deboucherous, and perverted porn a man could need. You'll love the content from studios like Prison Teens and Jim Hunter's Lair. The classic tube format is easy to navigate, and the dark background makes marathon sessions easy on the eyes.
Bondage Me is missing one thing, thick bitches. All the models on the site are skinny cunts. I want to see a few plumpers thrown into the mix. Big girls need to be tortured too.
Bondage Me has everything you need for a quiet evening at home with only a bottle of lube to keep you company.
Working with great studios
Lack of ads
Great tags
No big bitches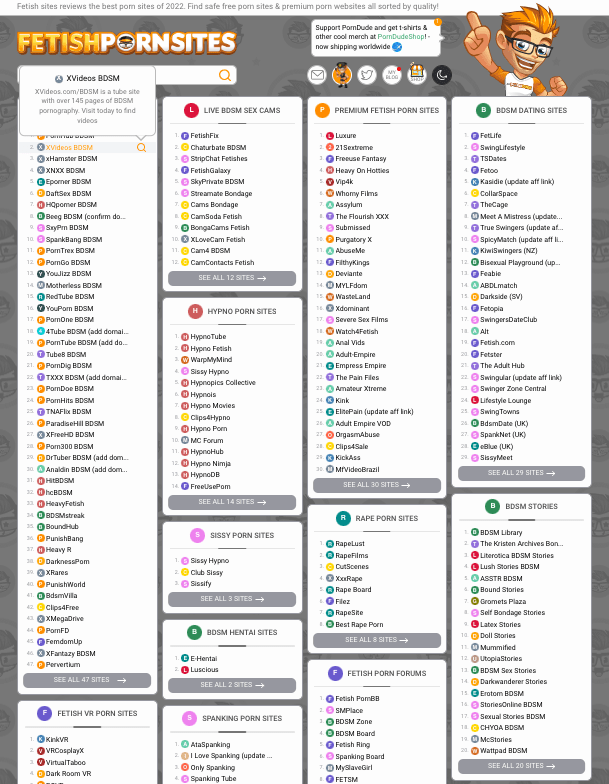 23+ Bondage Porn Sites LIKE BondageMe