Show
23+
sites like

BoundHub

:
BoundHub
What might be found on Bound Hub? Honestly, this one isn't any kind of mystery because it's right there in the name. There's more than just binding inside, of course, but BoundHub is just a catchier title than BoundAndGaggedAndBlindFoldedAndFuckedHub. I mean, shit, just look at how bad that hypothetical title looks in a paragraph. Now imagine typing that into your browser every time you want to watch some bondage porn. No, I think I like the current title better. It's simple, to the point, and I think it sums things up in a clever way you're going to remember. This is Branding 101 for a free bondage porn tube.
There are a few branding videos on BoundHub.com if you're looking for something hot, tingly, and burny. Then again, maybe you're looking for something tamer like a Chinese bride hogtied and hung from the ceiling in her wedding dress. Or a babe squirming in a plastic bag as all the air is vacuumed out of it. If they can keep nearly ten million BDSM fans a month happy, I'm guessing there are all kinds of kinky shit in there to shake your dick at. There's only one way to find out for sure, though, and it involves a Fleshlight, a bottle of lube, and a cat o' nine tails.
Just What Exactly is Going on at BoundHub
BoundHub's got the same basic tube setup you've seen a million times before, only it isn't the same basic set of thumbnails you'd see on any random anything-goes sex video site. I don't see any pornstars I recognize on the front page, which is really saying something, considering I'm a professional masturbator, longtime porn reviewer, and even a dick-slanging video stud over at PornDudeCasting. Nor are these the usual screencaps of cock-sucking, dick-riding, and lesbian scissoring.
To be honest, BoundHub doesn't even have the kinky variety I often expect from a fetish tube, with a little bit of this and a little bit of that in a thousand different flavors. They've kept the focus on bound women really tight, just like the restraints on every broad pictured on the front page. I had to flip through a few pages of previews before I saw a woman moving about in her free will in a Rubber Glove POV video. The rest are bound with ropes, handcuffs, zip ties, plastic wrap, latex, chains, and other tools.
I've reviewed hundreds of porn tubes at this point, so I'm not bullshitting when I tell you how rare it is to find one that sticks so tightly to one deep niche. Like the title says, this site is all about bound women, plain and simple. That alone is impressive, but I'm also blown away by how big they've managed to build the collection even without padding it with non-bondage fetish content, as most similar sites do. There are hundreds of thousands of free BDSM movies in the library. Holy fucking shit.
Part of the reason they've grown so big is the fact that they've been around a while. BoundHub.com has been alive and kicking since 2015, which is forever in Internet years and a good long time to build a kinky porn stash. The site takes user uploads and sees dozens of fresh movies added to the pile every day. On the entire front page right now, 36 videos were added within the last 8 hours. It doesn't take a math whiz to see how quickly that will add up, let alone what they can accomplish since 2015.
Tied Up and Gagged in Myriad Freaky Situations
Despite sticking so strictly to a theme, BoundHub.com offers a surprising range of porno with restrained chicks. Their Categories page is a picture menu of a couple of dozen bondage subgenres, with digits that tell you how many are filed away under each niche. They've got nearly a hundred thousand under Classic Bondage alone and even more filed under Gags. Nylons, Lezdom, and Vibrators are big draws around here, as are Amateur Bondage, Maledom, and Femdom.
On a typical porn tube, the kinkier niches have smaller numbers of videos, and that holds true even in a hive of depraved perversion like BoundHub. While they may have over 9,000 Humiliation videos, they've only got 773 where bound babes are banged by Machines. For every 7,564 Leather clips, they've only got 4,646 Latex films and a mere 1058 Rubber movies. Even with the smaller numbers, it's nice to see such subgenres as Boots, Costumes, Sex in Bondage, and Devices represented so well, with thousands of videos for most categories.
I fell down the Dildos rabbit hole for a while (3281 videos). One of the videos I found there was a 35-minute film called Humiliating Her Bitch Boss. It's got higher production values than a lot of the amateurish fetish stuff, with a set, editing, and storyline akin to what you'd find on a random paysite. I recognize the office girls from other fetish videos, though I don't know their names. However, instead of the lesbian sex that would break out in a more traditional office porno, the tattooed chick ends up tied up, gagged, spanked, and fucked with a strap-on as she's bent over the desk.
The runtime of the movie was an absolute disaster for my productivity, and it wasn't a fluke. Like any free tube, they've got a fair share of short clips, like a recently uploaded 36-second snippet of a taped-up and tied chick trying to hop and a two-minute torture montage called the Perils of Hitchhiking. That said, there are a ton of long videos on the site. Nearly half of the new updates out front run twenty minutes or more, with one full vintage movie that's longer than an hour and a half. Jesus, it seems my day is fucked. (Just like these babes in the blindfolds and ball gags!)
Spending My Day Whacking Off to Bound Women
Eventually, as I toured BoundHub.com with my dick in my hand, I started seeing a few women I was more familiar with. Piper Perri popped up, and Abella Danger surprised me again with another bit of hardcore bondage porn I didn't know she'd starred in. Overall, though, I saw very few big-name pornstars. It's mostly a mix of sexy small-time amateurs and fetish models, with a few famous chicks thrown in here and there. Even if you sort their Models index by Top Rated, it's mostly chicks you won't recognize.
Not that I'm complaining. I see some of my favorite fetish chicks like Caroline Peirce and both-world starlets like Cadence Lux, plus many beautiful new faces and smoking bodies. The truth is, bondage porn sometimes works best with women you don't recognize because it's easier to buy the scenarios they're selling when you know they aren't famous actresses. Then again, maybe you don't care about the plotlines but just like seeing pretty girls squirming around on the floor with their hands tied behind their backs.
As I was whipping up this review, somebody added a four-minute video entitled Self Bondage Forced Orgasm. I don't know how this little-boobed babe got herself into such a predicament all by herself, with her arms and legs strapped to the bed and a powerful vibrator roped to her pussy. She's got a gag in her mouth, but it does little to muffle the moans as she writhes around in what might be agony or might be ecstasy. What happened after the video ended? How did she escape to upload it? The world may never know.
BoundHub.com isn't a porn site for everyone. With their tight focus on tightly bound women, it isn't even a porn site for every BDSM fan, but it's a fucking goldmine if you're picking up what they're putting down. Few websites can maintain a theme so consistently for so long, let alone build up a collection of this size. This one's highly recommended if you like your women beautiful and helpless.
Free bondage tube
A tight focus on bound women
Hundreds of thousands of videos
Dozens of new additions are added daily
Nice range of porn with restrained chicks
Lots of long videos
Fetish models, sexy amateurs, and pornstars
Na lot of famous chicks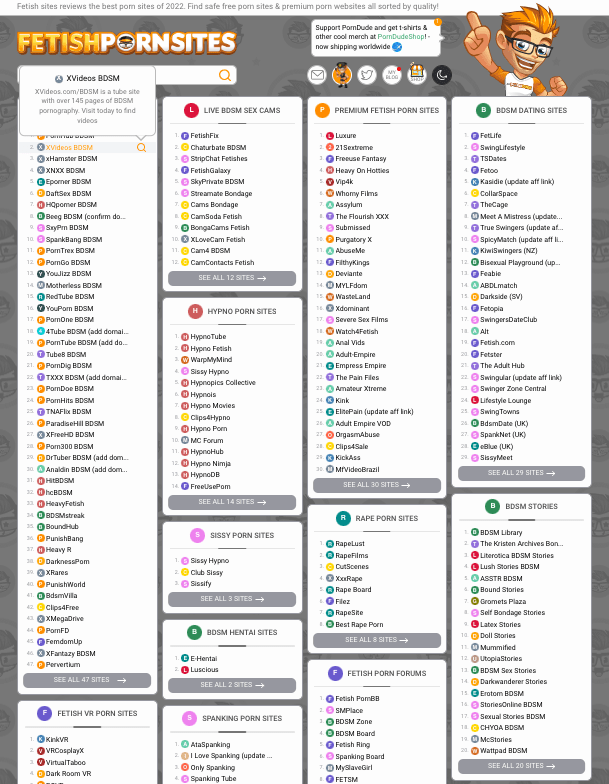 23+ Bondage Porn Sites LIKE BoundHub