Show
23+
sites like

Metal Bondage

:
Metal Bondage
MetalBondage.com! Choosing a cool name for a website is already half the job! Focusing on a certain fetish is another great approach to attract more members, but that is something I will discuss on pornwebmasters.com. Today, I am gonna look at metalbondage.com from the horny fucker's perspective! Embrace yourself! Metal bondage doesn't sound like a place that is for the faint of heart! Ready?! Let's go!
Isn't that a sight for sore eyes!
Two hot blondes in metal panties touching each other's thighs. Say no more, metalbondage.com! I have just become your eternal fan! The black background puts the focus on the two blondies, but I have to admit that I am not very impressed by the overall website design. I felt like the design failed to match the wicked, harsh BDSM theme. Metalbondage.com looks like a free website where members upload their content, usually naughty pictures. However, as it turns out, metalbondage.com is a premium joint that is locked for cheap losers.
Metalbondage.com seems to be very proud of its uploading schedule. New flicks arrive every Sunday, which is more than I have seen on other similar fetish websites. Simply, fetish content is not as easy to find or shoot, bringing me to the conclusion that weekly updates are definitely something that every fetish website should be proud of. Right there on the homepage, I read that metalbondage.com allows members to make payments via PayPal, which seems to be a brand new option.
In the biz for over a decade
Metalbondage.com was launched in 2009, meaning it has over a decade of experience in the adult industry. I have bullshitted about the harsh competition in the adult biz far too many times. As a man who is looking for fapping material, all you need to know is that metalbondage.com is packed with fetish content and has enough experience to know what their audience is into. The bottom of the homepage reveals that all videos on metalbondage.com were shot in Europe. The first thing I think of when someone mentions Europe is lingerie and high-heel shoes. I can't wait to watch a couple of videos!
Metalbondage.com knows that the internet is teeming with all kinds of idiots. Metalbondage.com is clever enough to put a big ass note on the homepage, so everyone who ventures inside knows the rules beforehand. Namely, the website unlocks its doors for paying members only. Members are not allowed to share the content they download from Metalbondage.com anywhere! You'll need written permission if you want to share Metalbondage.com content with other fetishists. In case you break any of the rules, the website will kick your sorry ass out, despite the fact that you paid for the membership. In a nutshell, no pricks allowed!
Kinkier than I thought it would be
Man, ain't I glad I discovered this place! The moment I hit the Upload section, it dawned on me that metalbondage.com is so much more than that welcoming picture shows. The two blonds are nothing compared to other sluts in this freaky collection. First of all, let me tell you that the props used in these flicks are obviously custom-made. I have never seen collars with such huge spikes, nor have I seen a steel blowjob trainer. Although I am a dude, meaning that I don't pay much attention to the lingerie fabric, I have noticed straight away that lingerie worn by metalbondage.com models was specially made for the fetish content filming purpose.
One of the freakiest videos on the first page featured a young tart with nipple clamps with a 2kg weight attached to them. That weight kept pulling the redhead's nipples so hard that she had to kneel down while her hands were tied and attached to a metal belt. Speaking of clamps, one kinky blonde had a lip clamp. This is a hard thing to explain, but imagine a girl with her tongue stuck between metal bars while her hands are tied behind her back. Some of the titles I have come across are Double blowjob trainer prototype, Vertical nipple puller, and Labia clamps training machine. To cut the story short, the props are fucking outrageous, and the models are fucking brave!
Download fetish videos and picture sets
The latest video is what I am focusing on right now, trying to tell you what to expect as a paying member. Below the flick's title, I noticed the upload date and information saying if the video includes a picture gallery. Each video comes with a short and a bit clumsy description, but the quality of the description shouldn't be a factor for you fuckers. That's just me, paying attention to content because that's what I do. I write content! Below the vid, metalbondage.com reveals the model's name and a list of props.
Another thing that I noticed is that metalbondage.com encourages website members and visitors to leave comments below the vids. Even if I didn't know the website's launching date, this note would be enough for me to understand that metalbondage.com knows how things work in the adult biz. It might not sound like a big of a deal, but members tend to be more inclined to go premium if they get the feeling that the website really cares for their opinions and needs.
How much money will you have to spend on the membership?
This is the first time I saw the Send cash in an envelope option. Hey, maybe it is a common practice in Europe, but it still sounds freaking odd. Another odd thing is that the only membership plan is the monthly one, but this applies to the credit card payment option only. The price you'll have to pay to unlock metalbondage.com content for 30 days is €19.99 if you pay via a credit card (€24.99 initial billing).
On the other hand, if you are sending your membership money in an envelope, the price for the monthly plan is €15 or €40 for 90 days. In both cases, your privacy is guaranteed. I have already told you that metalbondage.com has included the PayPal payment option recently.
If you have commitment issues or have any doubts regarding the quality of metalbondage.com's content, you can purchase single clips. The prices per clip range from €5.99 to €8.99, depending on the movie's length and theme. Basically, the odder the video, the pricier. Whether you choose to make single purchases or go premium, you'll be able to make the payment in dollars and euros. I don't think that the "send money in an envelope" option is available for single purchases.
Lots of glamour models to spice things up
Metalbondage.com boasts over 200 models. The chicks are European, hot, and mostly young. I haven't seen a single popular pornstar, but then again, I am not the kind of guy that wanks off to glamour models and artistic shit. Metalbondage.com claims to work with professional glamor models that cooperate with renowned European erotic websites. Although I am supposed to talk about models now, this review is slowly getting to its end, and I have another important thing to note.
The list of props or gear blew me away for some reason. Honestly, I have never cared about the props in porn, but all of a sudden, I realized that fetish websites really have their work cut out for them. I have seen some props' names for the first time in my life - sleepless collar, dildo bike, Irish ankle cuffs, rattlefree collar, steel mit...glamour models my ass! These chicks are fucking crazy! Crazy is probably an understatement!
It's your turn to explore this place
There's plenty to see here! I can assure you of that. Although I haven't seen many filtering tools, aside from the props and the archive list, I am glad I stumbled upon metalbondage.com. There is something raw about this website, despite the erotic models that don't show their cunts and assholes. Naked tits are all that you're gonna see, but there is nothing vanilla about metalbondage.com. Maybe this unique aura has helped the website stay on top of the game for over a decade!
All bondage fans should visit metalbondage.com, at least to take a look at the tour page! Despite a couple of fuck-ups, the conclusion is simple - the crew behind metalbondage.com does one hell of a job! Spending a couple of dollars on the content of this quality is a fucking bargain! The world of kinky fun is waiting for you fuckers! See ya!
Weekly updates
Exclusive fetish content
Unique videos featured hot European models
An obsolete website design
You have to pay to unlock the content
Not a lot of filtering tools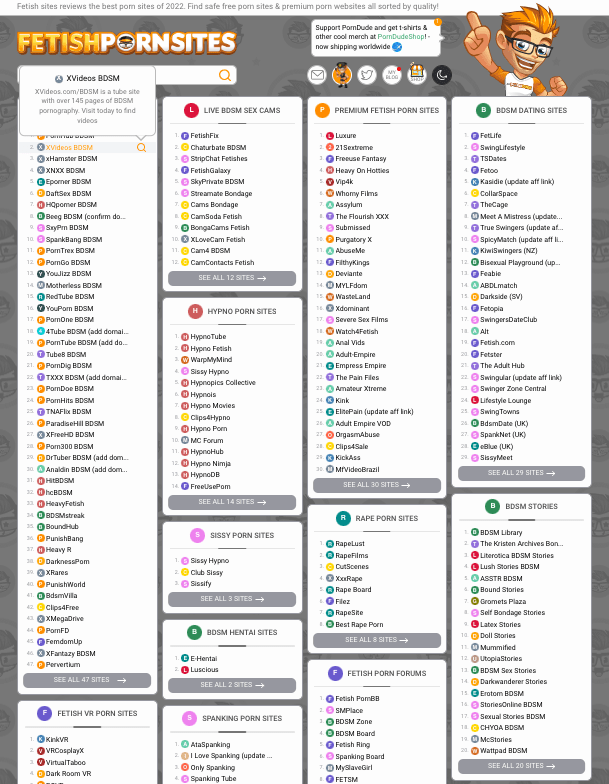 23+ Bondage Porn Sites LIKE Metal Bondage