Show
23+
sites like

My Bondage

:
My Bondage
Simplicity is the ultimate form of art! Bondage is the ultimate form of smut! A poetic soul trapped in a body of a rude dude, the story of my life! My-bondage.com, the website of such an inspiring name that I almost forgot what I was writing about. I am fucking kidding, my-bondage.com is probably too obvious, but then again, the web is packed with all kinds of idiots who wouldn't come to a common-sense conclusion even if it hit them in their face! What could my-bondage.com be about!? Hmm, I guess that you needed my review to figure it out! Here we go!
It's just the way my brain works
I'd review anything! Not because I am a greedy dude who just writes for the purpose of making money. NO! I honestly feel that any porn website has something to offer, whether it is a cheap scat joint or a refined premium website where chicks are goddesses, and all pricks are huge. Mostly, I review websites that have never been reviewed before, as opposed to wannabee dudes who read my stuff before they write their own "review." The point of all this bragging is to make you realize that I know porn. I know if a website is worth a shot after a split second, and I know if a website is free or premium right away!
The moment I laid my eyes on my-bondage.com, I knew that the content was too good to be free. This makes me sound like a prick (again), but I wasn't trying to shit on my-bondage.com. My-bondage.com looks like an ordinary fetish tube website due to the still thumbnails and the lack of the hot welcoming slideshow.
This made me think that I was dealing with yet another tube joint for a second, but then I noticed something that made me realize that my-bondage.com could not be free. Not a single ad to be seen! This was when everything started to make sense! My-bondage.com kept things simple in terms of design, maybe chose a cheaper layout, but at least they spared their members from the annoying ads. A smart decision!
The focus is on the bondage fetish
No distractions whatsoever! Everything on my-bondage.com revolves around content, and that's the way it should be! The homepage alone was good enough for a wank-off session. Ladies are trapped, tied and bounded, punished and tortured in the hottest way possible. The stash allowed me to do some proper math by allowing me to skip to the last page. My-bondage.com boasts over 5.2K fetish videos. The videos don't show the upload date, which annoyed me a bit since I couldn't figure out the uploading schedule. This is an important thing to point out, because the uploading frequency is important for people who are considering to go premium.
1280x720 is awesome, and the download button is neatly placed below each clip. I have seen too many websites with so much clutter that it was impossible to find the download button! Over the years, I have come to appreciate simple joints where everything is clean, obvious, and easy. The video's length ranges from 15 to 30 minutes, and all flicks are full-length. Their size is usually around 600MB, meaning that, in the modern era of the internet, you could download it in five minutes. For now, my-bondage.com looks like a flawless website, right? Will you think the same when you find out the prices?
Go premium to help this place grow
The first category on the website is named General, and it looks like a hot mess of bondage games that webmasters couldn't categorize properly. Again, I don't mind, and neither should you! What I saw was a sea of gagged and tied chicks, but the bummer is that I got to watch all of this for a couple of seconds before a message urging me to go premium popped up. Let's face the harsh truth! You can look around my-bondage.com, wank off to thumbnails, and admire the bondage play, but you'll have to pay to enjoy it properly.
Buy Premium Pro! How does it work? Choose your membership plan, make the payment, and you are ready to go. The price for a monthly membership is $24.95, $19.98/month for a 90-day plan, and $13.33/month for a whole year. Once you make your choice, you'll get to stream my-bondage.com and download content at maximum speed. Your files will be checked for viruses, and you will gain access to simultaneous downloads, unlimited video preview, and unlock the add to favorites option. A fair deal, if you ask me!
A couple of ups and downs
As expected, my-bondage.com did section their big stash into a couple of categories. The bondage metal one counts a little over 800 releases. The category name is pretty self-explanatory, but it is too broad a term, don't you think? What happened with other filtering tools and tags that would tell the members if the chick in the video is busty, blonde, or anal whore? Including the pornstar's name is a good idea, but it only works if the pornstars are famous. Lauren Phillips is there, all ball-gagged and hot, but mostly, chicks' names didn't ring any bells.
Bondage F/F counts almost 1.2K videos, which is something I expected because the majority of thumbnails on the homepage showed girl-to-girl action. For some reason, I prefer the F/F action in bondage clips because ladies tend to be harsher than men, adding more perversion to the whole bondage ordeal. Obviously, other fetishists share my opinion since the Bondage M/F stash counted only seven clips at the time of this review. Another noteworthy thing is that the props are unique and expensive-looking, elevating the website's vibe to a whole new level of kinky.
I am not done with the categories
See, this is exactly why all websites need to include the upload date. I am looking at the Suspension category, and I am counting under 100 movies. Since the fucking dates are nowhere to be found, I can't say if my-bondage.com is lazy or brand new! All I know is that some suspension scenes I saw are fucking brutal, meaning that my-bondage.com is a real fetish website and not some phony bondage wannabee. However, I was really hoping to see picture galleries because premium joints usually have them. Not this time! You'll have to settle for videos, which is not as bad as it sounds.
The Latex bondage stash is on the small side, also counting around one hundred releases. I make it sound like a bad thing, but actually, fetish content is not so easy to find or make, and 100 clips are more than enough for weeks of fapping. I have seen some weird-ass chicks trapped in oversize latex suits and a fair share of ball gags. I would recommend a video featuring a huge-titted slut named Foxy Menagerie Verre. It's an 18-minute long clip named Radioactive milk. Have you ever seen radioactive milk shooting out of mega tits? Now is your chance.
At the bottom of the homepage, I spotted a short list of tags counting only four or five terms, but I wasn't sure if these tags referred to one of the videos or the whole collection. Overall, I am not happy with the filtering tools, although the my-bondage.com stash is not too big to handle. Simply, you can browse around until you find what you want, but the question is - what will happen once my-bondage.com grows bigger? One can only hope that my-bondage.com webmaster is gonna read this review and give this place a proper push towards a superb premium website.
That's all folks
Yeah, it might be all for this review, but bear in mind that it's just the tip of an iceberg. The bottom line is that my-bondage.com has a lot to offer to all bondage enthusiasts who are ready to spend a couple of bucks on fetish content. Yet again, my-bondage.com still has a long way to go, but the downfalls are not something that is not fixable. All in all, I am glad that I had the chance to present my-bondage.com to you. My mission is to help all fuckers on this planet to find the content of their dreams, no matter how hard it might be. Now, check my-bondage.com out! You'll thank me later! So long, pervs!
High-quality fetish content
A simple website that is easy to navigate
You have to pay to stream and download content
You will have to pay to enjoy the content
Lack of filtering tools
No picture galleries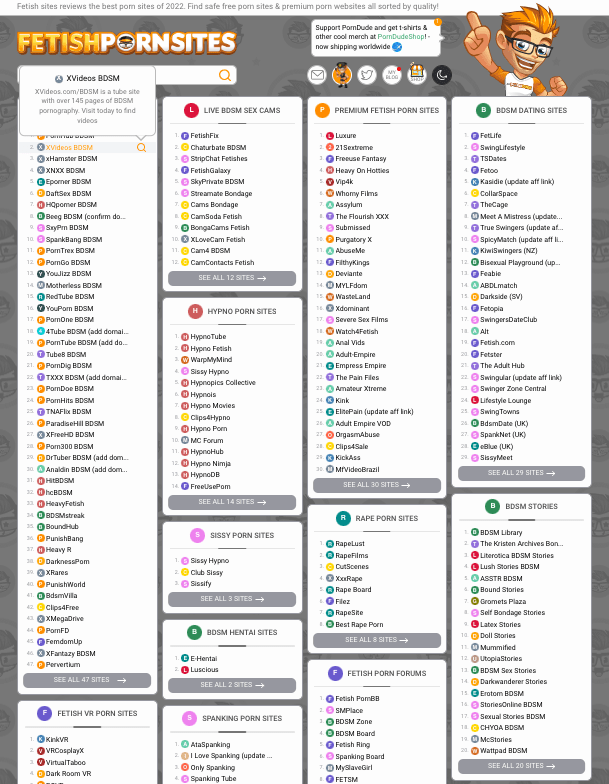 23+ Bondage Porn Sites LIKE My Bondage