Show
23+
sites like

TheDuchy

:
TheDuchy
The Duchy! Alright, boys. I'm going to need you to don your thinking caps for a moment. There is a mild chance you might learn something over the next few minutes. We are going to be talking about bondage today, but not just any old bondage. I'm talking about rope bondage.
If regular bondage is print lettering, then rope bondage is cursive. It's refined, artful, efficient, and effective. People have been tying each other up for time eternal, but it was the Japanese who elevated it to a perverse art form. I couldn't thank them more for having done so.
Rope bondage appreciates both form and function. While handcuffs get the job done, they don't have the feel and look of a properly tied wrist lock. In the hands of a skilled technician, the rope becomes an extension of himself. That experience can't be had by latching on a couple of handcuffs.
The only thing cuffs have going for them is that stupid people can use them, while learning how to tie a bitch up can turn into a lifelong journey. A journey full of joy and cum. Can you think of a better kind?
Opening its doors in the year 2000, TheDuchy may be the internet's oldest resource for learning how to tie bitches up and put them in their place. It strives to teach every man on earth how to restrain their sluts so they may be made to cum over and over.
The Man Behind the Rope Curtain
The man behind The Duchy has the appropriately epic name of Lazarus Redmayne. He both runs the site and creates all of the tutorials. He doesn't do it all alone, though. He gets operational assistance from Kaysea and editorial assistance from Alexa. In addition, several models help him with tutorials, along with a possible mannequin.
The Duchy does its best to avoid being arousing. This site isn't for titillation. It's for education. If you want to masturbate, there are far better places to do it. This is where you come during your refractory period.
It offers tutorials to fit every level of expertise. So whether you're a brand new recruit looking to dip your toes in the water, or a rusty old vet trying to grow his bag of tricks, You'll find something to love on The Duchy.
The site design reminds me of the directions Manuel to an Ikea couch. In a way, rope bondage turns your bitch into a piece of fuckable Ikea furniture. Feel free to treat her with the same level of respect.
The main menu runs along the top of the site and includes the options New Features, Tutorials, Courses, Forge, BTS, More, Join, Log in, Language, Settings, and search.
The Duchy offers its resources in six languages, including Chinese, French, German, Japanese, Polish, and Mexican Spanish. I'm curious as to how The Duchy decided on these six languages. Do these gents like to tie bitches up more than the next guy?
"BTS" stands for "behind the scenes." It gives you a sneak peek into how The Duchy develops and shoots its tutorials. Rusty vets will appreciate the minutiae that goes into a project like this.
Ropes can do more than simply tie a slut up. The forge is a section of The Duchy where you can learn how to build implements of torture with nothing but ropes. Lazarus includes blueprints for all sorts of whips, such as the dreaded cat-o-nine-tails.
Each design is not only functional but also ornamental. You'll be as proud to hang it on the wall of your bedroom as you are to use it against the tender flesh of your chosen victim.
The "More" menu option is a drop-down with the options Safety, What's next? Vote, Download videos, In-person training, and Instructor resources.
Official members of The Duchy are allowed to submit and vote on suggestions on what tutorials should be posted next. The Duchy community is tight-knit and always looking for ways to support each other and the site. This is one great way to do so.
Many of his instructional videos are available for download, so you can have them with you no matter where you go. What better way to spend a four-hour flight than learning how to attach your bitch to a kitchen chair?
Lazarus travels all around the world, giving in-person training to anyone who wants to learn. In addition, he does online classes for both groups and individuals. The man is passionate about his craft and is constantly finding new ways to share it with others. Don't be afraid to contact him directly.
Having taught these courses all over the planet, Lazarus has gotten a great sense of what people want out of his lessons. Something he kept hearing over and over was that people loved his tutorials but wanted a more encompassing class that gave people a place to start learning from.
Rope College
With that in mind, he supplemented his tutorials with complete courses such as Safety, Rope bondage 101, and rope bondage 102. Rope play is inherently "not safe." It's fun, cheap, and arousing, but there is always some level of risk involved. Until you are educated on the safety concerns, you are not qualified to apply rope to anyone.
Safety doesn't get its own course necessarily but is taught alongside the other lessons as risks present themselves. If you get anything out of the course, ensure that it's how not to kill people.
Rope Bondage 101 is for those just beginning their rope bondage adventure. Even if you have a bit of past experience but no formal education, get your start here. If you're tentative, read some of the class reviews. Students fucking love this course.
Rope Bondage 101 covers things like Beginners safety, Core knots, Two single column ties, and Two double column ties. You'll be surprised by what those basic elements give you the ability to do.
By the end of Rope bondage 101, you will be able to create Hands to overhand hard points, Tie a bitch spread eagle on a flat surface, Tie a bitch to a chair, Tie single limbs to any object a rope will fit around, Tie all sorts of a bitches body parts together, Tie a bitches wrists over her head, Tie a bitches elbows together, and Create a strapado also known as a joint lock position.
The course is only about an hour and a half, and you'll feel like a new man afterward. Lazarus knows how to get people from clueless to competent in no time flat.
However, don't get overconfident. You have only barely scratched the surface of what is possible. Rope Bondage 102 picks up right where 101 left off. It covers how to create a Simple waist harness (the unchastity belt,) How to tie an extended double column, A simple, rapid tie technique, A full chest harness, and a full torso harness.
Once you have those skills down, you'll be able to Craft harnesses with many attachment points, Add a hobble, Craft rapid and extremely secure wrist ties for shit like take-down play, and will have all the necessary skills to build your abilities in the future.
The next three courses are all for high-level students that have already completed 101 and 102. Some, but not all, are members-only courses. They teach specific skills that are a perfect fit for rope bondage practitioners' toolbox.
The Next Level
The first is on creating a wide range of bras. Bras are a fun aspect of rope bondage because once you have the breasts framed, you can take it anywhere. It's a chance to let your creativity free. Once you have a few of the essential methods down, you will be crafting your own variations in no time.
The second is on bamboo bondage. Bamboo is renowned for its strength despite its light weight. It can be used to restrain a bitch into a myriad of different positions. You'll learn how to lash bamboo together to create frames that trap your partner, How to attach your partner to bamboo framing in a way that is impossible to escape, and a ton of other bamboo methods.
Once you have become a rope bondage master, it will be time to learn suspensions. Suspensions are one of the most dangerous rope bondage activities and should only be taken on once you have completed the other courses on Duchy.
The Duchy is like an Ivy league school for rope bondage. You will walk away feeling like you've earned a doctorate degree. Lazerus is a fantastic teacher with a deep passion for the subject. Plus, the website is well crafted and, unlike Ivy League schools, offers up tons of free info.
My long-time readers might be able to guess what my suggestion will be. I'm a simple man with the name Porndude. Whenever I review a site without explicit porn, I suggest they add some.
If you're looking to expand your rope bondage knowledge, there is no better way to do it than on The Duchy.
Educational
Laz is a great teacher
Tons of free resources
No porn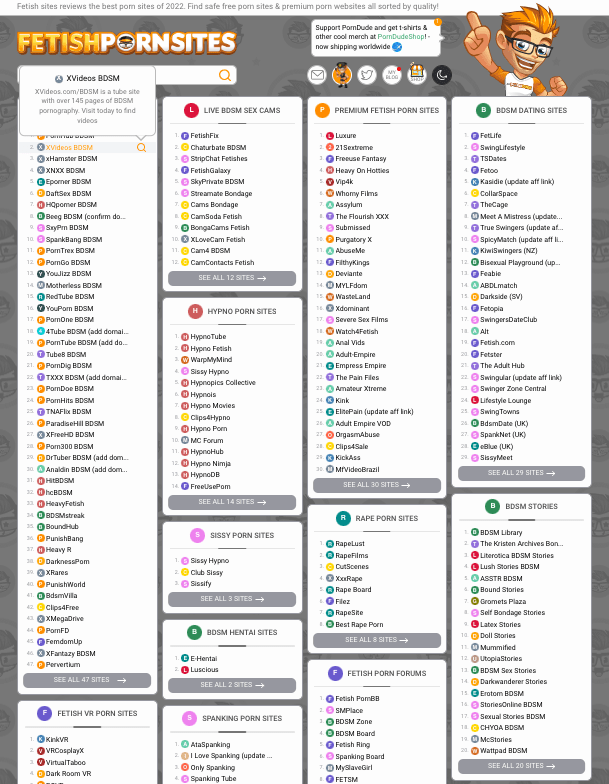 23+ Bondage Porn Sites LIKE TheDuchy