Show
38+
sites like

FetLife

:
FetLife
Fet Life! It's impossible to say how many fetishes there are out there. If the internet has taught us anything, it's that if you can think of it, for better or worse, someone is jerking off to it. Perhaps before the net, fetishes were countable, but those days are long behind us. We now stare into the eternal abyss of crazy ways to fuck each other. It's both beautiful and frightening.
But you see, just because the abyss is eternal doesn't mean the cream doesn't float to the top. Many of the most popular fetishes are the most fun. Millions of people have vetted them, and humans keep returning to the well for a reason. Not everyone wants to get shit on by a pair of Albanian midgets. Not everyone carves lawn gnomes from driftwood and sits on them. Not everyone's dream is to funnel creamed spinach into their dick holes. Some people just want to dress up as cartoons and have an orgy.
As shocking as it may be to the other ninety percent, around ten percent of people have fantasized about dressing up as an animal and fucking a bitch. It sounds strange, but it obviously strikes at something deep in the heart of humans. Given our sentience, humans have applied a lot of extraneous emotion and bullshit to sex. Animals have none of those misgivings. They fuck because they want to fuck, and more animals are the result. There are no moral quandaries. I think that's the energy that attracts people to furrydom.
There's also the aspect of being someone or something different. News flash: a lot of people don't like themselves. By becoming a character, they can drop inhibitions and become fully entrenched in the moment. It just so happens that the moment they are looking to become entrenched in involves butt fucking a purple fox.
Another way people find to become something different than themselves is through gender play. Not everyone feels like the gender their body presents all of the time. Gender play gives people the leeway to be whatever they want at the moment. Men can dress as women, women can dress as men, and everyone can have a good time.
Most men who are into this have no intention of ever entering the world as women. They act as masculine as the next dude when they hit the bank. But when these guys get in the bedroom, all bets are off. That asshole will turn into a bussy (butt pussy) real quick. Personally, my asshole is too shy for these types of games. I'm lucky enough to have been born attracted to the fairer gender. While being gay looks like a more fun lifestyle given the constant free sex, fucking chicks is far superior. I mean, just look at them. They are the luxury sports car to a man's utility vehicle.
Priest Pre-teens and Biker Babies
Gender role-play has been labeled taboo for many years but not nearly taboo as age play is now. Age play hasn't always been a thing, but it has seen a revival in recent years. With the crackdown on priests diddling kids, religious figures have had to find new ways to sate their dark urges. These days church officials are forced to fuck each other. That means priests are enjoying a little age play with their fellow priests. Even the pope spoke on the popularity of butt sex amongst priests recently. It was weird because mid-speech, a bishop wearing a bonnet crawled out of a crib and asked to be spanked.
Age play is often associated with BDSM because the person playing the kid is usually a sub while the adult is the dom. Let me tell you, though; you haven't lived until you've seen a giant biker-looking dude wearing a diaper and sucking on his thumb. The combination of a hairy chest, Harley-Davidson tats, and a bonnet is a sight to behold. It's something you will never forget.
No matter what fetish you may call your own, there are thousands of other people into the same shit. No one is ever alone in their fetish. The problem is finding another person who wants to watch you stick a lawn gnome in your asshole. Once again, the internet comes to your rescue.
Fetlife is the home of fetishists all over the world. It's a fetish hook-up lifestyle and social media website with a global reach. So you could be deep in the South American rainforest and still find some bitch willing to lick your scrum clean after a day at the office.
Fetlife opened its doors to freaks everywhere in January of 2008. It is the brainchild of a Canadian named John Kopanas, also known by his username John Baku. John had been having trouble finding partners with the same interests as his. You can't just walk up to a bitch in the pasta aisle and ask if she wants to be pissed on. So instead of getting pissed off, he decided to solve the issue.
When Fetlife first started, it was free for all. Users could create any groups they wanted, so that shit went downhill pretty quickly. In 2017 Fetlife closed users' ability to create new groups while it spent time deleting all groups having to do with blood, needles, rape, and incest.
This brings me to what many see as the best part of Fetlife: it's safe. This kind of website could become a hotbed for unscrupulous characters trying to take advantage of humanity's innate sexuality. Fetlife is a space anyone can feel safe to explore themselves and others. As you ingratiate yourself to the community, you will find that comfort and safety are paramount issues. Before people can enjoy fucking they need to feel secure. Fetlife does just that.
The Whorth Wall
Another great thing about Fetlife is that it comes to life in the real world. Other hook-up sites are entities that remain on the internet. No one announces they are on Tinder in public. There are no Tinder groups that meet up in real life to celebrate their association with the app. Fetlife, on the other hand, breaks through the fourth wall and leaps into your living room.
It does this mainly through meetings. Pending you are in anything but a tiny shit town, Fetlife is hosting get-togethers where you live as we speak. Members meet in bars and private party rooms to get to know each other. It's a very tight-knit group. That's part of what makes it so safe. Members are constantly vetting each other to make sure the desires of newbies are genuine.
Some Fetlife members wear a necklace or other pieces of jewelry so they can be spotted by other members when out and about. This can be a great way to meet freaks like yourselves while walking the dog. Who knows? Maybe your neighbor has been hoping you would take her on a leashed walk for once.
Given the limitless amount of fetishes there are in the world, the profiles on Fetlife get very specific. You can provide long-winded descriptions, write articles, post pictures and videos, and add events. Anyone can start or join a group. If you come up with some strange fetish that's legal but not listed, I'll buy you a beer. It's been around for fifteen years, so not much has been missed.
Once you have your profile set up and start exploring the membership in your local area, you will be blown away by how many people there are. If you search long enough, you will find someone you recognize. It might be an old teacher, your dry cleaner, or that one bartender who always bats an eye at you.
Fetlife isn't the only fetish-based social media site, but it's the king of the hill. If you are looking for the perfect bitch to do some weird-ass shit to your cock, Fetlife is your salvation. After fifteen years in the business, they have built a fantastic website responsible for bringing together hundreds of thousands, if not millions of people. I guarantee you already know at least one person on it, even if you don't realize it.
The profiles have been finely tuned over the years to include all the information a person needs to know before they take a shit on them. So between pictures, video, journal entries, and biographies, you will learn more about a cunt before fucking it than her Gyno does.
I don't see much that Fetlife is missing. Over the years, they have done a great job adapting to the needs of their users. The only thing it's missing is you. Even the simpiest and most sexless of my readers might find a partner to fuck them here.
My readers have a far better chance of getting laid being honest on Fetlife than by lying on Tinder.
Superb service
Tons of experience
Members all over the world
Any of my readers that are not members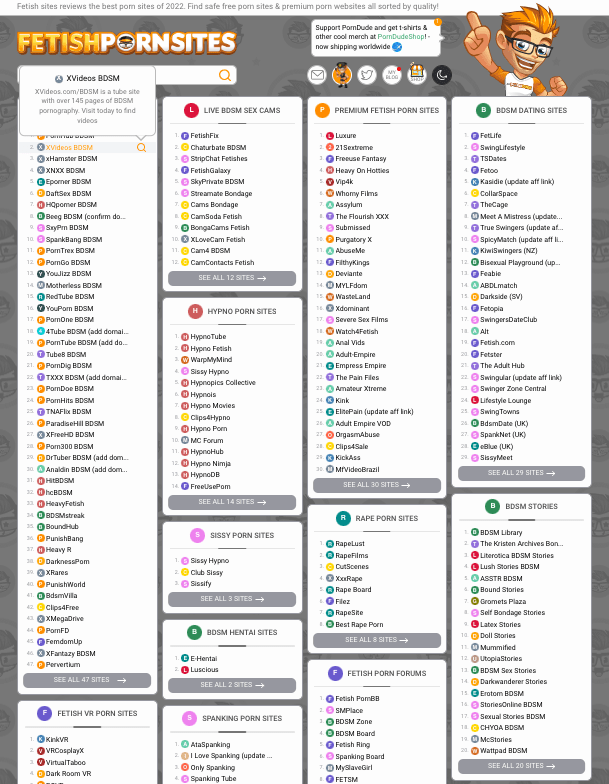 38+ BDSM Dating Sites LIKE FetLife