Show
38+
sites like

Fetoo

:
Fetoo
Fuck the "Me too" movement. The Fetoo movement is far preferable. Fetoo is a site for those wanting more information about fetishism or to meet up with other fetish enthusiasts. Are you tired of the same ol' same ol'? We all get that way sometimes. So why don't you kick your love life into overdrive and start satisfying some of those darker desires you harbor?
Best of all, the female members are particularly willing to try shit out for the first time. They are a bunch of sluts that want to be fucked every which way. That doesn't mean that there aren't vets here also. I've met plenty of bitches here with lots of experience and wish to share that knowledge with the world.
Time for a bit of education, my deprived pupils. Fetish is derived from the Latin verb "facere," which means to make, and the Portuguese word "feiticio," meaning magic. I can't imagine better etymology because fetishes really do make magic in the bedroom, dungeon, office, or public train.
A fetish is a form of sexual desire in which gratification is linked to an abnormal degree to a particular object. French psychologist Alfred Binet was the first to describe it as such. These obsessions can be with body parts such as feet, thighs, tits, or ass. They can also be with inanimate objects such as shoes, foods, toys, furniture, or clothing.
Technically a desire is only a fetish if it is required for arousal. Otherwise, it's just sparkling horny. However, the word is used colloquially for sexualizing anything beyond the norm.
There are many fetish sites on the internet, but few are as excellent as Fetoo. You can browse nearly unlimited profiles and easily communicate with any bitches that perk your interest on this site.
They offer many ways to introduce yourself. For example, you shy fags can send a bitch a virtual kiss to say hello while real men can write a message that goes something like, "hop on my cock, you dirty fucking cum dumpster." Bitches love when you say that.
The chat function makes meeting new ladies fun and easy. Sexting is a fetish all to its own, so you will find plenty of poetic sluts to dick down digitally. The fun doesn't stop at sexting, though. You can use the chat to schedule meet-ups where you can fuck a cunt for real. It will take my readers more effort than the average man, but it's possible.
Let Your Pervert Flag Fly High
You can find people on Fetoo taking part in all manner of fetishes. You never have to feel self-conscious about what you like. Members here have a wide range of passions covering the whole spectrum of desire. For example, you can find a bitch who wants to get pissed on, shut on, and beat within a half-inch of their life. Then only one profile down, you'll see a bitch dressed up as a pony performing dressage. It takes all kinds to keep this world of ours spinning.
As you build your profile, you can be explicit about what you are looking for. No punches are pulled on Fetoo. Don't hesitate to ask if you want a bitch to leap off your dresser drawers and elbow-drop you from the top rope.
I'll list a few of the common fetishes that the women around Fetoo participate in. Are you guys ready for a vocabulary word? Well, Teledildonics is a cybersex fetish. Everyone has at least a touch of this in this day and age. Of course, Fetoo is excellent for teledildonics. There's more cybersex happening here than anything else.
Where are my creepy feet fucks at? You bastards will have a great time exploring Fetoo. Bitches love to show off their toes here. You'll be inundated with more amateur foot content than you know what to do with.
Even bitches who wouldn't call it a fetish love to play doctor and patient. The power dynamic is too fun to deny. Perhaps the most popular form is roleplaying a nurse and patient relationship. Anyone who has ever been to the hospital has dreamed of what it would be like to fuck a nurse. There's something about the combination of sexual desire and caring compassion.
Another fetish everyone loves is spanking. Asses beg to be slapped. The fatty flesh is perfectly suited for abuse. But, of course, there's a difference between someone who pats their partner's ass when they fuck and full-blown spank fetishists. When a fetishist bitch is done fucking, her ass looks like two tomatoes.
Before exploring Fetoo, you must sign up for an account and confirm your email. I also recommend filling out your profile before getting too far. It's an easy task you'll have completed in only a couple of minutes.
The profiles are detailed enough to help you find the right sluts but private enough that you won't feel exposed. For example, you wouldn't want your landlord finding out you like to be shut on, especially since your landlord doubles as your mother.
Fetoo has a classic hook-up site design everyone should find familiar. The main menu sits up top and contains the options Home, Chats, Inbox, Visitors, Likes, Favorites, Buy coins, and Your profile.
Coins aren't required to use Fetoo, but they do unlock premium functions such as making you more visible and allowing you to contact bitches faster. Given the amount of time I spend masturbating every day, I don't have a shit ton of time to waste waiting, so I spend my fair share of coinage, and I say it's worth it.
Running down the left side is a filter to help you sift through the thousands of sluts that call Fetoo home. First, select whether you are looking for a man or woman. Then choose an age range of the bitch you'd like to fuck. Finally, enter the city you currently reside in.
When you find the right cunt for you, check out her profile. It has all the info you need to properly get your cock wet. Most importantly of all are the pictures. Most bitches include a few different images of themselves so you can get a good look at every angle.
Each profile has a fact sheet that includes who the bitch is looking for, her body type, alcohol consumption, what they are interested in, if they have kids, education, relationship status, Language, Profession, height, and if they smoke.
If you decide a bitch is right for you, choose one of several actions displayed next to her profile picture. Your options are to like her, send her a message, send her a slap, send her a gift, send her a gif, add them as a favorite, or block. You motherfuckers know how I roll. I stay slapping bitches. I always have, and always will.
Cuntquest
I've made more than a few conquests on Fetoo. One of my favorites is Leticia2026. This bitch is the definition of young and sexy. She's a twenty-five-year-old bombshell who likes charming men who know precisely how to handle a woman. That's me to a T, bitch.
Leticia is looking for men mostly to chat with, but if you play your cards right, you can meet up with her. That's precisely what I did, and boy, was it worth my time.
This bitch is a cock thirsty slut that wants nothing more than to get her pussy and asshole plugged with giant cocks. So naturally, I was more than happy to oblige. I'm not sure who taught this bitch to suck cock, but it must have been a grandmaster. She was doing things I didn't even know were possible. I'm almost positive that she has two tongues hiding in that pretty mouth of hers.
This cunt does her Kegels also. She must keep a jade egg in there when she works out because I was worried she would snap my dick clean off at the base. If she had, I don't think I could have complained. That pussy feels way too good.
My readers and I are always looking for cheap and easy ways to get laid. Consider Fetoo one of the best. The profiles are well adapted to maintaining privacy while still giving you everything you need to know. There are a ton of sluts on the site, and each is hornier than the last. It takes no time to sign up and fill out your profile. Once you're on, you'll be chatting with a slut before you can say, "I'm hard as fuck right now."
The only thing that upsets me about Fetoo is that you can't explore the site until you have an account. It would be great if they gave us a snapshot of its contents before we sign up.
It's no easy task for my readers to get pussy. However, Fetoo makes it as easy as it can be for you fucks.
Large selection
Private
Lack of ads
Must sign up before entering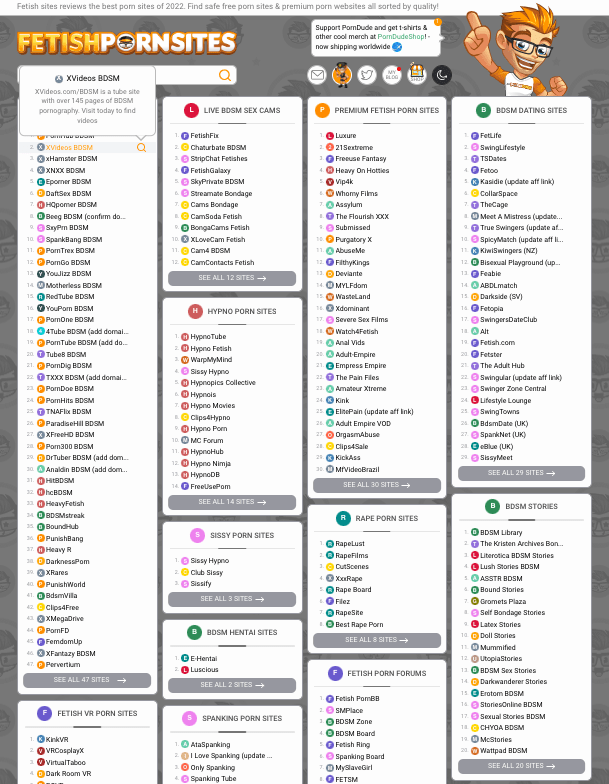 38+ BDSM Dating Sites LIKE Fetoo