Kasidie (update aff link)
Show
38+
sites like

Kasidie (update aff link)

:
Kasidie (update aff link)
Kasidie; it sounds like the name of a pretty girl you'd love to talk to. She sounds like the type of girl who's into some kinky shit. She loves to watch porn and masturbate. Always a plus. Kasidie is a dating site. Their tagline is "Sexually Social." They're getting it into your heads what they're about and what "Kasidie" is all about.
A social, sexual dating website. This is a site for swingers, "adventurous couples," singles, and "groups." Hmm, you can log into the site as a threesome or more and have a good time? There's a lot that goes into Kasidie. They feel like this hidden, underground club where they hand out black cards with gold lettering to get back in.
Design - Older Than the People on the Site
Kasidie seriously needs some work. Design wise, it doesn't scream something modern or moan anything I'd like. A bit groggy and gravely, you know? No, we're here for something a bit more modern, a bit fresher. Kasidie looks like this website was made in an amateur-ish way.
The theme of the site is extremely dark with a modestly sexual photo of a woman from behind. I'll give them bonus points for the woman pulling her panties down over her juicy peach But that's as far as things go. Kasidie is designed, at least on the front end, as a plant text and go type of deal. You're not getting much else.
On mobile, however, is the largest issue. There is no Kasidie on mobile. If you visit this website on your phone, you'll come across a screen that asks you to sign up or log in. There is nothing else. How do the people behind Kasidie expect to gain people this way? You're showing them nothing. Asking them to blindly trust something? No, no, no.
Kasidie also has a parties/events page. I'll get into the details soon but, from a design standpoint, it's extremely messy. There are better ways to promote and show off events or parties than how they're doing it.
Content - A Sexual Life
Kasidie promotes this different way of living. On their site, they say, "live a life less ordinary!" Taking what they provide on the face of everything, that seems to be true. If you consider their sexy parties and clubs where girls are just showing their asses, yeah, it's less ordinary. Everything provided for the users of Kasidie is half and half. One side of the fun comes from the people themselves while the rest is shown by the makers of Kasidie.
From their "parties/events" page, you'll find some added features, too. You can read more about their communities, learn about traveling, and some other features. A few of these are hidden away behind a "login" screen. But one thing you can look at is their "profiles & photos." While not everything is available there either, you can at least preview how detailed their profile searching is.
This dating site is a home for those who are seeking some sort of sexual adventure. With that, Kasidie plays home to swingers, adventurous types, and more. The "more" are the people with fetishes, kinks, those who enjoy role playing, and BDSM.
The part that Kasidie plays is hooking people up with parties/events. Their page dedicated to this sort of thing lists a ton of events all over the United States.
Seeing as it's a dating website, you can't expect much to be shown to us outsiders. Although, these eyes see more than you may think. Kasidie talks about some of the things in store like setting up your own community.
It is a Sexual Life (The Positives)
Kasidie definitely shows that potential for being a dating site that does more. It can offer you more than what your typical dating site can offer you. Why swipe left or right? Just find some people to enjoy and maybe fuck one of them. Or... all of them. Kasidie doesn't judge - and that's the whole point. Just looking around, I've found how welcoming they are.
Kasidie understands how naughty, dirty, and kinky all of you are. Mmhm, you, right now, reading this review. All of those naughty fantasies? You can most likely find someone to live those out with through Kasidie. Their site's homepage lists out what they mean by "adventurous people." Those people are swingers, exhibitionists, couples, polyamorous, fetish lovers, orgies, and those role players. There are more but I'm not typing it all out.
They allow people who come to their site to be unhinged. You're not a person tied down by the ropes of everyday life. In a day, you need to be someone. Can't say everything you're thinking, oh, no. You've got to "be a part of society." Kasidie lets you not have to do that shit anymore. You want to be kinky. You want to be with other people who are kinky like you and not feel like you should be judged for something you like.
Kasidie has a feature on the site that's nice to see, and that's to create your own community. They don't care what you're making this community for. It doesn't even have to be sexual as they list "making one for sports." It can be anything. What's refreshing and nice to see from Kasidie is them not taking things too seriously.
They allow the people coming to their site to use it as they see fit. Want some sexy time with a little bit of talk about a show you binged? Fucking go for it. Want to make a community where you're just casually talking about your day and then casually fucking? Even better.
Then comes their parties and events. I've found loads of events across the entire country (U.S.). Some of these are even happening around Coachella. Go enjoy some music and then come back to fuck - an even better time! Clicking on an event you like will provide you with the details that matter. You'll know location, date/time, who the event is geared toward (singles/couples/etc.), and to purchase tickets. They even let you see how many people are attending the event.
It Just Needs Some Work (The Negatives)
There just needs to be more work done outside of the house rather than inside. What Kasidie provides goes directly up against how they portray themselves. The poor design of the website, the extremely poorly designed parties page are both struggling.
It's not hard for me to tell how dated this website is. The icons they're using for Facebook and Twitter are a decade old. They need to revamp the site and make it something newer and fresh. Also, give some love to mobile users. As it stands, no mobile user should even consider signing up. Kasidie shows them nothing but a "log in now" screen. Really?
Clean Up (My Suggestions)
The very first area to clean will be the mobile version of Kasidie. Why is there nothing there but an oddly colored screen telling me to log in? Why can't I view the same goodies on my phone as I can on my computer? You cannot expect someone to just log in by seeing nothing. Even generic brand cookies have better packaging than Kasidie's mobile website.
Start there. Revamp the mobile version to actually bring people in. They do realize how many people use smartphones now, right?
The next big thing is their parties/events page. There are a few things wrong with it. The first being that you can endlessly scroll forever. The second being that this page doesn't have a better layout. There should be pages to keep things more presentable and easy to use. You should be able to find exhibitionist events or orgies, maybe some polyamrous parties? Do they have those? I don't fucking know because I keep scrolling for-fucking-ever.
Also, you can, sort of, sort these events on the event page. But this doesn't provide a better view. No. It just replaces the left most side of the screen into whatever state you've searched... why? There are better methods to conduct a page like this. Kasidie should take some time and use those better alternatives for this page.
The final thing is a bit of a hard one to narrow down. It's the overall design of the main page of Kasidie. It's old and it lacks anything created in recent times. However, it does get the job done in terms of showing what they're all about. Take it or leave it but they would do better to just redesign everything.
In Conclusion
Kasidie is a place that holds nothing back and makes it easy for you to do the same. They welcome everyone whether you love living naked or love fucking in orgies. They also do a good job of providing the information for kinky parties/events that occur all over the United States.
They could do with some work in terms of design and taking care of a website. But they do put in the work where it counts which are the events they promote.
A place for those in love with sexual things
A good bit of parties/events in the U.S.
Poor website design
Non-existent website on mobile version
Poorly cared for parties/events page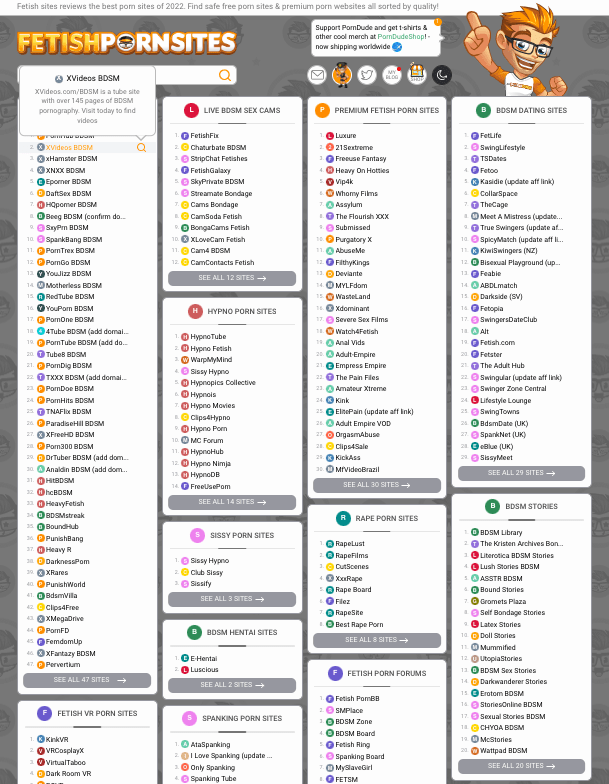 38+ BDSM Dating Sites LIKE Kasidie (update aff link)