Show
38+
sites like

TSDates

:
TSDates
TS Dates! Trying to get a trans date, or the reverse hypothetically should be easy. But it is unfortunate that a lot of dating (and "dating") apps do not exactly cater to trans gals and the people who appreciate them. Sure, there are the standard dating websites like Adult Friend Finder, but the users are not always the most opened minded. You know what I mean, the folks who claim to be looking to fuck, but are so unbelievably vanilla They come off as a Kinsey level B, at best.
Then there is the fact that sites like that, don't have all that many trannies or people who are into chicks with extra-large clit sticks. Again sure, there are alternatives like gay apps, such as Grindr. But not everyone is exactly trans-friendly. And apps like that are not exactly going to appeal to most of my hetero and couple readers.
But good news, everyone, to quote a crazed cartoonish professor, I have found a highly attractive dating site for everyone in the trans dating scene.
Right Off The Bat, This Site Has Supreme Features
Okay, this part I cannot hype enough: this site has an enormous number of users both online at any given time and those who are registered. In fact, according to their own website, there are literally millions of members. In fact, they boast a registered user and subscriber count of more than one-hundred and fourteen million people.
Now, I am one for hyperbole, and a am sure I can detect it well in others. But even if that number is as inflated as Kim Kardashian's ass after her seventeenth cosmetic procedure, I can say that when I joined up there certainly were a hell of a lot of participants, thousands to tens of thousands, online at any given time. Allegedly, there were even up to a million people in any one region, depending on where you live.
I did do some additional digging on third-party sites for objective data and found some fascinating results. This audience of individuals and couples is highly active on this platform, certainly compared to most other "dating" platforms with a rate of about 62% engagement. There is a message reply rate of an impressive 91% and a high match rate.
Going back to personal experience, after less than several hours of setting up my account, I had found that I was already getting messages from all sorts of sex-starved folks – and I had not even come close to finishing filling out my bio. While that may raise red flags with some of you (and it should) there is not anything to worry about, which I'll get to later.
When signing up you can register as a single man, woman, hetero or homo couple, group, and, of course, trans. Since this seems to be a demographic that everyone is into, I'll add that the average age range is between the middle twenties to thirties. But, of course, everyone of every age is welcome to join and no matter how old or young, you've got a good shot of getting it in, or getting it put in, or both.
They Seem To Care A Lot About There Users
With so many members, it would seem that they are globally distributed and they certainly are. Found all over the world. Fortunately, they provide geo-location features so that usually the results that will show up in your feed should be at least reasonably close to you. Or close enough that a train, rail, or car ride is not out of the question.
Speaking of traveling, I have also noticed that a lot of the people on this site seem to be very amped to go a distance to see a potential love or lust interest, too.
As this is a global community, this website can be displayed using an impressive, seventeen language options (!), and they all seem to translate well. I brought up earlier that there are dating platforms out there that are not the best when it comes to hosting scammers. This site it would seem is not one of the. You can easily report spam profiles which is much appreciated given how common those are, especially on trans sites. The same applies to abusive people, of which there are not too many it would seem.
In fact, the users on this site seem to be very open to chatting with a purpose rather than stringing people along. They are very much interested in conversing and getting into carnal activities in my extensive experience. Surprise, the fuckers on here are both friendly and horny on a dating platform – imagine that!
There Are A Few Things That Need To Change
Alright, I do not have too much to say that is negative other than a couple of things. For one, while the mobile optimization is decent, it would be nice to see a mobile app. Seriously, who does not have an app for those who want to chat and hook up on the go? Also, they strangely do not have live chat which to me is even more bizarre. And lastly, while I was not too worried about it, the security of payment is a little bit questionable.
Then There Is The Stuff That I Don't Know How I Feel
Usually, I am pretty damn opinionated about just about everything that I analyze and tend to look at things in a black and white way. And I am unapologetic about it. Still, I am not sure how I feel about a few aspects of this website.
For one, all profiles are public, at least if you register for an account. That may not be a big deal for some of you, but I do know that some people in the trans scene are a little gun-shy about these things.
Related to this, you are also required to have a picture of yourself, which must be approved by a mod. It must be of yourself, uncovered, and not a logo, or any of the other cowardly tactics that some people take. Also, there is not very much nudity it would appear suggesting that public pics must be (nearly) safe for work. You also have to give your age but no official age verification, though.
The Charge Ain't Bad, But The Payment Options Suck
You can go with the free option if you are thirsty but on a McDonald's budget, and for that you get decent interaction options. But to get access to all of the good stuff, though the pricing is not at all unfair. For a monthly pass, you only need to put up $21.94, which is a weird number but about the industry-standard rate. And for a seasonal subscription, it's just a mere $49.44, or sixteen and a half US dollars every thirty days.
But for some mysterious reason, I do not fully understand, they only provide one payment option. You can only pay with a major credit card. What is this? The internet back when SMOSH was still relevant?
Registering Does Not Take Half An Hour
Unlike other dating sites which take forever to go through verification, mandatory complete profile creation, and picture approval, the registration process is quick. And the account creation can be done at your own pace and there are almost no requirements as to what you have to fill out.
So, you can almost immediately start chatting with whomever. Weirdly, you can register that you are looking for other singles, and man-woman couples but not groups or same-sex pairs, at least upon the initial sign-up. But it is pretty cool that once you get your account, you can also get a free membership to TransSexualSexPartner. But it is annoying that the system essentially demands you claim that reward after setting up your TS Dating account.
This Trans Dating App Isn't For Everyone, But...
Okie-Dokie, this is a bit of a different website and not just because of the crowd that it caters to. On the one hand, there is the nice fact that you can get a free account and take advantage of an impressive number of features. At the same time, there are several standard tools that you need to pay for which are usually provided. Then, there is the fact that there are things that are missing altogether like video chatting.
And it is quite grating that there still is no mobile app.
Still, the prices for a subscription are pretty reasonable, especially if you pay for an annual package. And the community is so massive, that you will barely have to put any effort into connecting with people, which is a definite bonus. I think that this is a stellar website despite its problems, so this one gets three and a half hands from me. At least that's what I first thought compared to mainstream websites. Seeing as this is a niche website, I am upgrading my score to four hands.
Basic access to the site is completely free
The reported level of community engagement is high
The community has a massive amount of members from all over
You will start making "friends" in no time at all
The pricing options are pretty equitable
Apparently, all profiles will be publicly viewable
You cannot show off all the goods on your profile picture
They do not always have all of the standard features like video chatting
To get access to everything, you'll need to pay for access
There need to be more payment options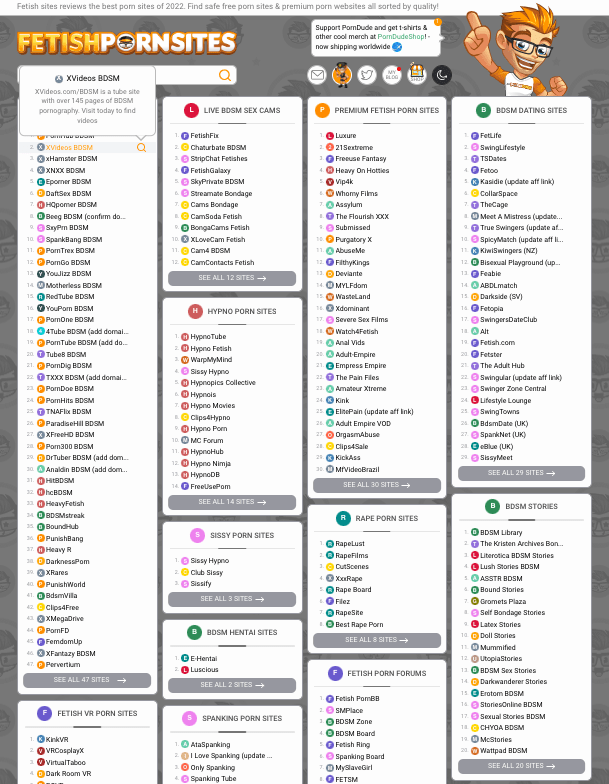 38+ BDSM Dating Sites LIKE TSDates