Show
17+
sites like

Eporner Pegging

:
Eporner Pegging
I find that people overlook EPorner far more often than they should. I don't see why. It's a fantastic free porn tube, especially when it comes to hardcore fetishes like pegging. Don't get me wrong; I'm aware that EPorner is making a killing. It's a vastly successful porn tube. I'd just like to take a moment and give them some well deserved praise for the amazing work that they've done bringing together high-quality smut in high resolutions with marginal compression. By the way, if you're the kind of person who complains about his free porn only being available in up to 720p, you can suck a chode, my man. 720p for free is blowjobs and pudding in my book. Plus, this is all premium smut, recorded by a professional cameraman and directed by people who know how to make a man hard. It's top tier stuff.
On the topic of pegging specifically, well, EPorner's library is a gold mine. Five seconds into this section I knew I was going to have a really good time. First of all, pegging is inherently a kind of gay fetish. Wait! Don't go cancelling me on Twitter just yet! I didn't mean that in a bad way. I'm just trying to point out that this is a cock-in-ass themed section on a free porn site under a straight section. It can be a bit hard to sort these kinds of videos because of this and EPorner does a great job. As a straight dude I felt very much catered to across all of these videos. And sure, some of the shots are a bit male-centric in that I had to watch dudes moan sexually while they're being dicked, but across a good 95% of all the runtime in these vids I had my eyes on hot chicks with even hotter tits. This is a great place to fap.
The Anal Fantasy
This is the part of the review where I redeem myself for calling pegging a gay fetish – it's not gay, it's gay adjacent. If we can be real for a moment, the male G-spot, if you can call it that, is located deep inside the male asshole. If you're a gay guy and your boyfriend is hung then you're pretty much set for a long life of satisfying G-spot play with hardcore penetration. If you're a straight dude, then you're shit out of luck. You'll have to spend all your time satisfying women and getting jack in return. It's not like your wife is going to suggest she fingers your prostate after you've given her several orgasms in a row. Women are very selfish in the sack. Luckily, pornstars don't have that privilege. If a babe has been hired to perform in a pegging video, you can bet your ass she's going to do some cardio in order to satisfy her designated man. This is why I love pegging porn.
The girls in these videos do a lot of work and it's all centered around the anal satisfaction of the man in the scene. In terms of camera angles, I don't really want to see the dude being satisfied. I don't care about the dude. He's my surrogate. I want to pretend that I'm in his position, being pegged by some of the hottest bitches in porn. That's what EPorner's pegging videos are all about. You get to watch closeups of hot babes doing all the work while the dude just sort of lays back and takes it. I'd love a POV of a hot babe pegging me. That would be fucking fantastic. Most of these videos are unfortunately filmed from the side. I'm not seeing any POVs. I'm sure there must be a few in here somewhere, but I haven't found them yet. They're not on the front page at least.
High-End Pegging Exploration
Despite what you might think, it's not easy to make a quality pegging video, mostly because of how much work the girls are expected to put into the scenes. I'm not trying to imply that women are lazy or whatever, it's just that, pegging doesn't really connect to their sex drives in a natural way. Strap-ons conventionally feature no connection to the female reproductive organs. Was that too wordy? Let me try again. Strap-ons don't do dick to satisfy the women who wear them. They're little more than tools for the satisfaction of others. So, in essence, these girls have to get naked, then receive absolutely no pleasure while also thrusting their pelvises back and forth in a way that is kind of unnatural to them.
This is why I was pleasantly surprised to find an army of babes on EPorner all of whom do a fantastic job at role-playing and immersing themselves into the action. This of course helps immerse you as the viewer. I found every bit of this action arousing and it's all thanks to the girls who went the extra mile in conveying their overall satisfaction. I seriously can't get enough of this shit. You almost forget that these babes aren't using their actual cocks during these scenes, since they act like their clits are being stimulated as well. I've always thought that pegging would be much better if the girls wear two-sided strap-ons. That way they can feel the pleasure as well. Alas, this is not a very popular trend. I cannot for the life of me figure out why. It would appear that when babes are expected to provide pegging, they aren't expected to enjoy it themselves. It's a strange trend, but I'll take what I can get.
Triple-A Quality, B-Tier Stars
The overall quality of the videos on EPorner is just about the highest it could be, even if you consider this as premium pornography. Most of these videos are worth paying for, straight up. And yet, they're all completely free. This is why I believe that EPorner deserves honorable mention several times over for being the kind of sleeper cell porn tube that few people default to, but everyone has a good time visiting. I don't think I've ever regretted fapping on EPorner.
As far as I can tell, most if not all of the videos on this pegging section are being fed in automatically from premium studios who release these clips as promotional materials. I'm betting that they think that seeing a single video of theirs on a free porn tube will encourage you to go to the source site and sign up for a paid subscription. You can do that, of course. Or, you could just stay on EPorner and fap to this shit for free. Either way, everyone's happy and everyone's making bank. It's worth noting that EPorner don't run nearly as many ads as they could get away with, considering how amazing their smut collection is. I'm only seeing three ads at a time and they're barely noticeable.
Some Custom Content
I usually hate porn compilations, mostly because the people that make them have no idea what they're doing. They're so horny about their creations that they forget about basic video editing rules. Eporner forced me into a 180 with some amazing pegging compilations that are truly unforgettable. A lot of them feature trans chicks for some reason, which I personally don't mind at all. It works just as well. Just to be clear, the trans chicks don't use their natural cocks – they get fucked by babes who are wearing fake cocks. True to the fetish, pegging has to feature a fake cock. Real cocks don't count.
There's also a decent smattering of semi-professional content coming in from those at-home pornstars that you love so much. They used to be called amateurs but nowadays we call them independent porn producers. You know, babes who make their own smut at home with their boyfriends. In those videos you get to see a lot more free-spirited experimentation peppered with real feelings of affection and dare I say love. These babes love their boyfriends and they express that by shoving giant cocks into said boyfriends' assholes. This smut is so good it's almost making me want to dive into some pegging right the fuck now.
EPorner Is Amazing
Plain and simple – the pegging porn on EPorner is worth watching. The only prerequisite is that you actually like pegging, duh. It's not often I get to review a site that is painfully uneventful, but in this case that's a good, nay, a great thing! I love that EPorner is well rounded and all around enjoyable. The smut is top notch, the people are hot and my boner is extremely firm. I'd wager to bet that yours will be too.
Amazingly hot smut
Gorgeous cis-babes
Gorgeous trans-babes
Men who aren't ugly
Giant plastic cocks
Nothing at all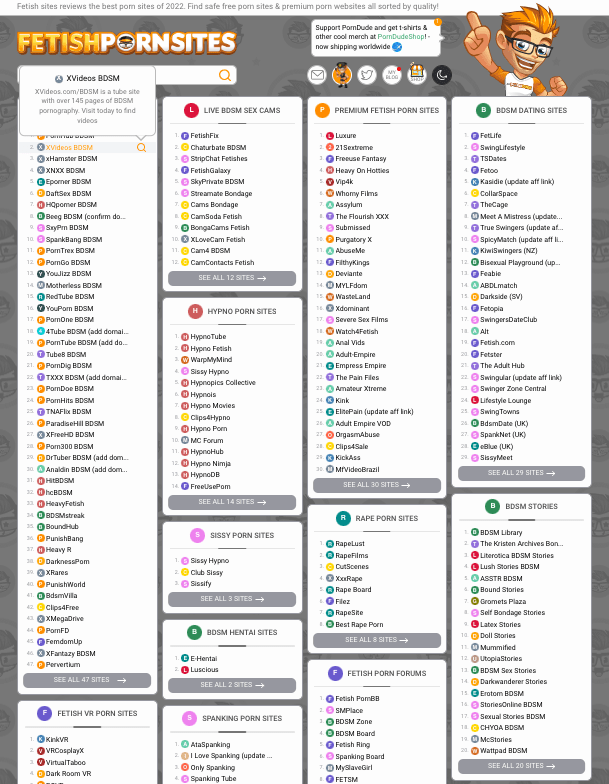 17+ Pegging Porn Sites LIKE Eporner Pegging