Show
17+
sites like

PornHub Pegging

:
PornHub Pegging
Finally, we can talk about a fetish that I have personal experience with. It's controversial, but it's damn fun to talk about. I was a no-go on the pegging for the longest time until I tried it myself with a bitch that deserved to be the first one to give me the dick for a change. Not going to lie – it felt gay as fuck. Not that there's anything wrong with being gay. Don't get me wrong. It's just a matter of principle. If you're not gay, you don't like getting cock. This is how the world works. Men usually indulge in pegging on account of how the prostate is supposed to be some sort of G-spot for us and also having something in your butthole while your cock is being milked increases the overall pleasure you receive. I first found out about this phenomenon when a girl stuck her pinkie in my ass while she was sucking me off. I swear, she milked me dry that day. It took me half a day to reload my six-shooter after that.
Bottom line, it doesn't matter whether you respect pegging or even whether you indulge in it in real life. It's a hot fetish that's built around a concept that already exists in nature. It's just cocks inside of holes. As for whether or not it's gay, well, who the fuck cares? It always features straight-male-preferred combinations of genders, like babes with dudes or babes with trans babes or all three at once. The format works. Hell, you could watch a video of a guy pegging a girl if you wanted. You'd wonder why he's not using his actual cock for it, but who the fuck cares? If it's arousing, it's worth watching.
Mainstream and Indie
PornHub has been very vanilla lately, what with the wide scale scrubbing of low tier content and all. I'm kind of glad they went this route, to be honest. They made their site into a bit of a social media platform for independent performers, though mainstream studio porn also gets posted as well. The end result here is that you have a pegging section that's loaded with quality content. It's all HD or better and it's all fantastically well produced, even when it's completely independent. The indie producers are figuring out the logistics. They want to get paid. Homemade sex tapes now have Hollywood levels of quality.
As for the pegging, well, we've reached a point where we're so open-minded about smut that everything tends to get combined with everything else. Look at any independent pornstar's page on PornHub and you'll see what I mean. One day she's doing ASMR, the next day she's in an orgy. There are no rules. That's why these kinds of sections are such a godsend. You get content from everyone, but only within the actual scope of what you're looking to find. Not to mention that this guarantees unprecedented levels of variety. On one page alone I'm seeing girl on guy action, trans action, public pegging and even a JAV combo of two girls doing one guy. One of the girls is sucking him off, the other is dicking him.
Mixing Up the Genders a Bit
What I've noticed about pegging porn on PornHub is that there's no clearly defined standard for this kind of smut. The base concept revolves around a guy getting dicked by a girl with a fake cock, we all know that much. But, in all other genres of porn you get some expectation of framing. You know who plays the subject and who plays the object. For example. If I showed you a blowjob section that's made for straight men, then the chicks would be in full focus with the cocks, filmed either from the side or from the POV of the guy looking down. If you had the exact same video filmed straight from the perspective of the chick, then that's just gay porn, plain and simple. The same video can be made gay if you just change the camera angles.
Well, this is a bit of a dice roll with PornHub's pegging section, simply because it's never actually clear who this smut is made for and how it is to be enjoyed. Yes, it's mostly watched by men, we know that. But, if you are a guy who's into getting pegged by women, what exactly would you like to see, ideally? Do you want a closeup of the girl's tits? Do you want to see the cock enter the male asshole so you can make believe like it's yours? Do you want a POV from the dude's perspective for submission or do you want to stay on the side? Hell, there's even the option of getting the POV from the perspective of the girl who's doing the dicking. I'd say that must be gay, but there are tits below the camera. Maybe it's a trans fantasy for women. I don't know. It's not my job to figure out the kinks. I just document them and move on.
It's Fun to Get Fucked
In summary, you get a wild smattering of disjointed videos that are only held together by the common thread of having some form of pegging featured. The more professional productions are filmed from the side, in a wide angle. The more personal videos are usually POV, though not always. When there are multiple babes going in on one guy, one chick usually serves as a sex toy for the guy and the other is dominating with a fake cock. You get to see men getting pegged while they're also being sucked off. It's all good clean fun.
The guys in these videos really seem to enjoy the action, so they're clearly well versed in the art of getting fucked in the ass. Also, very few if any of them appear to be gay, so make of that what you will. They might be bisexual though, since they're enjoying the babes but they also like being dicked. If I'm any proof, though, I'd say that it doesn't matter what you're into – anal penetration is just fun. I don't like dudes in the slightest. Hell, I cringe when I see them in my smut. Still, the action itself doesn't seem to be nearly as gay as priests will have you believe. You know they all get wild with their candlesticks once the lights go out.
A Carnival of Anal Penetration
The babes across this section are all premium PornHub material. Most of them are quite young and gorgeous, which doesn't surprise me. This job is very inviting. High quality pussy is flocking to PornHub in droves. Plus, if all a bitch has to do is fuck a guy in the ass, you know that's a sexy fun time for her. It's less effort than having to siphon cum out of a cock. I'm glad that women are making money, to be honest. Plus, they seem to be very inspired to float above the competition, so they get very creative. They use all kinds of different outfits, cameras, setups, filters, scenarios and editing to appeal to you in an original way. Ultimately, it's all the same crap, but it's done with passion. They really seem to care about their work. This is always welcome in fetish porn. The dedication to the pegging is what sells this smut.
Thankfully, all of the smut on PornHub's pegging section is completely free. You can check it all out right now, before you finish this review even. You're free to make up your mind on this fetish, but the bottom line stays the same. If you're tickled by the idea of getting fucked in the ass by your girl, then try out this smut. I promise you won't regret it. It's not nearly as gay as you might think. Hell, half of these videos feature multiple girls and one guy. The one I'm watching right now features Charlotte Sartre, for fuck's sakes. You can't get a better babe for a pegging video. The dude gets to eat her ass and everything. This is art.
You might be a bit turned off by the mix of amateur smut with professional videos, but PornHub have finally managed to figure out a way to filter these separately. There's an amateur tag that works on top of the pegging section so you can see pegging videos that are exclusively amateur. You can do the same with the other tags. They haven't worked well for the longest time, but I guess PornHub finally listened and figured out that when people want to jack off to amateur smut, they want actual homemade productions and not studio executives instructing pornstars to pretend that they're at home.
High quality content
Amateurs and studio smut
Different perspectives
Mixing genders
Nothing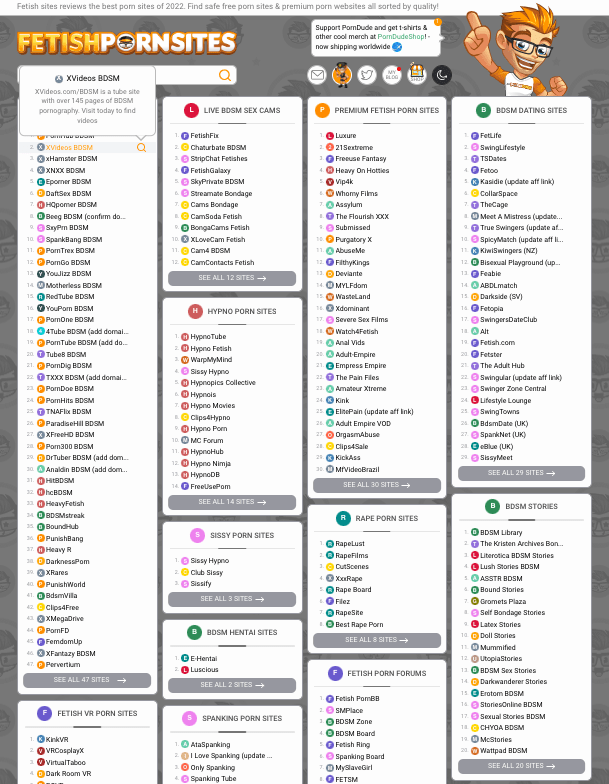 17+ Pegging Porn Sites LIKE PornHub Pegging