Show
24+
sites like

Footsie Babes

:
Footsie Babes
Hell yeah, boys and girls, we're reviewing a classic right here. I've been scraping the bottom of the barrel with fetish sites lately and I'm very glad to be covering a good goddamn mainstream website for once. Usually, these are the bane of my existence, because they're boring and uninspired as shit, but when it comes to foot fetishism, I go in flaccid, so it's not like you can make me any more upset than I already am. I have to spend several hours of my life looking at foot shit so that you fuckers get a decent review of a website that's going to make money anyways. The whole spiel is designed to make me upset about the fact that some people genuinely fap to feet. You know what I think about feet? I think they're petri dishes for the proliferation of bacteria. Fuck that noise.
But you people are weird, my job is weird, the world is fucked and it is time to talk about FootsieBabes. Pros and cons? Well, the cons are that this is a foot shit site. The pros? It's a great foot shit site. Why do I say that? Because I managed to fap, fuckers. You know they're doing something right when they get a rise out of me. I'm a breast and ass man. Hell, I'm mostly an ass man. I live within the ass dimension. So, if I managed to enjoy FootsieBabes, well, that's a huge compliment for them and a hugely important bit of information for you. This is a worthwhile site. Stick around for the full review. There will be feet. I promise.
Feet are for Fucking, apparently…
It's clear that whoever is behind FootsieBabes is either friends with a foot fetishist or they jack off to feet exclusively, because they clearly know how to devote screentime to the glory of the foot. Don't forget, I don't actually understand what it is that you fuckers find arousing about the feet, but I'm guessing it somehow involves being able to see the damn things on screen. I guess it also helps if they're in a high resolution so you can see all of the wrinkles and cracks or whatever the fuck. Does the foot have a clitoris? I mean, not literally. Does the foot have a sex point? Like… is there "best part" of the foot where you should be rubbing more than the rest of the foot? Sorry, I got derailed. I said railed. Hah.
The content on this site is what I consider to be proper triple A at least in terms of quality and direction. The director makes great use of the women that were hired to perform in these videos and while they are utilized across the board, meaning they get dicked in their cock holes, their feet are in full view at all times. That's the shtick. So, in other words, you get all kinds of classic hardcore pornography on FootsieBabes, but the feet always find a way to star in the shot, so you don't get derailed. It's kind of like having the best part of the woman visible at all times, except it's feet. It's fucking feet. You people jerk off to feet.
An Average Video
You're mostly going to be seeing one on one sexual encounters. One dude, one chick. More screentime is reserved for the chick, thank God. The videos also tend to start with the babes alone, lounging around in either skimpy clothes or their birthday suits. They show off the feet, of course. You get a lot of stylistic shots that frame their feet as if they're fake diamonds on a fucking 2AM infomercial. You know, they spin around and give you glamor shots. Then, the scene gently transitions into actual hardcore penetration with all kinds of pussy play and blowjobs. The blowjobs all feature the feet, of course. You get foot jobs a plenty.
Another lovely touch that I almost missed was that almost all of the titles for the videos feature some kind of pun that relates to feet. For example, you've got "A Day in Her Shoes" or "Soles to Soul". This makes absolutely no sense, of course, but the pun is there just in case you forgot that you're not on a regular porn site. This is also a great deterrent for normal people who want to jack off to normal porn. I promise I will eventually stop making fun of foot fetishists. It will be the day that I die and it will probably be the result of an orgy gone bad. I fuck around a lot.
The Chicks and Dudes
I like the selection on this site, both ways. Yes, I know that no-one cares about the dudes, but come on, these guys work hard, let's give them a shoutout. The people on FootsieBabes are all outstandingly hot. The chicks are triple A material and the dudes all look like me. Well, some of them look like an older "daddy" version of me. I guess that's for all the foot fetishists among you who also like to play pretend with your step-daughters. Ew. It's there if you want it. It's great stuff.
As for the selection of chicks, well, they're all gorgeous, but none of them are recognizable from mainstream productions. I guess this is because all fetish circles are kind of closed off systems where you only get babes that stay dedicated to a particular genre. For example, none of these babes seem to want to do any anal and they don't do too much vaginal either. It's there, but it's far from the focal point. That being said, it doesn't matter too much because these bitches are fucking hot. You get them in all kinds of shapes and sizes, except for too fat and too ugly. So, in other words, they're all either hot with big tits or hot with small tits. The asses are plump or large. No exceptions. There will be the occasional bony white girl here and there, but what are you going to do? They're everywhere.
Premium Foot Shit
For a premium hardcore porn site this place does not run a high bill. I like the pricing. It's very standard. There's a 3-day trial that you can use to check out all of the content at $3. It will recur after it expires for a monthly sub of $30, so don't fucking let that happen in case you only want to sample the content. You have to cancel it manually. Otherwise, check out the 30-day offer which on its own costs $20. Keep that in mind. There's also a yearly subscription at $120 which in my book is very cheap if I weigh it against other mainstream websites of this type.
As for whether it's worth it as a foot shit site, well, that's up to you and that's why they have the damn trial sub. You need to see if this is your exact type of foot shit and whether it gets you hard. Preview all of the scenes and keep in mind that FootsieBabes is going to be releasing new content as time goes on. As for a choice between the yearly and the monthly sub, well, I usually recommend that people try the monthly sub first, even though you don't get that much of a discount, simply because you want to know that the site is worth your dedication. Money doesn't grow on trees. That being said, it is your money so feel free to piss it away any way you see fit. Also, money is made of trees. That's a funny joke. Laugh.
Some Bonus Foot Shit
Even though I'm no foot connoisseur, I've seen my fair share of the smut in order to have an objective opinion on quality and I can personally say that FootsieBabes is top notch stuff. Granted, it's not extreme, rather it is classy, so you can keep that in mind as a distinction. For example, I like watching women dowsed in cum, because I like blowjobs and facials. So, to follow the same logic with foot shit, I might enjoy feet being covered in cum or beaten with a stick. Whatever. Well, you get none of that depravity on FootsieBabes. It's all very upstanding and vanilla.
That being said, it's all filmed in high quality with gorgeous babes and proper direction and none of it is censored. If I were into foot shit, I'd probably rather watch one babe shove her entire foot into another babe's asshole, but I am a fucked-up man, so you really shouldn't aspire to be like me. Be like Mort from the Madagascar movie. He was all about the feet. If you don't get that reference, you're not a real foot fetishist. Look up the fan made video of Mort licking Julian's royal feet. It's the funniest shit ever. Thank me later.
Top tier content
High quality productions
Triple-A babes
Feet
Could be filthier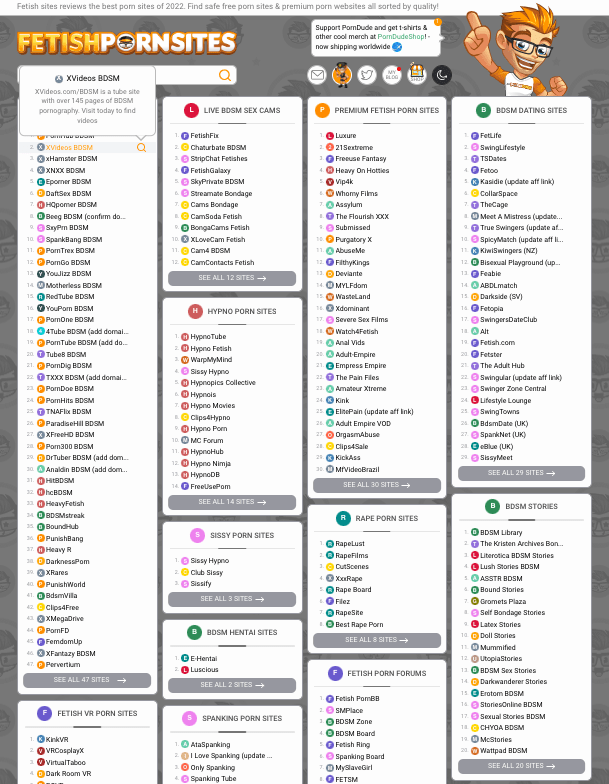 24+ Premium Feet Porn Sites LIKE Footsie Babes