Show
42+
sites like

AbuseMe

:
AbuseMe
Abuse Me is a website that impresses with its content and depresses with its layout. Once in a while, I review a website that's booming with potential but is so woefully mismanaged that it makes me want to leave. The content on AbuseMe is fantastic. We'll talk about the content; don't you worry. First, I want to bitch and moan about the general annoying nature of the website. It's not that they do anything wrong in particular it's just that the entire website aims to get you to pay for a subscription. I know that every other premium porn website tries to do the same thing, but some people do it better than others.
AbuseMe is the kind of website that really doesn't want you to have any fun until you give them money. They bathe their website in short previews of their content that you can't even watch properly. These are animated thumbnails that showcase a few seconds from random videos, and that's all you're going to get. Would you like to see a list of the girls featured on the site? Fuck you. You can't do that. Would you like to see a list of the affiliated websites that you would be unlocking if you were to purchase a subscription? Fuck you. You can't do that either. The only thing you can do on AbuseMe before signing up and paying is get to the payment and subscription page. This is grotesque.
Worthwhile Content?
I'm going to be honest with you. So many premium websites try to trick you into subscribing before they reveal that the content was not worth the money. AbuseMe isn't one of these websites. Their content is absolutely worth the price. So, why then are they trying so hard to hide it? I don't understand. It's like they're embarrassed about being amazing. I've seen their content before. They do fantastic work. They are among those production companies that create raw and unfiltered smut that's totally worth the money. Well, granted, their content is a little more scripted than I would like, but it's still primo smut. It's triple-A content at its finest. The bitches are gorgeous, the set design is impeccable, and the male actors are attractive, I guess. The whole thing is fucking excellent. And yet they could not be assed to give you a little preview of the content.
Obviously, I'm not saying they should give away the videos for free. I know why they're gatekeeping their content. But I can get a preview of their content on another website and stay there for the fap. It would be wise of them to provide their own previews so that I could be enticed to join their website with a subscription. I feel like they're pushing me away as it currently stands. I believe you will feel the same when you visit this damn website. The only thing left to convince you to stay is this review, and I don't think I'm doing a good job selling AbuseMe as a worthwhile website. But I will try to do just that right now after getting all my complaints out of the way. That's how I prefer to do business, so please don't hold it against me.
I Love the Smut
The overall theme of AbuseMe is that they are coupling young and nubile-looking bitches with huge dudes who may or may not be their actual fathers. There's supposed to be a power dynamic clearly at play. You are looking at innocent bitches with powerful men. Sometimes the scenario is played back and forth with the girl being the dominant one, but her clothing and general scenario imply that she's still lesser than the man. So even if she's an absolute whore begging for sex, she's still the inferior object in the scene. This is standard patriarchal pornography at its best. If you're the kind of guy who gets off to the idea of feeling superior to women, then this is the content for you. Personally, I could go either way. I just like fucking bitches. I don't care.
I will say that I love the smut on AbuseMe simply because it's a fascinating combination of the hottest women in porn with the most ruthless male porn stars. These guys are not violent. Don't get me wrong. But they are dedicated to the smut in such a way that they milk the absolute shit out of these girls. These women get fucked so hard that I don't think they will ever be able to enjoy conventional sex in the future. These guys go hard and do not stop until these women's vaginas are absolutely decimated. This is the kind of hardcore penetration that women cannot forget. It should also do a great job at motivating you to be more assertive in bed yourself. If you fuck your wife the way these men fuck these bitches, she's never going to cheat on you. Don't quote me on that, but I'm pretty sure it'll work.
The Best Bitches
At least on my screen, the first comment on AbuseMe is Emily Willis. If you are not familiar with that name, shame on you, you should be; she's one of the hottest bitches in the industry. Currently, she's 23 years old, but she looks like she just came out of high school. So, it's very common to see her on teen porn lists. Beyond that, she's incredibly talented at taking cock and looking like she's enjoying herself. She's a natural-born whore. This is why I love the woman. I would move mountains to stick my cock down her asshole. I would drag my testicles through a mile of shards of broken glass just to sniff her armpits. That's how hot she is. And she's just one of the many countless gorgeous babes on this website.
You now know what to expect. You can expect the best of the best with dedication and raw, unfiltered hardcore penetration. There's anal, there's vaginal, and there are blowjobs. This website is to die for. A good percentage of the babes here are not famous A-listers, but they have the talent to be. This tells me that AbuseMe is scooping them up before they become too expensive to handle. Of course, most of these bitches will end up being super famous anyways, but I'm glad to see that a website like AbuseMe is decimating them long before they realize that they can charge triple the money. Either way, they really want to earn that dollar, so every whore on this website is highly motivated.
The Scenes
As I mentioned, most of the scenes on this website start really quickly. They have some exposition, but it never takes too long for them to get to the action. I've seen many websites devote a bigger percentage of the runtime of the porn to the actual exposition, and AbuseMe is not here to waste your time to that extent. They just want you to fap. So, you will get a quick setup at the start that establishes the connection between the characters, like a cheating girlfriend or naughty stepdaughter, but beyond that, you're just watching two people fuck each other's brains out. It's great stuff.
As for the fetish within, I would say that AbuseMe is a serious 5/7 in that it's not actually a fetish site, but it's tangentially connected with elements like BDSM and role-play. The role-playing is mainly featured in the first minute of the videos, so it's kind of irrelevant, but it's still there. The BDSM fetishism is featured throughout the videos in the aforementioned domination. You're basically watching big strong men treat women like objects. But you're also watching the women being very happy about being treated like objects because they're being paid to pretend. I'm not saying they're not having a good time or anything; I just don't think there's a single woman in the world who's fascinated by the taste of cum. Either way, these babes go hard.
If you're considering joining AbuseMe based on what I've told you so far, you should probably try the one-day limited trial for a dollar. But I believe that that particular tier will auto-update and charge you again afterward, so make sure to cancel it when you're done using it. You could also get a 12-month access pass for $120. That obviously comes down to $10 a month, and that's a fair price point for any premium website like this—happy fapping.
Top-tier porn actresses
Hardcore penetration
Extreme quality
A bit pricey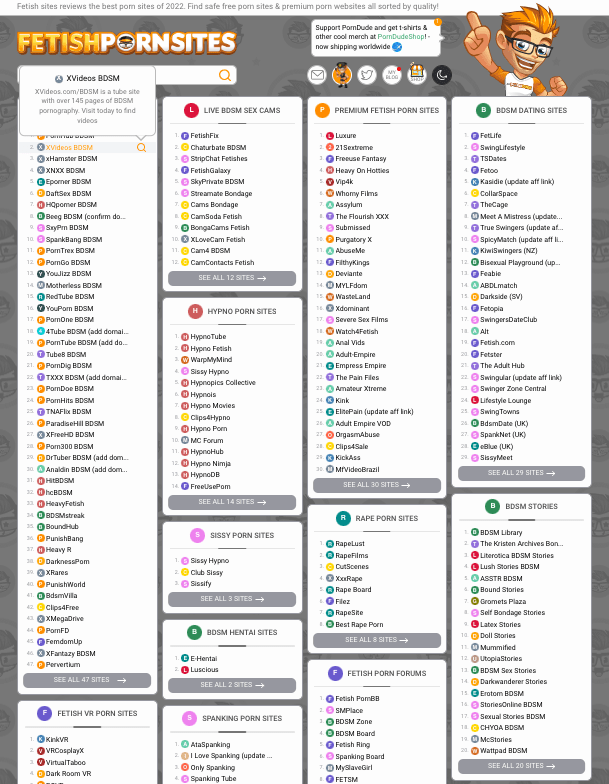 42+ Premium Fetish Porn Sites LIKE AbuseMe