Show
42+
sites like

DarkFans

:
DarkFans
Dark Fans! I have seen some pretty extreme erotica in my time, both on premium sites and presented on platforms by amateurs. As is typical, the quality and levels of creativity are all over the place, which is why I have been looking for a website that consistently presents the freakiest fetish porn in multiple categories.
For a while, I had been turning up dry until someone directed my attention to DarkFans.com. Looking just at the title, my curiosity and cock were aroused, so I immediately signed up to see if the rumors about this platform were true.
As it turns out, some people might consider this to be the next OnlyFans, or rather one, which will be the smut subscription platform for mild fetish fans and full-on freaks. It can be a little hard to tell if you just casually check out the landing page, so I did a deep dive for all of you!
Here Are Secret Stats On This Smut Site
If you have not heard of Dark Fans, I am not surprised. As we will see, they have a large community, but this is what one might call a sleeper site with a cult following. So, I had to do a little extra work and dig up a series of interesting statistics.
This might not seem all that important, but this is rather important because you can make money on this platform.
As of recently, they get almost three thousand unique hits every day and more than double that when it comes to page views. Visitor stay is pretty notable – at least compared to the average sex tube – as the average is almost three minutes. And their Alexa rating is surprisingly high, coming in at under 27,000 globally. Depending on what country you are looking at, their domain authority is even better.
While it is hardly the most prominent NSFW place in cyberspace, it seems to be doing quite well. Why precisely is this? Well, as I alluded to, Dark Fans is sort of the taboo porn partizan's ideal version of OnlyFans.
In short, Dark Fans is a place for fans (i.e., content consumers) and creators (i.e., content creators) to exchange money for access to crazy kink content. I'll qualify what you'll see later. But to finish quantifying things, there are about 7,700 creators who have collectively uploaded 59,000 photos and 106,000 videos.
The Design Of Dark Fans Is Dang Dank
There is one aspect of this site that both frustrates and excites me, and that is how secretive it is at first look. The landing page does not give you much of an idea of what you are going to experience on a visual level. The text hints at what this platform is about as they claim to be a "unique special network for fetish and kink lovers. Where Mistresses and Masters bring you the opportunity to tribute for their pleasures." That is a strange way of phrasing it, I think, but I can verify that this is roughly the gist of what Dark Fan's core focus is.
I just with that they would show more, rather than tell. And this is made even more frustrating as all upload thumbnails are blurred unless you have a subscription to the creator. The only thing you really know is what you can discern from the title and description. Again, this got me mad initially, but then I thought about it. Since this site caters to – among other kinks – femdom, domination/submission, and pleasure, this constant tease seems oddly appropriate.
As far as the design goes, when it comes to navigation, it is relatively straightforward, intuitive, and bug-free. While not a carbon copy, the layout is similar to OnlyFans. There are links that make it easy to access all of your premium posts or those of who you subscribe to, read personal messages, see who is doing a live show, and more. And when it comes to how this website looks on different devices, operating systems, and browsers, it seems to look great.
The Range Of Raunchy Pictures Is Pleasing To Me
If you do not have a membership, a good idea to get a feel for what you are going to see is by looking at their Twitter feed, @Darkfans. Comparing those visuals to the descriptions of the complete uploads on the site, you will see that promo texts are excellent but do not quite do the scenes justice.
For instance, there are clips of restrained folks getting handjobs from hot whores in hospitals. I caught part of a scene of a shrimp-sized dick guy in chastity making his lady love suck on an oversized dildo before sticking it to her lower holes. You can also find samples of debauchery from the exclusive BDSM festival in Barcelona.
Other poster's content is suggested by their username. Examples that caught my eye include @AllCityTattoos, also known as Bottom Feeders! And @Nia47825114, who calls themselves VAMP FETISH. Other names are not so obvious with what they...joueur49, who is famous for his "shitty dildo" uploads. Oh, and all of these people are registered Dark Fans STARS who often do live shows and, I believe, do take requests.
Speaking of STARS, besides all of the prerecorded content, there are live shows going on all of the time. If you catch them, they are totally interactive.
The Price System And Sign Up Process Is Super Simple
Alright, to get access to any creator's content, you'll have to meet the price that each creator sets, which is usually pretty reasonable. Most uploaders provide access for between $8 and just under $20 per month. However, there are some who are considerably cheaper than that. Just keep in mind that you'll also have to pay a value-added tax and a bank fee.
The upload rate is not guaranteed, but since you can also view their archive of amorous material and more. Subscribing to a creator allows you to chat directly with them whenever you want. Based on what I have seen, the exhibitionists on this platform certainly do seem eager to get praise and possibly even suggestions for what their next freaky film should feature. And to get access to all of this, all you need to do is register via email or by using your Twitter account.
Do I Think That This Is The OnlyFans For Fetish Freaks?
So far, I have focused on what the fan experience is like, so I will wrap up with what creators can expect. With thousands of active users and more joining daily, you will have to work hard to stay competitive with the other passionate perverts on this platform. Fortunately, there is so much diversity that if you pick a hyperspecific niche and stick to it, you will likely get a gaggle of followers to watch your erotic exploits.
Besides live shows and prerecorded uploads, creators can also set up their own sexting system. This allows you to communicate with your patrons, and you get paid to exchange erotic messages. These chats can be configured to take place between you and another user...or several of them. You can also sell or auction various things, like used panties, requested items, and custom movies.
Creators get personalized customer service, are paid weekly, and get to keep 80% of what they earn. They will even help facilitate your growth as they are "The only fan platform on the market with an affiliate system. We connect you with large websites and social media accounts for advertising."
To begin, all you need to be is of age, have a mobile phone, and plenty of pervy uploads ready to go. And if you need extra incentive, they provide monthly promotions and challenges complete with prize money!
There is a meme known for the question "show me where the freaks at," and I'll declare definitively that this is the spot in cyberspace to be. This is a four-and-a-half-hand site, one which all of you – no matter what kinky shit you are into – will love to be a member of.
Registered fans can get access to hundreds of sex-centric subscriptions
Whether you are a fan or a creator, you can get your account set up in minutes
The sorts of sordid media here are some of the most 'extreme' including scat smut
As a creator, you can broadcast yourself and make money on live shows
Creators can also charge patrons to send them personalized, sexy texts
You get to keep eighty percent of your sales with no hidden fees
It is frustrating that you cannot get any previews of any scenes or still shots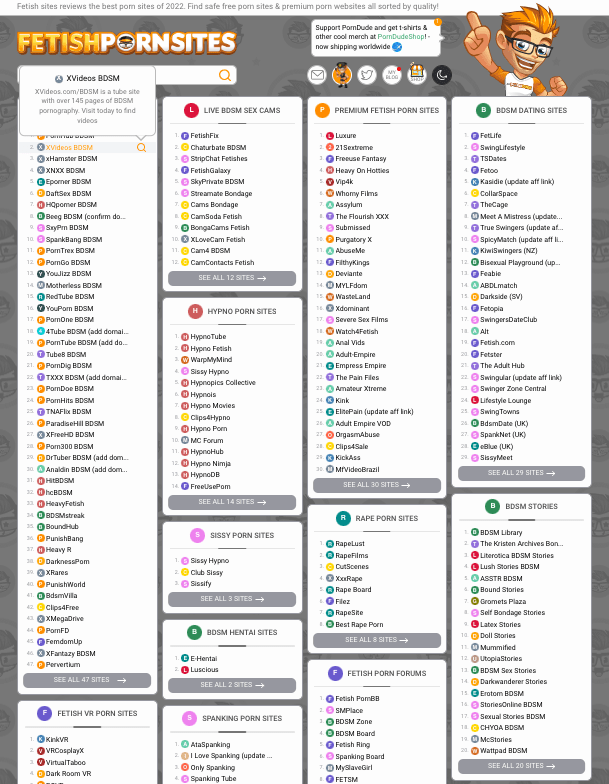 42+ Premium Fetish Porn Sites LIKE DarkFans