Show
42+
sites like

Fetish Movies

:
Fetish Movies
FetishMovies.com describes itself as a website having educational and entertaining videos. Hmmm, interesting? I guess that Whipped Shocked Clamped Valiva Climax is the title of the educational one, and Trans Hoes in Pantyhose is one of those that are meant to entertain. Sure thing! Don't get me wrong! I like it! I like the fact that I am finally reviewing a website that looks and feels like a real adult page, with about us, FAQ section, affiliate program, and all that shit. Meet fetishmovies.com! Let me start this review!
I dig the informative homepage
Packed with info but not cluttered. Fetishmovies.com has found the right balance! The first thing that I notice is that new members get twenty minutes for free, meaning that this is one of those websites where you purchase minutes instead of membership plans. I'll come to the whole membership ordeal a bit later. I want to focus on the website design now.
Thumbnails that look like DVD covers have never been my cup of tea, but I have to admit that websites having them tend to look unique. Once you hover over the thumbnail, you'll be treated with a video preview. That's not something that should be mentioned as a major advantage because I think that having good thumbnails is mandatory for all premium websites. Don't you fuckers agree?
The top of the fetishmovies.com homepage shows that there is a total of 259K movies and that 192 movies have been added in the last seven days. I was unsure whether the numbers applied to the whole website or just the fetish section at first, but I soon realized that the stats are for the fetish stash only. The conclusion is simple - fetishmovies.com is a big, premium website that has a lot of content. Daily updates are another important thing to mention.
Fetish content coming from some of the world's best studios
One of the ways to filter the content, and I assure you there are a number of filtering tools, is by choosing a studio in the drop-down menu. Devil's Film, Asylum, LetsDoeIt, Kink, Amateur Spankings, Foot Factory, and Bizarre Video are only a couple of studio names I've seen on the list. Simply put, fetishmovies.com is a premium website that collects the best fetish videos, puts them under one virtual roof, and sections them out into proper categories.
Ah, the pornstars! Where should I begin?! The list is probably one of the best I have seen on any website of this kind! Fetishmovies.com proudly presents videos featuring over 57K female pornstars, 18K male, and over 6K trans adult stars. The majority of the stars are in their thirties and forties (yeah, you can filter the content by using the star's age criteria). Ethnicity, body type, hair color, breast size, and zodiac sign. Yeah, that's how crazy fetishmovies.com went with its pornstar list!
Every hoe who has ever given me a boner is here - Brooke Wylde, Emma Hix, Valentina Nappi, over two THOUSAND pages jam-packed with bitches! 97K adult pornstars in total, and more tools to pinpoint the one of your liking. Wicked!
The categories are wild!
Let me get one thing straight first! I am not one of these easily impressed guys! Don't get me started on my vast experience, gazillion chicks I've banged, and a shitload of fetish stuff I've seen in my career. When I say that a list of categories is out-of-this-world good, you should take my word for it!
230 crossdressing videos, 67 adult babies stuff. That's when an adult man pees in a diaper in shoves a pacifier in his mouth. Idiotic and surprisingly fun to see! Moving on. 431 enemas, 4.5K spanking, 8.8K bondage movies, location, catfights, latex, stockings, menstruation. The never-ending list of categories.
I did notice one saying Free porn. I hurried to see what's that all about, only to find two crappy interviews with Buck Angel. If you don't know who Buck is, don't worry about that. Just some random bald stud talking about the art of drilling. Thank you, fetishmovies.com, but I'd rather wank off to your cool thumbnails.
Purchase minutes or go with the monthly membership plan
I've always struggled with the idea of purchasing minutes on a porn website. The concept of counting the minutes sounds tedious and completely unnecessary, not to mention the fact that these kinds of stuff usually end up being way pricier than standard membership plans. Before you give up, I suggest you make the best out of those 20 free minutes you get as a new member. To sign-up, you'll need to enter data like email, username, and password. Simple and fast.
For $9.95, you'll be able to purchase 150 minutes. You will get 40 minutes as a bonus. For $24.95, you'll get monthly access to all content on fetishmovies.com. In this case, you will also get the 40-minute bonus, 310 minutes for the first month, 270 minutes added each month, 450 reward points every month, and one free clip credit every month. Customer support agents are at members' disposal 24/7, ready to respond to all your stupid questions.
At the time of this review, a special offer named Top-up was available. Namely, every new member gets 20 minutes free and the chance to purchase additional 200 minutes for $19.95 in the first 24 hours. Fetishmovies.com support cryptocurrencies as the payment method. If you go with this option, your transaction will be far more secure than the regular ones, but this is something that you really need to google. I still have lots of explaining to do when it comes to other ways to filter fetishmovies.com content.
Rent a movie, stream or download
Fetishmovies.com keeps getting better! I am using filtering tools to find that education Clamped Valiva Climax education clip, and I find it in a heartbeat. I want to see the options. A short trailer is available, which is always a good thing, and the short description is there to explain things that might have been left unsaid by the trailer. Each movie and clip show the upload date, running time, release year, studio, and pornstar name. I told you that this page was a fucking masterpiece!
A seven-day streaming rental of this movie is $4.95, and, as far as I can see, the prices are the same for all movies. The lifetime streaming option will chip off $9.95 from your bank account, and lifetime streaming and downloading will cost you $14.95. Before you make the final decision, I suggest you click on the movie details option highlighted in red, which you'll find below the pricing. Anything a paying fucker would like to know is in the list, from the studio, running time, and fetish, to hair type, ethnicity, theme, and clothing.
The filtering tools are fucking everywhere. Before I end this review, I have to mention a huge drop-down list that allows members to filter videos by using the latest, top, most popular, virtual reality, top 100, and many other criteria.
One click on Clips in the upper right corner of the fetishmovies.com homepage will open another big-ass list of categories mentioning terms like duct tape, transsexuals with men, face sitting, anal play, cuckold, cellophane, rimming, humiliation, etc. I almost feel bad for using etc.! So many categories I want you to explore! The whole point of all this blabbing is to explain to you fuckers that fetishmovies.com is diverse as it gets!
Final thoughts
There ain't a lot of fetish websites that have such a massive potential to please as fetishmovies.com! On top of that, all members get 24/7 customer support and access to over 256K fetish movies. Famous pornstars, a myriad of filtering tools, exclusive content, and high picture quality. All of that on just one big website. Let's not forget about uber-kinky stuff like adult babies, enemas, pony play, pissing, and face sitting!
I don't give a fuck whether you are gonna go premium, purchase, rent, or stream! I don't want to hear your petty excuses! I want you to thank me for discovering and presenting fetishmovies.com to you. Yeah, plenty of other fetish websites on the web, but fetishmovies.com stands out for an exquisite collection of fetish porn coming from some of the planet's best studios. Think about that! Don't be a prick! Remember that 20 free minutes I was telling you about!
Gain access to over 259K fetish movies
Plenty of filtering tools to help you during your search
Content coming from top-notch studios featuring popular pornstars
Purchasing minutes instead of choosing standard membership plans
All content is exclusive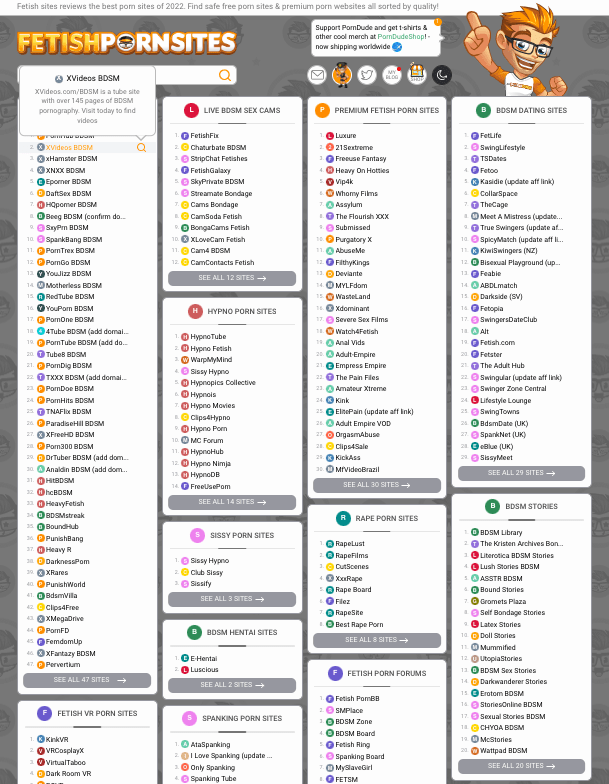 42+ Premium Fetish Porn Sites LIKE Fetish Movies