Show
42+
sites like

Adult Empire VOD

:
Adult Empire VOD
Adult Empire is a very well-built website. Just by me stepping into things here I can already smell the sex... And it's good. Adult Empire (AE) does a lot of things on this website. They are providers of high-quality porn content that's available for either DVD (ordering) or for streaming. Your account will also be that collection of the porn movies you've purchased over any given period.
What I'm more curious about is the BDSM section of AE. If you're a lover of porn, a professor of it, such as myself, you'll be familiar with all BDSM can provide. It's not always ropes, chains, and whips. Sometimes, it's lighter with spanking, choking, or hair pulling. Just how much, and how deep, does AE go with their fetish porn?
Design - Worthy
Adult Empire's design choice is pretty clean and neat for a site like this. It's very extensive and they've expanded to a wide range of topics, covering a load of pornstars. You wouldn't want things to ever get messy. Fortunately for AE, they've got a good head on their shoulders - pretty, too.
Their BDSM section, which you can say about any specific category, is neat and organized. The main body of this page shows the covers, bright, and vibrant of the BDSM movies they're offering. The covers also include a price tag on them so you know how much they are without moving a step further.
The genre pages also include a great sidebar. This allows you to sort the movies you're seeing to be in a DVD category, blu-ray, rental, or on-demand. You can also manually search movies or search movies by pornstar if you know her name.
This website even looks fantastic on mobile which is something I'm always looking out for nowadays. I'm always on my phone looking at some girl getting fucked and cumming. I'd like to be able to continue to do so without breaking my stride. So, if you're curious about using Adult Empire on your phone, you'll find just as much ease as if you were using your computer.
Once you find a movie you're looking for, click on it, and you're then sent to its own page. The cover of the movie will be there alongside a very generously sized preview video to see if you still like the movie. AE then goes into some details about pricing for the different ways you can view the movie. All of this is laid out very easily with bright buttons to make you want to spank them.
Content - BDSM Treasure
If you're looking to have a night of BDSM fun, AE has your back. they have over two thousand BDSM titles on deck for you to purchase. I'm surprised at the lengths they've gone to ensuring they have great products on sale. They're featuring movies from well-known studios like Kink, Deeper, and BangBros.
The variety they bring with the movies for sale is impressive, too. You'll find movies about fat asses enjoying anal, girls being tied and made to squirt, as well. And, if you're into it, you can even find some pegging movies.
A point that AE makes known is the inclusion of different pornstars. I'm finding women I've never heard of before alongside some of the top names in the porn industry today.
Build Your Collection (The Positives)
What I enjoy so much about Adult Empire is how easily it is to create your own porn library. You have so much BDSM content here that you can feel like you've just jumped into fucking Candy Land. You will always be able to find something good to watch whether you're buying something for the first time or just falling back into your porn stash.
One of their great points is the different ways to view Adult Empire porn. Not many sites offer this sort of thing. It also depends on the type of service they're providing, too. But AE offers you several different options to watch their content. The break things down into two categories: DVD and Video On Demand. They then provide the prices for each side.
While DVDs are pretty simple to understand (literally ordering the DVD), the Video On Demand comes in different types. "Pay per minute" is probably something I had to really look at to understand. If you're unsure if you even like the movie, you can only pay for how much of it you watched. They then offer payment information on HD download and streaming, just streaming on its own, or renting the movie (digitally).
Some of these options are expected while another is pretty unique and different.
Additionally, I can appreciate the "Series" portion of their sidebar being tailored to whatever you're looking at. Porn movies/videos come in series at times. If BDSM is your thing, they've broken down all the series and how many movies belong to each series. So, if you've stumbled across the name of something you like, search it up, and get watching.
Simple Clean Up (The Negatives)
One of the most crucial negatives Adult Empire has as a site providing this type of content is to always be on their game. And, in one area, they are simply dropping the ball. It's not anything breaking but it removes your potential customer from feeling like they should buy that video.
I've come across multiple titles that are without a sample video, multiple ways of viewing, or photos for that video. A lot of their other titles come with those things. So, yeah, color me spoiled. Why shouldn't I be? Adult Empire has established this trend of showing you everything there is to know about their porn movies. Now, for some, there's just nothing? It makes the video pages look barebones and not really exciting.
Moving Around (My Suggestions)
While Adult Empire is a solid website and can wear their big girl panties, there are some things they can work on. For me, the biggest thing is the sudden change of atmosphere from the main page to the sub-pages. And by sub-page, I mean like this, the BDSM page. On the main page, things are shifted around, you have this huge main banner about whatever new thing is out along with some smaller ones on the side.
Why don't the genre pages have that too? Right now, all you're dealing with is the sidebar and the main body being all the movies. This is great, it works perfectly fine. But it'd be nice to still continue that trend into the genre pages, too. Include a big banner of the latest, hottest, most anticipated BDSM movie. News on a new release in that particular genre is always something people want to know about.
And these pages could use with some slimming down of the columns. Right now, there are five columns across my screen of porn movies. This works because it plays with people's brains. We see all these porn movies and just keep scrolling until we need to go to the next page. But we're missing out on some horny banners of the sale that's going on.
A simple approach is to trim down the sides and add in naked, beautiful girls that are showing off something new with the site or with that particular genre.
In Conclusion
Adult Empire knows their shit. They've been doing this since 1997 so I'd hope they've got their act together. This is a website that understands the types of genres they're dealing with and the people who are here to watch them. With clear banners to all the information you need to know about a pornstar, Adult Empire is doing very well.
Great Design (mobile/desktop)
Variety in terms of content
Information on pornstars
Not every video/movie has information
Some titles go without multiple ways to watch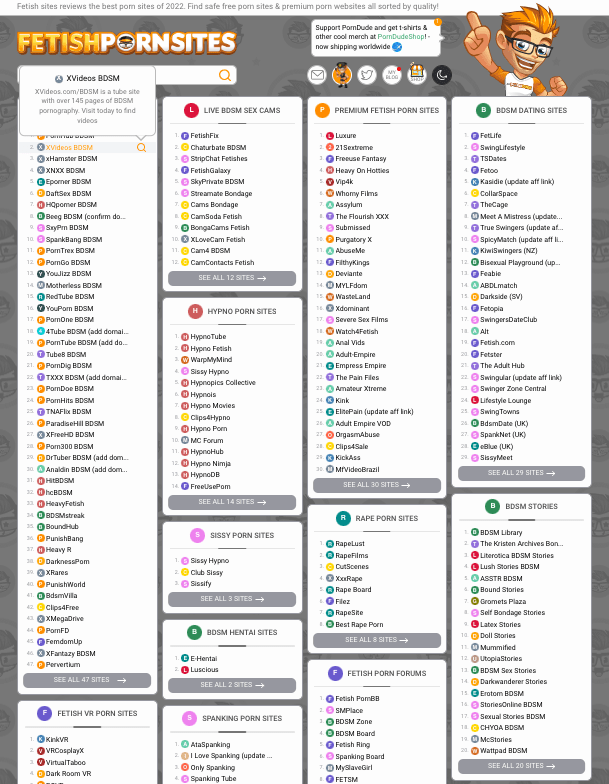 42+ Premium Fetish Porn Sites LIKE Adult Empire VOD