Show
42+
sites like

Anal Vids

:
Anal Vids
Ever heard of butt stuff? Ever, well, wanted to do butt stuff? No, not with me! Fucking stop! I'm just asking... for a friend. AnalVids is jam-packed (get it?) with everything revolving around that wonderful asshole back there. Have you ever got the yearning to find a girl pushing colored balls out of her ass? AnalVids has got you covered on that front.
Now, be warned: this is a premium website. So, if you'll want to enjoy the entire duration of their content, you'll need to pony up some cash. And, before you begin to wonder, AnalVids isn't just all about the backside, even though that's their specialty. They have many more genres like pissing, ass-to-pussy, and more.
Design - Clean Enough to Eat Off It
A fat, plump booty just sitting there. The slightest tap or spank sends it jiggling into oblivion. I'm losing myself right now, and I won't apologize for it. Instead, let's just take a beat and admire the design of AnalVids. It's clean, to say the least. Very minimal. The website's overall design follows the same clean-cut routine throughout. A simple header, prominent video, and related videos.
If the pornstar you're watching is in another video, those other videos will appear at the bottom of the page. AnalVids also provides their viewers with some photos from the scene they're watching to take something on the road with them for later. The labeling of the videos is also really good, and not every website is so detailed.
They go, literally, into everything. It's kind of like how they have cocks going into literally every hole of a woman on this website. You'll get specifics to find more videos you're looking for like "long cock, rough sex, ass-clap" and so fucking much more - surprisingly.
They also have an exciting way of marking their videos. Of course, you need to create an account and pay for the content here on AnalVids. But their videos are marked with the price of the video and their length. This is easily seen by hovering over the video on a desktop or mobile.
The website on mobile is also very clean. It's a carbon copy of the desktop version but in a vertical form. So you can absorb all the same information on your phone without worrying that you're missing out on anything.
Content - Ass, Pussy, Pissing
Fetishes can get quite messy. But then again, if they're not getting messy, what the fuck are you doing? Pee, squirt, spit, do it all! It's pleasurable, is it not? I remember dabbling in some stuff like this a few years back? Woke up with a snorkel on my face. Please don't ask me why. Still trying to figure that out. President's Day, what can I say? Regardless, that day is like a book of fetishes, kind of like AnalVids here.
The content they provide is pretty vast considering the name "AnalVids." It's always a lovely surprise when you open a website, and they're providing more quality content than just what the name implies.
Let's break this thing down, hmm? Undress her a bit. Now that AnalVids is a premium site, you can expect some premium content. They have 66-categories in total on this website. 66-fetish crazy porn videos! Damn, how long does my subscription last?
While you soak up that number and wonder if you'll ever leave your house, they break it down even further. If you're familiar with other porn studios like I am, because I'm amazing, you can look through those. AnalVids breaks its videos down with the "studio" tab. Looking for a "Latin Teen" production, you can find that. "Gonzo" is there too. There are so many anal, pissing, choking studios working with AnalVids that it's a bit overwhelming at first.
Sit on my Face (The Positives)
This website will do precisely that: sit on your fucking face. And, yes, you will let it happen. You'll enjoy it. You'll even call her back tomorrow morning asking for her to come and do it again. Trust me. The design of this website, while it may not be as stellar or creative, gets the job done. Sometimes, all you need is for the job to get done. So clean yourself up and get going - or stick around. Your choice.
Content is also a huge part of wanting to call yourself a "premium" website. If you're looking to charge people money for a service, providing them with fetish tailored videos, you need the backing. Luckily, AnalVids has the videos, they have the models, and they have loads of studios. The amount of studios with videos on their website is staggering. It really is. And these studios, while some may be similar in genre, hold their own.
You always want something that can grab you and bring you in. You will always want to stay around because of a model, a genre, or a studio. These studios can be that one or two you've been looking for. They specialize in certain areas and produce those titles for fans like you to enjoy. Love watching videos where girls love guzzling down your piss; you can find studios just like that. Looking for big booty girls? Check that off too.
You could go either way with this as positive or just straight facts, but their money system is interesting. We've seen the "token" system done before in other places. AnalVids is no different when it comes down to taking real money and converting it into their website's own currency. Taking an example from their website, paying $29.90 USD (one month of service) provides a person with 42 tickets immediately upon purchase.
Every video on the website has its own TKT (ticket) tag. So, with 42 tickets, you can probably get a few movies out, with some costing 8 tickets to purchase. And, as stated through their website, because I read, you have those videos forever on your account once purchased.
Money, Money, Money! (The Negatives)
Don't get me wrong, there are perks to premium websites such as AnalVids. You're getting fantastic quality for your buck. The only thing is: how many bucks will it take for these fucks? You want these amazing, high-quality sex videos, yet you might want to take care of your moolah. It seems as though they want you to spend on monthly tickets; 3 months is $79.90 USD, giving you 48 tickets per month.
With that breakdown, it seems fine if you're not purchasing that many videos. But, let's face it, these videos are absolutely fantastic. It's designed to get you off in the best way and make you spend that cash. If you're purchasing directly, without a subscription, that's when things mirror themselves. 100 tickets are $99.90 USD. So while they say this conversion is "cheaper" per video, you're still laying down a lot. But the good thing here's that you're laying down a lot for multiple videos. Let's say each video costs 8 tickets; with 100 tickets, you're getting 12 videos of your choosing.
My Suggestions
This is just me talking, and I know all, so this is warranted no matter what, but the payment system could benefit from a tweak or two. There's so much that goes into charging people real money for a great service. You have to think about the content involved, quality, and what you're asking for people. I'm trying to get you to bust a nut, not your damn wallet. Feel me?
First off, AnalVids' "ticket membership" could probably benefit from being more of an actual subscription service. The different "months" could be broken into tiers. The lowest one is your basic subscription to the website for videos. As you go up the remaining two tiers, add some perks for people. Special high-quality photos when they watch their favorite porn models. Sneak peeks at new upcoming titles. Something like that.
Their "direct purchases" are fine. You've just got to understand the conversion and how much you're watching from AnalVids. If you're not going to watch 12 of their videos, a hundred dollars is probably not necessary to spend.
In Conclusion
AnalVids is an amazing website packed with so much premium fetish content. They stand on their own with so many different studios supporting and working with them. Their layout on desktop and mobile is both simple and clean. Everything is explained clearly and laid out properly for the viewer.
AnalVids is like a buffet of fetishes for you to be amazed at. You might need a bigger plate if you're spending some time with them.
Simple Design (Mobile and Desktop)
High-Quality Videos
Loads of Content
Studios on Deck
Many Genres
A money system that reels people in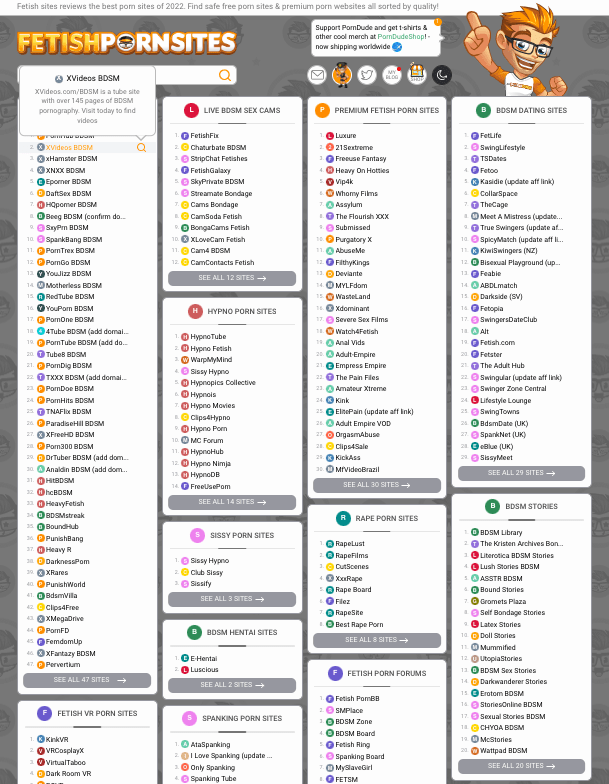 42+ Premium Fetish Porn Sites LIKE Anal Vids