Show
42+
sites like

Assylum

:
Assylum
Who the fuck doesn't believe the internet exists solely because of anal porn? Big titties and clean and freshly shaved labia get all the fucking attention in the pornosphere. It is fucking good. But why can't we shift the attention and focus on the round butts? Let's parade at Assylum.com – we have a desert of mouth-watering bubble butts getting all kinds of sexual antics and atrocities as these bitches scream to their lungs. Anal porn is the real deal.
Anal sex is elusive, and everyone desires it in one way or another. You want that experience of having your dick being massaged by the tight anal walls of some pretty harlot. If you have a girlfriend, you might have luck and give a shot. The main problem is getting your innocent girlfriend to arch her virgin butthole for you to shove your monstrous hard dick that is used to daily fapping in your dingy room. She might be wanting but worried. And guess what, dumbass, I have another article cooking on how you can lure your naïve girlfriend into having anal sex with you. Keep in tabs.
Anal porn brings one of the most popular genres in hardcore porn. Therefore many smut sites have dedicated their time to anal content. The problem is garbage shitty sites come along as well. The internet is flooded with scammers who will take advantage of anything to make some bucks. It's so unfortunate that even porn paysites – hide content behind paywalls – are giving gibberish shit. But since you idiots are so clung to your funny hard peckers, you will wank to any shit regardless.
Well, Assylum is not one of these shitty gibberish sites. Assylum is a mad, anal fetish universe of dirty submissive girls. The site offers something that no other site in this genre can come close to. It is a whole fucking premise, as its name suggest. Fuck! Before we enter these walls of iniquity, brace yourselves as you take a deep breath because the smut that is unfolding here is out of this fucking world.
Creative BDSM scenes
The first question that a chronic masturbator should ask is, what should we do with a disobedient, unruly, dickmatised harlot with an insatiable sexual desire who will never follow the socio-sexual norms of society? Should we even refer to them as harlots? It is more decent, and with how they give in to torture and slavery, they need to be called with derogatory terms. They are bitches, meat, sluts, whores who are ready for any atrocities. After posing that question, I will then answer you, dumbasses. These bitches need to be punished severely. Who goes against society's norm and gets away with it?
Tie them in chains, rope and leather bondage, bend them over, lube their assholes and fuck them hard in the ass. While you are at it, gag, choke, vomit, spit and sometimes even slober on these bitches. The fuck! After serious drilling, jeez all that milk inside her butthole to give her an anal creampie. Then watch the fucking cum ooze out of the honey pot and witness these bitches slurp it like some honey. Don't you ever fucking ask Porndude such a stupid question, moron! If you cannot treat these slaves, send them to Dr, Mercies of Assylum. Here they will learn how to obey!
Therapies you are calling them?
While you enter Assylum.com, abandon all hope! Dr Mercies puts these whores through therapies – hardcore paces and push them beyond limits. Every patient has their sicknesses and requires different attention, therapy and prescription. Therefore the scenes on this site are unique and original. This is limited to assylum.com. Top tier smut that one.
Al the scenes are labelled Sessions – the American Medical Association doesn't seem to like this, but who cares, fuck them. The fetish play on the site is on point. I have seen piss play, but most of these videos have anal penetration. Wait, have I just seen a bitch take a vial of urine? What the fuck! Porndude, where in hell are we today?
In one of the therapies going by 'Let Them Eat Ass Cake,' we see Dr Mercies stuff a chocolate cake batter in Lydia Black's butthole. Then this bitch pushes it out. Waiting for it to be stashed in the trash can, they bake it. There was another scene where the therapy this time around was on the ebony Noemie Bilas, where her prescription was entering a subspace while suspended. Isn't this motherfucker just creative?
Download and stream videos in Full HD
Assylum currently hold 106 movies with 38 different scenes. I always say fuck China and anything Chinese, including their global pandemic. Imagine videos could be uploaded on this site weekly, but then after the pandemic, we can only get one upload per month. Sad times these! The positive thing with our models here is that they always showcase their undying efforts in ensuring that they give the best action ever.
The videos are at least 60 minutes long, and there is one that spans three hours. The videos stream and download in three resolutions Ultra 4K HD (3840 x 2160) format, the 1080p and 720p HD depending on your membership. Downloads are limited to 3 per day to curb piracy. Unfortunately, we don't get to have photo sets yet.
What do these bitches think?
After what unfolded in front of my eyes, I'm left curious about what these bitches think about this experience. Their performances and the scenes are so filthy, dirty and brutal. I have to ask if these harlots consent to all this bullshit. This is not anal BDSM sex. This is fucking painal. You have to stand watching these bitches cry real tears and scream as various objects are inserted in their tight assholes. Some of the dicks are fucking monstrous for these tiny bitches. I even can't that there are weirdoes who fap to this shit.
At the end of the therapy sessions, there are the cast commentaries. Here we get to understand the inner motivations and mindsets of the performers and directors. This acts as a way of telling the fans that these are just but dark and sexy fantasies by these women. It is a taboo they have always craved for, and they want it fulfilled. If this is the type of cravings you morons have, you're strong people.
Let me mention this as early as now, assylum.com is not a loving porn site. Don't come here expecting passion or intimacy. If you're the light-hearted motherfuckers, please log out, dumbass. The site reads pain, degradation and dehumanisation. Fucking not your shot!
Easy to navigate around the site
On landing on the homepage, on the left is a menu that can take you to any desired area. Among the areas include the Lab Room, list of models, and Arts and Crafts shop. The Lab Room is the Forum for members. The Arts and Crafts shop lets you to fucking grab the props and clothes that the models were wearing in the videos. Moving from one video to another is quite easy. They are linked with tags and thumbnails and the site's general search engine. Therefore everything in this nut premises is dripping wet. The design of the site is just excellent. The site also comes in Japanese. My Japanese assholes have a reason to wank more.
Easy to browse on mobile devices
The site's interface easily adjusts to whatever device you are using. When you switch to using a smartphone from a PC, you'll not note any difference. The pages load fast, and the links are clear. The same case applies to sorting tags and options and the basic search. Unfortunately, you cannot leave comments. It's better on the mobile than a desktop because it has pagination and, therefore, less scrolling.
Pricing
The allowed payment processor is Epoch. The pricing of the plans are as follows:
• $ 34.95 for one month (Rebills after every period)
• $ 39.95 for one month (Rebills after every period) Premium.
• $ 69.95 for three months (Rebills after every period)
• $ 79.95 for three months (Rebills after every period) Premium.
Wrap up
Assylum provides top quality content. The scenes are atmospheric from the torture, humiliation, degradation, and intense anal play. It is a must-visit site for anyone with ass and anal fetish. The site's uniqueness makes you feel like you're watching shit for the first time. Damn it. Well, sneak in your mom's room and grab her dirty panties and the credit card to subscribe to this top-tier content.
Excellent bondage
Regular updates
Great mobile experience
For 4K streaming, you have to pay extra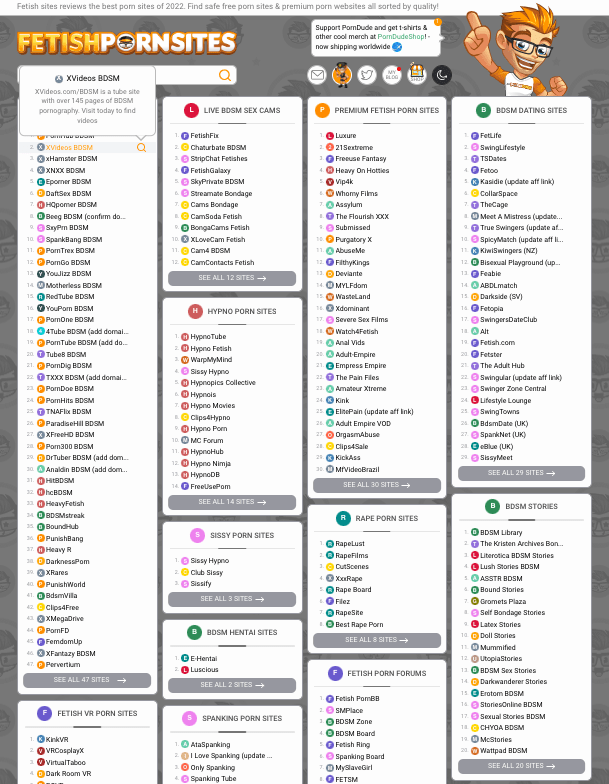 42+ Premium Fetish Porn Sites LIKE Assylum