Show
42+
sites like

Clips4Sale

:
Clips4Sale
Clips 4 Sale! I believe we all know about the Netflix of porn: OnlyFans, and its Block Buster equivalent: ManyVids. Well, maybe that last one is not a fair comparison, but you know what I mean. Everyone has heard of the first, a subscription-based adult entertainment streaming service, and the other allows you to download content from indie performers who appear on OF.
I have nothing against either of them, but I found it hard to get hard while surfing around those sites because locating all of the fetish footage is difficult. But don't trouble your big dick (or little clit) worrying because I have a solution. Clips 4 Sale is similar to Many Vids since you can download torrents of porn, and it's nothing but kink and not just the usual stuff either. Not only that, but they provide plenty of other neat features to enjoy.
The Design Is Dang Impressive If You Ask Me
I love seeing spectacular, sexy content online. But it's just as important to be able to find it easily, and it's always appreciated that the web pages I look at aren't ugly as Susan Boyle's ass crack. And in this regard, Clips4Sale doesn't disappoint. The designers didn't opt for something as wild as I would have done, and they didn't use copious amounts of different shades of red on black like other fetish sites.
So, from a visual standpoint, Clips4Sale doesn't look like what I thought it would, but that's okay. It's an easily navigable platform, which is impressive given how many links take you to a series of sexy sections. While it's lacking in exciting graphics, the thumbnails of the super sexy sex scene are spectacularly stimulating. I love that the main page hosts lots of lovely links complete with tantalizing thumbnails to advertise the trending, top studio uploads, the most popular studios of all time, and Today's Best Fetish channels. So, exploring your kinky side and finding the fap footage to indulge in your perverted nature is easy.
But really, all of this is, at best secondary. So let's look at what you all want me to go on about, the fetish footage, and every other way you can enjoy this fantastic website.
The Categories Are Too Cool (Or So Rather Hot) To Me
Alright, you all know that I love to focus these longer-form reviews on sites that bring their A-game, especially regarding the diversity of whatever niche they are catering to. Also, based on the intro, I'm sure you think this platform gets an A from me, and you would be close. But this is not an A-plus website, oh no. When it comes to categories, this website is totally S-tier for me!
As expected, this website hosts all the classics, such as foot fetish porn (though there are variations on the kink I have not seen before) and all sorts of bondage. Then there are more exotic categories that are wild as all hell, including Adult Diaper, Aliens and Monsters, and Albino Fetish. And those were just the first few which stood out to my eye in the As section.
There are literally hundreds to go through, so I'm not going into the torrents of titillating kinks. But that's a good thing since this is yet another reason I would bet your blood is getting up to view this porn platform. So, to sum it all up, this website hosts hot shit that you would be hard-pressed to find anywhere else.
Some Studios Are Familiar To Me; Others I Have Never Seen
Being the King Of Kink that I am and acting as a professional smut site reviewer, I'm familiar with all kinds of saucy studios. I mean, I happen to know one guy who goes by ThePornDude, with whom I have compared notes, and if you know anything about that brand, you would know that there are literally thousands of porn site reviews.
So, I was aware of a decent number of the studios who upload here. And even for the ones I was less familiar with, I can easily discern what the studio is about, like Giantess Avenue and Dick Sucking Lips, and Facials. To be honest, that latter one is one of the more tame studios as they are not as hardcore as (in)famous sites like Facial Abuse. But as far as rough throat fucking videos go. Theirs are not that bad.
Then there are the production companies that I'm not all that much aware of, like Girls Licking Feet, and several indie performers promoting themselves doing filthy things like Mandy Marx, Ezada Sinn, Vore Vixens, among others. I don't know how many of you have heard of them, but whether or not you have, you should check up on their most recent work.
Other more exotic uploaders shoot scenes of intense sex and literally add a martial element to it. For instance, Grappling Girls in Action is a fantastic example of femdom porn. Indeed, it's probably some of the best wrestling meets girl-dominating-guy action I have ever seen on the net. Another good example of this, since it shot POV, is Secret Male Fight Club. Not precisely my cup of tea considering the focus on the fellas performing, but if you are, this is the fight club you will want to take about, Tyler Durden be damned.
And then there's the pioneering production company that has created the DREAM CONTROL brand. I must confess, though; I have never really gotten into it, but that studio makes getting into hypnotism and mind "control" look so fucking good!
The Seasonal Promotions Are Spectacular
While I get a bevy of boob shots and cooch pics from my loyal followers, I pay for quality porn. So, it's nice that producers, publishers, and promoters are in the business of coordinating to give us savings and special offers. Clips 4 Sale is one of those good actors as they have deals going on all the time. In fact, some of them are pretty predictable since many specials occur around major Western holidays. That's pretty handy if you like to plan out when you will buy your porn. Further, I'm sure they have random flash sales, too.
The Clip Cash Program Is Novel And Neat
It's not uncommon for brick-and-mortar stores to offer gift cards, or at least if we are talking about those who are a part of massive franchises. So it's unfortunate that many adult-oriented websites, even a lot of the big guys, don't have any kind of onsite credit program, let alone gift cards. However, I'm thrilled to say that Clips4Sale does.
Clip Cash is a prepaid debit card that you can use to make anonymous and secure purchases on Clips4Sale and other participating websites. There's a sliding scale where you get even more money than what you put on the card at a certain threshold to make things even more awesome. For instance, if you pay $100 for a card, Clips4Sale tacks on an additional $4.99. Put on or add $200, and you'll get a sweet $9.99 in bonus money. And since this reloadable card can be applied to this and other sites, I'd say they would make great holiday presents for your friends and fuckbuddies. Hell, I might even buy some for close family members just to see their reactions.
You should try that, too. >XD
You can reload them with more money at any time, but sadly you can no longer do so using credit cards, cash, or money orders. And while I'm not sure, I would be willing to bet that they don't take crypto at this time either. I know for damn sure that they don't accept PayPal or any PayPal debit card, or rather PayPal won't send them your money since that company won't work with any company in the adult entertainment industry.
*le sigh* I know everyone's not a freak like me and you, but why do some people have to be so damn prudish? But I won't hold that last payment problem against Clips4Sale.
Of Course, I Have Some Stuff To Say About The Blog
What would a great website be without a blog? Keeping with the website's theme: quality above all, they have a fantastic set of posts that come out regularly. Some posts are consumer-focused and are about recent promotions. Then there are the posts that aim to help content creators. Furthermore, they have posts that will keep everyone up-to-date on the latest trade shows, site-endorsed tips and tricks on creating erotica entertainment, and allude to website contests.
Oh yeah, there are regular competitions that put content creators against each other to produce and promote the best sorts of sordid media on Clips 4 Sale. They happen all the time, and there are plenty of categories to compete in throughout the year. Payouts are not something to look over as the 3rd place contestant gets $200, the runner up gets a hundred more than that, and the winner receives a cool $500.
Anyway, one of the most admirable aspects of the Clips 4 Sale blog is their interviews with models. This is great for creators as they can get their story told in a text format and get exposure. Then there's the fact that they also get exposed to thousands of Clips 4 Sale patrons. And if you are exclusively a consumer, this feature is fantastic for finding the sexiest solo acts and couples who add to the massive amount of mouth water and genital juicing media.
You Can Get Involved Right Now
Want to get skin in the game by showing off your (or your models') naked flesh? Then Clips 4 Sale wants you. And well, you only need to follow a five-minute process to set up your own studio. First, create an account, then get verified after filling out the studio application. Then it's just a matter of customizing your profile to pop the eyes and pants of the viewer and add your videos. Clips 4 Sale offers competitive pay rates and other features. The commission rates are high, and they have mechanisms in place to cover chargeback fees and protect your content from pirates. Moreover, they will provide you with marketing tools to promote your porn! How many hosting platforms do that?
None that I'm aware of, but I'm pretty sure that users don't run into technical issues. And even if you do run into a snag or need help, the site provides 24/7 customer support, too.
My one bit of serious advice would be to make your content as crazy raunchy and over the top as possible to compete with the King's and Candance's of Carnality that's on here. Just be careful not to scare the horses or anything. ;)
Even if you are already an active participant in this website's program, you can still boost the site's profile and, by extension yours. The Ad Photo Campaign Project seeks to gather the best media from all content creators on this site. So, if you have high-resolution pictures or high definition (preferably 4K) video to be seen on banners and other marketing tools, Clips 4 Sale is interested in you.
As of publishing this now, they are only looking for images and footage that fall into eight categories, so I would email or call the support staff before sending anything. But I'm sure they'll expand the forms of erotica they are looking for soon.
I Don't Have Much Else To Say Other Than The Following...
Alright, to be clear about it, there really isn't that much to complain about here. I'm not a fan of the limitations on how you can upload more money to your Clip Cash card, and it's a pain that you can only do so up to six months after the card's activation. Still, other than that, I really have nothing else to whinge on about. This site looks fantastic no matter what machine you use, and I have never experienced any server access or payment issues. As it should be, everything regarding the anonymity of payment, you don't have to worry about any data leaks or anything like that.
And so, without anything negative to say about this site, I will give this one a perfect score: five hands.
This site is the definitive fetish-focused version of ManyVids
I was truly impressed by the number of categories and studios here
They provide seasonal promotional sales at almost all times of the year
The blog includes helpful advice, interviews, and onsite news
If you have the right content, you can make decent money
The option to reload cash onto a C4S card is limited and can only be done for six months
Other than the above, I don't have much of anything to complain about for this one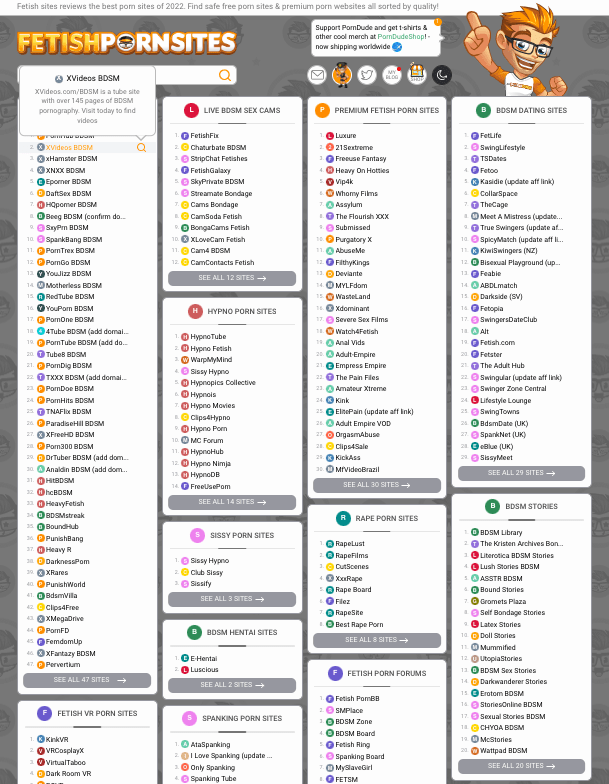 42+ Premium Fetish Porn Sites LIKE Clips4Sale