Show
42+
sites like

MFVideoXXX

:
MFVideoXXX
What do you know about Brazil? It's a huge country with rainforests, stunning beaches, hot women, and badass cocktails, right? Well, what do you really know about Brazil? You see, most people are blissfully unaware that this South American nation is home to one of the most prominent porn industries in the world.
When it comes to porn niches, Brazilians know how to get creative and dominate every category they touch. From big dicked Latina shemales who aren't afraid to turn men's assholes into something looking like a punched lasagna to oiled-up whores from Rio who are more than eager to flock to an Amazonian mansion and get brutally gangbanged by some hung and horny Brazilian dudes.
But, fellas, it's time to talk about feminism. Did you know Brazil has a fierce feminist population who are notoriously militant? It might sound like hell on earth, but bear with me. A lot of these Brazilian feminists usually opt to sidestep traditional women's rights marches and instead choose to take their hatred of men out on camera by starring in some of the most brutal Femdom videos the world has ever seen.
But, in contradiction to traditional feminism, these dominant and fiercely independent females equally love to take out their anger on their fellow women in the form of girl-on-girl Femdom clips. Yep, that's right! Brazil has an abundance of porn producers capturing merciless Alpha women absolutely terrorizing beta women in a variety of sexual ways, and it's a fucking joy to watch if you can handle it!
Pfffttt, I've sat through countless hours of triple anal gangbangs, Porn Dude, I can handle that shit! I hear you cry. Well, don't get too cocky. Brazilian women have a knack for keeping you on your toes sexually, and the kind of shit they do to subordinate females has to be seen to be believed. Speaking of which, where the fuck do you see this kind of female on female domination videos?
Well, take my porn-crazed hand and allow me to show you the way. You see, I've developed a penchant for all-female domination videos coming out of Brazil in recent years and, as a result, have become quite the expert when it comes to knowing which sites are worth jerking off over and which are best avoided at all costs.
Today, I want to shine a spotlight on a site called MFVideoXXX.com. While its URL might make some people assume that this is just some random-ass porn site, it's actually one of Brazil's most well-established female-domination porn studios and has been kicking since the early 1990s. But does it have the power and innovation to stay relevant in the modern porn world over three decades later? Let's find out!
What is MFVideoXXX.com?
MFVideoXXX.com is the official website of MF Video. This Brazilian porn studio specializes in fetish content centered around female-on-female domination. Foot worship, armpit licking, and intense wrestling where the loser gets fuckin' sexually wrecked are all the order of the day here, and it's home to some downright seedy shit!
MFVideoXXX.com was first founded back in 1991 and was the brainchild of the well-established Brazilian porn producer Marco Fiorito. Over the years, this fetish-loving director has created more than 5,000 fetish flicks and collaborated with some major porn names in Europe.
Today, MFVideoXXX.com is said to be packed with a shit load of fetish videos featuring some of the most sexually open-minded whores that Brazil has to offer, and from what I've heard, they're absolutely ruthless when it comes to dominating submissive females!
Now, let's see if what I've heard about the site is true as we slide into the perverted world of the porn on offer at MFVideoXXX.com!
What's the Porn Like on MFVideoXXX.com?
5,000+ fetish movies, man! This porn director must surely be desensitized to some of the wildest shit women are willing to do to each other by now, right? Well, apparently not! Marco has maintained his reputation for producing some of the wildest female domination porn around, and I was about to slide into the array of smut available on MFVideoXXX.com to see what the highlights are!
● Dina's Deep Feet Torment - Holy fuck, I've seen a lot of bitches deepthroat shit to some crazy levels, but this submissive Brazilian slut called Dina is out of this world! On her knees in front of a bratty Brazilian Domme, she gets her throat fucked by the latter's foot until she's a mess of deepthroat drool and the Domme's feet are glazed in spit.
● Used for her pleasure - When this submissive nerdy girl was invited over to the house of the most popular girl in town, she thought she'd be finally able to become friends with her. Instead, she was used like a human sex toy and forced to lick her Brazilian ass and pussy all night. Hey, there are worse things in life than jaw aches!
● The outdoor pony ride - This girl was curious why her new job at a ranch paid so well. She was then confused to see it didn't have any horses. But it didn't take long for her to realize that she was the horse! This blonde Brazilian slut is made to join a stable of human ponies and be ridden around by dominant nude women who aren't afraid to whip the fuck out of their asses and use their mouths for sexual pleasure after the ride. Giddy up, girls!
The Design of the Site
MFVideoXXX.com might have been established in 1991, but their website has thankfully been brought up to modern standards since then! The site uses a modern theme that is sleek and easy to use. Bear in mind that MFVideoXXX.com is a membership porn site full of premium content, and an all-access pass will set you back around $39.99 per month.
The site kicks off with a nicely-designed logo of MF Video, complete with flames and a devil's tail. This is followed by the site's main menu made up of nine links that take users to site areas like the homepage, new videos, classic videos of the MF Video brand, categories, the signup page, and a link for existing members to log in. This is rounded off by a link to the site's official Twitter account and a search function to find any specific Brazilian fetish porn you're seeking.
The site then lists the latest videos to be uploaded in a neat format of horizontal rows that each contain four video thumbnails. Each thumbnail also includes metadata covering the title, upload date, and Brazilian pornstars starring in each flick. There are over 64 pages of videos to scroll through, meaning you can make your cock as red as the asscheeks of the submissive females who somehow thought it was a wise idea to put themselves at the mercy (or lack thereof) of these dominant Brazilian bitches.
The footer of the site is home to the boring stuff like terms and conditions, but there's also a link to a detailed about us page that covers the story of MF Video as a brand from start to finish. There's also a vertical list of the latest reviews and comments users have posted on videos across the site.
The categories page of the site is a great way to get an insight into the kind of smut that MFVideoXXX.com has to offer and is home to everything from catfight and spitting videos to trampling porn and foot worship videos.
What I Like Most About it
Look, I've jerked my way through more porn in a month than most people do in ten lifetimes. As a result, I need increasingly spicy content to keep me on my sticky toes and to stay excited. MFVideoXXX.com is a website that manages to shock through an inherently perverse array of porn that makes you want to watch every last video they have to offer!
Brazil has a naughty reputation for producing some of the most hardcore fetish content around. However, MFVideoXXX.com is one of the most well-established Brazilian fetish sites and is something of an OG on the scene.
One of the biggest mistakes I see well-established porn brands make is not including an about us page that reinforces their brand's story, tells you more about the quality of the content, and, as a result, convinces users to sign up. This is something MFVideoXXX.com has done exceptionally well, and their about page details all of the milestones this brand has achieved in an easy-to-read format.
There's much more to female domination than meets the eye, and MFVideoXXX.com is home to a fuckload of different categories that can cater to every kink and fetish. Want to see a submissive 18-year-old swallow spit from ten different women using her like a spitoon? You got it. Maybe you want to see a realistic bitch fight that ends with the loser getting humiliated with a wet pussy grinding all over her pathetic face? You'll find it here!
What I Don't Like
MF Video has a kickass logo that really fits the theme of the site and is exceptionally brandable. However, it's tiny on the desktop version of the site and hard to see it in its full glory.
The video previews of the site's content could also be much better. I found a lot of them were just short slideshows of pictures from scenes rather than video clips. You have to give some to get some when it comes to free samples, and this starts to feel stingy after a while.
Suggestions I Have for MFVideoXXX.com
Make that logo grow bigger than my cock so users can actually see it. Currently, it's way too small on a desktop and a wasted opportunity overall because it's a damn good porn site logo!
Don't be stingy with video previews offered to non-members. Sixty seconds of footage to give users a sneak peek of the content will be enough to entice them in. Your content is badass, so don't feel as though you need to keep it all hidden. The slideshow stuff just doesn't leave a good impression.
Conclusion
MFVideoXXX.com is one of Brazil's most well-established fetish porn sites and has been around for more than three decades. If you want to know why it's survived this long, just take a look at the elite-tier filth it has to offer!
Overall, this is a premium fetish porn site worth paying for. However, the people running the site would likely see better conversions if they decided to provide better video previews rather than the slideshow-focused previews currently on offer.
A unique and downright perverse Brazilian fetish porn site
One of Brazil's most well-established porn studios for over three decades
A solid about page that tells the story of the brand very well
A huge range of female-on-female domination porn categories to explore
The logo is badass, but it's really small on the desktop version of the site
The video previews are currently slideshow-focused and not the best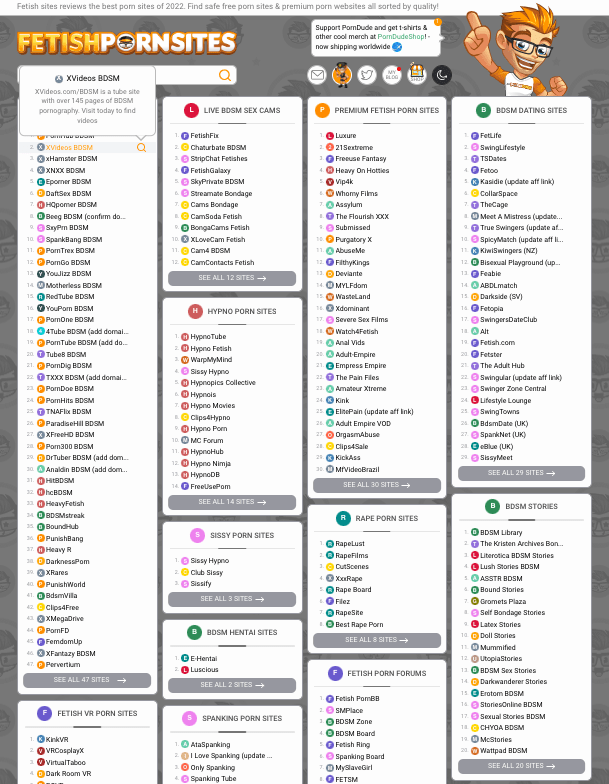 42+ Premium Fetish Porn Sites LIKE MFVideoXXX