Show
42+
sites like

Deviante

:
Deviante
Some fetish websites are a lot more extreme than others. Deviante makes efforts to be one of those websites that leave a lasting impression on you, especially if you're a person who enjoys extreme hardcore content. Personally, I'm not too impressed if I'm looking at this website from the prism of a fetish lover. Still, they are a fetish site, or at least, so they claim, so I have to include them on this list. This is a wonderful website, and the content is absolutely worth watching. I enjoyed every second on Deviante. I think they're doing fantastic work. But the main question that lingers is: does this website actually provide proper fetishistic content? Well, I'm on the fence.
The top categories on Deviante are anal, interracial, rough sex, and teen. These are relatively common categories on just about any porn website, whether it's fetishistic or not. So, the question remains: What exactly are they trying to pull here? I guess you could say that the sex on Deviante is a bit more hardcore and raw than usual. You may have also noticed that most of the porn actresses here are not exactly A-listers. They're almost as hot and as popular, but this is still an underground website compared to the mainstream. They also make a lot of stylistic choices in an effort to make the place look fetishistic and remind you of BDSM culture.
A Nod to BDSM
Unfortunately, other than the general reference to BDSM, there isn't a lot of bondage or domination to speak of. The video titles certainly imply that there's domination going on, and the porn actors try to sell you on a bit of fantasy, but the bottom line remains the same. These videos are incredibly vanilla. They look like they came straight out of Brazzers. Not that that is necessarily a bad thing. Brazzers are legends for a reason. I guess I'm complaining about this porn being extremely normal. When I started working on this website, the idea I had in mind was to compile a list of wildly eccentric websites.
They don't have to be mind-blowingly original or anything of the sort. But I'm trying to appeal to a certain clientele of discerning smut lovers so you guys can find all the fetish content in one place and sites like Deviante keep throwing me curveballs. Once again, I remind you that this is primo content that's absolutely enjoyable and perfectly well-produced, but there's no singular dedication to any of the referenced genres. There might be a gag or a blindfold in some video here or there. But none of it is sacred to the performers. It's just a gimmick. No one here has been trained in the art of BDSM, and the directors are mostly just concerned with showing you pussies and tits. That's standard western pornography, not fetishism.
Not Entirely Pointless
As far as I can tell, Deviante comprises five distinct websites, all of which are in one way or another focused on men dominating women. The domination is always sexual. The sex is also rather vanilla, with some instances of anal and, of course, the natural number of blowjobs. The bitches that star in these videos are ridiculously attractive, and while they are not triple-A starlets, they are the next best thing. Most of them are white bitches with long hair, huge tits, and perfect asses. I'm delighted with their performance. They also do a fantastic job of convincing you that they are enjoying themselves, which is always really important in porn clips.
The overall theme of the videos is that these girls are inexperienced and that the men that are fucking them are incredibly disrespectful and generally very energized. The girls are portrayed as innocent and submissive, they've also got relatively young and supple bodies, and there aren't that many fat chicks on this website. To be honest, I don't even see any fat chicks on this website. Most of the girls are either blonde or brunettes, and all of them have perfect bodies. They're the kind of women I would go out of my way to sleep with. They are definitely worth the effort. Even those with tiny titties make up for it with a huge thirst for cock.
The Video Quality
The first striking fact about the video quality on Deviante is that they only provide content up to 1080P. This is the industry standard, and I wouldn't expect anything less, but it's good to see that all of their videos are available in proper HD. Anything less than this would be disappointing. Of course, the videos are open for downloads and as many streams as you could possibly want, but only if you're signed up on the site. If you're here as a free visitor, you can check out previews for every single video, which is a great way to get a taste of the action without having to spend money. I really like this approach because it means you get to sample what the content is truly about long before you've committed to giving them actual money.
I would say it's a smashing experience in terms of the actual acting and performing. I think all the porn stars do a fantastic job and that all of this content is fap worthy. I definitely rubbed a couple of nuts off while watching this content for this review, and I have no regrets. The babes all give me severe boner vibes. The camera angles and framing have mild gonzo vibes to the extent that you get to see the action up close as if you were really there. This is not retro classical porn; it's modern classical. So you're going to be seeing a lot of cock close-ups. I don't know who started this trend of cameras zooming maximally into the cock, but it's here to stay, apparently.
Some Interesting Situations
One of the videos that immediately struck me when I came onto Deviante was a clip of a bitch being picked up off the street and driven around in a van. The dudes in the video offer her money, and in exchange, she blows them and then eventually takes their cocks up her ass. The whole thing felt kind of Czech. I think they were actually speaking Czech - I'm not entirely sure. There were English subtitles. Either way, I liked what I saw. The girl's face was blurred, and they were suggesting that she wanted to stay anonymous, but I doubt that that was the truth. I think they're just putting on a show. I've seen this play on similar Czech sites before.
Not all of the videos on here follow that same cryptic pattern, though. Many of them just feature more casual scenarios like a secretary sucking off her boss or a chick at the gym fucking her trainer. It's all extremely casual stuff; what can I say? I told you that these scenarios are kind of uninspired. They're serviceable to start the action, but the fetish motifs are tacked on as a marketing tactic. They're not anyone's guiding light through the production of this content. And that's kind of sad, if I'm being honest. So much more could have been done here, but alas. The entire site is just another mainstream hardcore destination with a drove of classical videos. They're not pushing any envelopes here.
Worth a Shot
There's a very reasonable trial period available for $1 a day for two days. That's sufficient time for you to taste the smut and decide whether you genuinely want this kind of content in your life. I recommend the trial tier because it lets you be the judge of the general hotness of this content. The regular tiers cost $30 for a month or $100 for a year, which is a very common discount for these kinds of porn sites these days.
There are countless hardcore videos, and other than a few blurred faces here and there, none of the content is actually censored. None of the content is softcore, either. You're paying for primo smut on Deviante; you'll just have to contend that it's way over on the soft side of BDSM culture. It's incredibly tame. It's the kind of smut you could easily watch with your wife during a casual kinky evening. You're not going to find anything jaw-dropping here. That being said, the sheer number of videos on the site justifies the overall price as far as I'm concerned.
Countless videos
Top-notch quality
Gorgeous babes
Not fetishistic enough
A bit too vanilla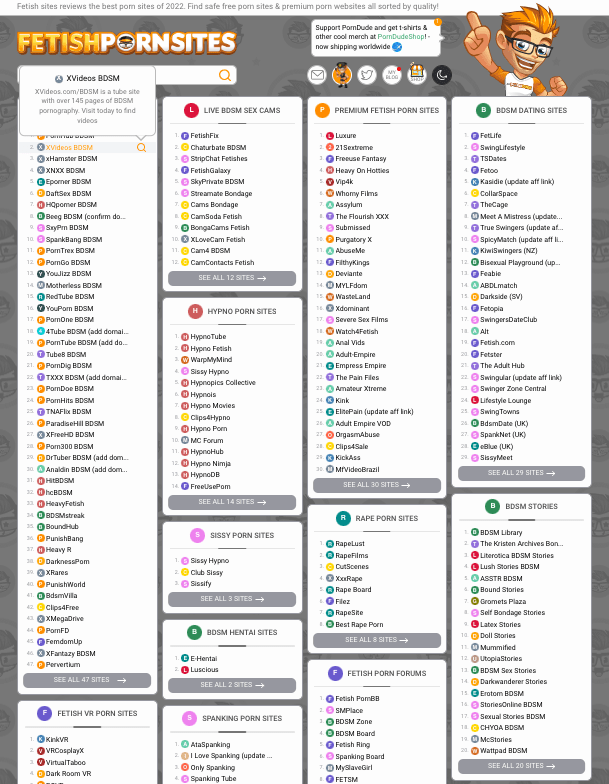 42+ Premium Fetish Porn Sites LIKE Deviante