ElitePain (update aff link)
Show
42+
sites like

ElitePain (update aff link)

:
ElitePain (update aff link)
Elite Pain is exactly what you're fucking getting with this website. Damn. Ever wanted it to "hurt so good?" ElitePain will be delivering that to you without a problem. This a premium website that... hmm, feels like it should be giving more. I'm struggling to place my finger in a hole because of this. Do I continue on and want more? Or do I leave it for something better?
Right now, as it stands, it feels like there could be more out there other than ElitePain. Regardless, let me take you through this picture book of BDSM lovin' so you can see.
Design - Basic, Easy to Read
While there's an interesting banner on their "review" page that talks about doing this for "23-years," the website reflects that. ElitePain's website is pretty basic when it comes to web design as a whole. There's text sitting on top images that send you off to other places.
The main portion of their homepage, from the top to midway down, is talking about their titles. The first is the most recent and the remaining two are also "new" BDSM titles. The titles of these movies are pretty interesting though. The names let you know the series they're a part of so you're never out of the loop.
Also, there's a red banner on there that talks about "Bitcoin." I'll get into my feelings about that a little later on here. Other than those pieces of information, it's basic without much else being given.
Content - A Lot of the Same
ElitePain's content is pretty decent for what they're offering. Even saying "decent" can be a bit too kind. You go from their own movies of tying up big booty girls to sites about spanking those same asses. Sticking to the main site for a moment, ElitePain offers quite a selection of BDSM/lovely pain movies. And these are movies. Not just some fancy term for their videos. Most of their titles are well over 60-minutes in length.
ElitePain itself offers movies that are very close in genre. They are all about "pain," so you'd expect things to be mixing that pain and pleasure cocktail. They do a good job. Scrolling through their title/movie list, you can easily see how into pain/pleasure sex they are. Pictures of these movies with girls bent over, others tied up, ready for their titties to be squeezed or spanked, even whipped!
They're also recommending you some titles on the side of the screen as you scroll through, too.
While ElitePain's base provides porn movies pretty similar in taste, they do go further. Where they do their "expansion" is with other websites. ElitePain plays host to these other sites, some of which look like copies of them, that provide BDSM titles. However, these other sites are not always something new, something exciting in terms of choking a girl while fucking her.
Well Done? (The Positives)
There are things that I'm touching on here, just a little squeeze, you know? A little lift of those cheeks. It's a tease for right now. But there's so much that ElitePain doesn't seem to be paying attention to... properly?
What they've done correctly is make this space for the more painful type of BDSM. Where you're getting these women who know how to make you struggle against the tide and still lose. They enjoy watching you trying to hold yourself back from cumming because they know you'll fail. A lot of the content on this website is female on female. A lot of spanking, a lot of being tied down, or having themselves tied to something like a wall or a ceiling.
Their "feature movies" are like going through a catalog of titles. Each of them is a continuation of another movie. Each is a series that you can watch. Like a sequel to a movie you love. Although, some movies probably don't need to go over a trilogy. ElitePain has continued to progress with their movies to go in excess of 31 titles for that series.
The great thing is how these girls are acting in these movies. It's something they enjoy, the feeling of being spanked, whipped, and not allowed to cum at all. Then, you bring in the dominatrixes for these movies. How hardcore they are about reeling in all this pleasure from torturing these girls for the evening. They have them and their beautifully soft bodies to themselves.
They can do whatever they want. Drip some hot candle wax or anything else with them. And they do not hold back when it comes to being hardcore.
This "hardcore" fact is probably what makes ElitePain, itself, shine as a Female Submissive website. Each party of these movies makes them stand out in terms of quality and to get you off from it. Even though the theme of a lot of these titles is the same, it's the girls that make them something worth watching. They really do a good job of being the innocent young women with that juicy Lil booty ready for you to take a bite.
Another fantastic point is how some of these movies are like games. It's two girls competing against one another in a card game or a treasure hunt. If two girls are willing to take some punishment, they go into a "duel." The only back thing is that you can't really see this stuff in action through ElitePain. Their trailers are locked behind putting in your email address so they can spam your ass with content you may not even want.
It's Cut & Paste (The Negatives)
ElitePain being this piece of their "FemSub" category of sites is believing it's doing its own thing. Unfortunately, that's not very true. ElitePain's description is "Severe FemSub BDSM site containing every possible session." That should be a typo. "Session" should be "scenario." Regardless, that's not even the case. A lot of their movies loop back on each other.
Tying up is still tying up whether they're up against an "X" wall, on their back, or up above their heads. Spanking is spanking no matter how you do it: whip, hands, something else. This is a constant issue with ElitePain that I'm coming across going through this website. Nothing jumps out, nothing's orgasming in my ears. You know why? For some reason, you need to enter your email to watch a trailer.
Why should you force someone to commit to something they don't even know they want? That's an extra step for someone like myself. You think I enjoy clicking my mouse? Hell no. Not for something like this. If you get me, you get me when I click "purchase." You don't try and rope me in for a trailer just for me to unsubscribe after because I don't like it.
It's an odd decision to want people's email just for them to see IF they like what you're offering. The only way to sort of "preview" the movies are through the screenshots they provide at the bottom of its page. While they are good pictures, should you really be basing your judgment on just that? These photos should be enhancing your craving to watch these girls compete for who can take more punishment.
Do Something More (My Suggestions)
The negatives and positives of ElitePain can mirror each other. Surely, you know this! Mmm, and it's a head-scratcher. My dick's trying to be both hard but make sense of it all. And that's never good. Have you ever tried thinking when you're like a steel pipe down there?
The women starring in these videos are good at what they do. That's obvious otherwise they wouldn't be there. What troubles me is how the movies being such copy/paste products is still going on. Like I said before, some of these movies have 31-parts to them. If you click through these titles and go to the screenshots (BECAUSE YOU CAN'T WATCH A TRAILER!). I had to get that out. You'll be able to see how similar these movies are.
There are some differences in how they operate their "game show" type of BDSM titles. Some go into duels and others have one punishing the other. It'd be nice to see them giving some more variety. Perhaps this could be done with added "games" for the Female subs to take part in. It could be with scenarios that are a bit more intimate or something that's more about orgasms along with the pain. A few of these are more about the punishment they can take and how long they can remain a "good girl."
That works perfectly fine but it would be nice to expand more on what they're already doing. ElitePain's been doing this for a long time. Perhaps that time is getting to them a little bit.
In Conclusion
ElitePain is a FemaleSub website that does a lot correct. The things they do wrong can be easily fixed with some retooling of the basics. Things become a little stale after so many productions of the same type of thing. While they say certain movies have done well, which makes them produce more, it doesn't mean something new shouldn't come along.
A good Hardcore Setting
The girls (subs and doms)
Games turned into good BDSM titles
Things have become repetitive/stale
Asking for an email from people just for a trailer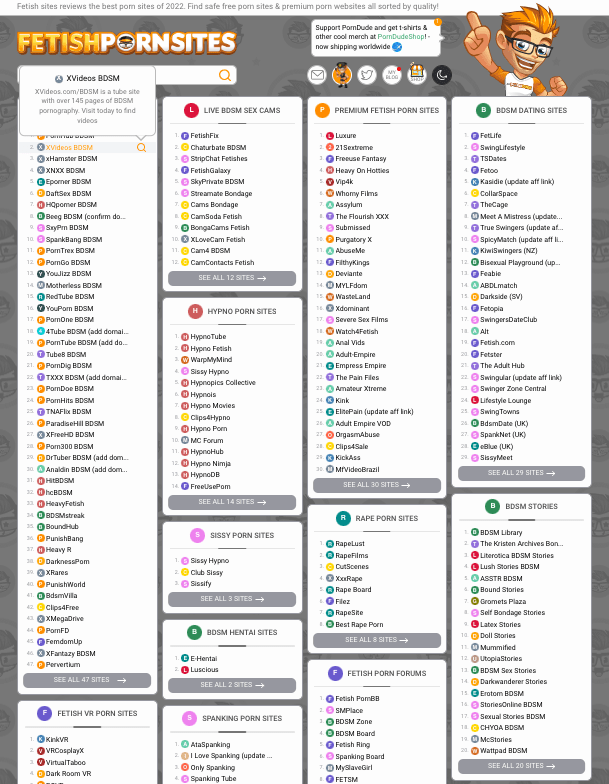 42+ Premium Fetish Porn Sites LIKE ElitePain (update aff link)