Show
42+
sites like

Empress Empire

:
Empress Empire
Step forward, you disgusting swine! Bow down to your Empress and, well, eat her ass? Let's hope you've been studying proper eating etiquette and how to speak to your new Empress. Empress-Empire is a fetish website like no other. You will be subjected to sexual pleasures only known by a few men. Those willing to bow down to women so beautiful, commanding, and demanding that your dick will quake. Literally.
Empress-Empire is a premium website in love with the fantasy of domination and bondage. These women will literally constrain your dick and make you beg to cum. But, of course, that's if you haven't already embarrassed yourself and cum all over the floor. You surely won't be cumming in them unless they say so.
Design - Easy on the Eyes
Empress-Empire isn't doing anything too spectacular in the form of website design. It's an extremely simple way to design a website, from header to content being shown for viewers to read. The design is the same if you're going to the mobile realm. Although, the mobile version of Empress-Empire could use some work.
The issue here's that it's a carbon copy of the desktop version. It comes off as a little messy. Something they didn't pay too much fucking attention to. A simple mobile port like you're porting a game over to the damn Nintendo Switch. Do you know how much work goes into a game port? Imagine pressing a button to pick up an item, and your whole console freezes.
It's sort of like that. On a desktop, hovering over a video with your mouse will show you information like price, duration of the video, "more information," and the video's title. On mobile, you don't have anything like that (understandable). On your phone, you'll need to tap on the video you're interested in to gain some more valuable information like pricing and such.
Content – Bow Down, Peasant
If you're on Empress-Empire, be prepared to get on your knees and worship some women. And I mean, fucking suck their toes or some shit. Are you interested in that? Eat her ass? Get into some "cum denial?" It's going to be a wild time. And if we're to take things at face value, looking at the website's main page provides you with everything.
Searching for videos is broken down into smaller sub-sections which you can also find at the top of the page. There are categories, models, movie length, prices, and newest to oldest. There are over 60-categories to squeeze your dick to on Empress-Empire. Each of these categories is different and appeals to its own niche of people.
And because this website is about fetishes and domination/bondage, you will find a healthy dose of it. The sort of thing you can look forward to is some amazing face-sitting. Two women, talking like dirty girls to you, making you feel beneath them until you're actually beneath them. They'll sit their juicy asses on your face and grind their pussies on your mouth. Then, finally, you will have no choice but to eat them out.
The acts of some of these fetishes are probably what make Empress-Empire shine. The women dominating men and even some other women are commanding—their words and actions and gripping. You are a servant to them - never the other way around. If they want to treat you like a toilet, they will treat you like a fucking toilet. One of their pissing videos is "24/7 Toilet."
Some other videos take their servants out into public for some sun and fun. Others have them tied up with sex toys in their pussy or a contraption around their dick.
Aside from regular videos, which can vary in length from a few minutes to over 15, they have movies. These movies can be a few minutes shy of an hour to a little over an hour long. They are stories of these fetishes ranging from "mean girl" to ball-kicking, face-sitting, and a servant to a girl in a dungeon.
She Spanks You (The Positives)
The intense situations of some of these fetishes are a unique taste. Such things can be tucked away at times. But Empress-Empire prides themselves on bringing out these extreme orgasmic fetishes. You will find so many short, easy-to-consume videos around 10 minutes long with red ass cheeks and intense sex toy play. But you can just as easily set a range to how long you want your videos to be: up to 40 minutes or much further, up to 300 minutes long.
Empress-Empire has a way of bringing out people who have these hidden urges inside them. Take it from a master who's seen everything (talking about myself). Some people interested in this sort of thing can feel embarrassed and take some time to embrace it. Still, Empress-Empire opens their arms and welcomes every person willing to indulge in these dark desires. Cravings of spanking, eating out the pissing pussy of their master and being her obedient lap dog.
How easy is it for some of you to be bent to the will of the women you absolutely adore? I only ask because she expects the world from you and does not take "no" for an answer. Anyone out of line in her house, in her dungeon, will be subjected to punishment unheard of. The dominatrices of Empress-Empire's videos know how to punish and control their men and women. The plump booties of their female prey have asses spanked and pussy fucked to submission by vibrating toys.
The men are handled as roughly as they can take it. They'll have their dicks squeezed of all their cum, mouths are put to great use as playthings for their pussy, and idle toys for their hands. Oh, you wanted to cum? Too bad. She's not letting you.
Another highlight is the fact that they provide good quality movies. And the "movie" title isn't just something fancy - these are hour-plus long titles packed with hard fetishes. Some of these movies follow a story you can sort of follow. A good example is an inside look at the lives of an owner and her slave. Others are more about the situation happening between a dominatrix and her servant. How does she punish him or her inside her place of dark, sexual pleasure? Will you be there for punishment, or are you there to serve?
It all depends on how good a servant you've been before entering Empress-Empire.
It's a Bit "Eh..." (The Negatives)
This being a premium website, there's not much that I have bad to say! Wow, shocking! Maybe I'm turning into a totally different person today. It must've been the toilet service. Oh, I'm still here, aren't I?
The only negative would be the web design on mobile. Desktop is fine, easy. And it's the same on mobile. But the mobile version of some sites is often neglected and left behind. "It's mobile," you know? But mobile matters. Everyone has a fucking smartphone now. We're always on our phones, jerking off or fingering ourselves until we blow a load. And then have to clean up the phone before it drowns.
A mobile site matters. Unfortunately, Empress-Empire has not given its mobile website enough love. It's simple, and you can make do. But some things are out of place, and other areas that should be expanded on, have not been.
My Suggestions
Work on the mobile version of Empress-Empire. The video player, for example, is outstanding. But the design could use some work. It needs to be retooled to properly fit on mobile as a modern website in today's age. Right now, it's not that.
However, understanding web design as I, of course, do, the theme of Empress-Empire would need to change. Not the sex theme, but the theme on the website. This is because the mobile site mirrors the main from a design standpoint. But it'll be worth it. You want to look good on both fronts. As it is, the desktop version is better only by a sliver of goodness.
In Conclusion
Empress-Empire is what you need to allow your inner darker desires to come out. A love of latex, spanking, spitting, face-sitting, waterworks, all of that is here. And the good thing is that it is front and center. Don't mind it being a premium website; the videos and movies aren't wallet-draining. They do cost, but they are reasonably priced for what they are.
Empress-Empire is a premier place for extreme fetishes that you can feel fantastic about.
Intense Orgasmic Fetishes
Short Videos, Longer Movie-Length Titles
Reels you into the BDSM servant lifestyle
Many Models
Channels for different video genres
Mobile design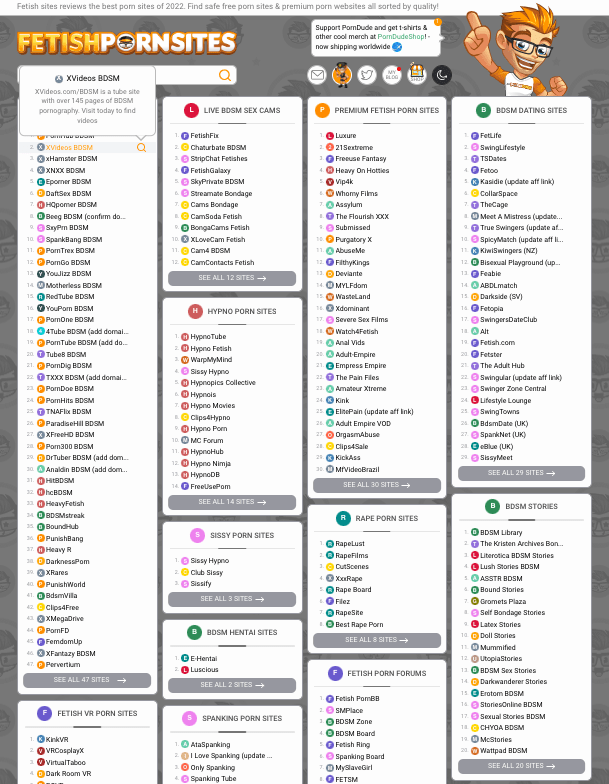 42+ Premium Fetish Porn Sites LIKE Empress Empire