Show
42+
sites like

FemDorado

:
FemDorado
Fellas, feminism is a thing now. However, it's not all doom and gloom because this boom in women's rights has led to a surge in Femdom porn becoming ever more popular around the globe. I guess there were more people with sexual fantasies about Alexandria Ocasio-Cortez than we first realized. But, holy shit, doesn't she have a fantastic set of milkers?
I'm just kidding, Femdom porn has been around for way longer than modern feminism, and there's no shortage of men (and women) who love to submit to a latex-clad Amazonian goddess capable of turning their asshole into an Arby's sandwich and leaving their genitals black and blue.
Because while some people's idea of de-stressing at the end of a long week is going to a spa center or a long walk, other people love to serve dominant women in a fetish dungeon and be pushed to their sexual limits and forced to squeal out their safeword from behind a ball gag!
Femdom porn is huge these days, and it incorporates an enormous range of kinks and niches ranging from cuckolding and bondage to strap-on sex and face-sitting. Even though the modern era of Femdom has given us a plethora of iconic Dommes, such as Mia Li, Helena Locke, and Aiden Starre, this porn genre is far from a modern phenomenon. Sorry, feminists, you're not claiming this one as your own!
Even back in the mid-1970s, our parent's generation was indulging in provocative and controversial Femdom-style movies such as Ilsa, She Wolf of the SS. So, yep, Femdom porn has been around for a long time and isn't going anywhere soon. However, for fresh-faced newbies looking to find their feet in this leather-clad world, knowing where to begin can be a bigger ballache than a cuckold who has agreed to be locked in chastity for four weeks.
However, I've certainly been around when it comes to Femdom porn, and I know my whips from my nipple clamps, so to speak. This also means that I've taken it upon myself to explore the various perverse corners of the Femdom porn world to keep my readers informed about which female domination porn sites are the best and, like a Dominatrix with a 12-inch strap-on who has been cat-called four times before meeting you, those which are best left avoided.
Today, my adventure through the world's virtual fetish dungeons of the internet brings me between the latex-lined thighs of Femdorado.com. Fisting, ass-licking, female wrestling, and pure humiliation, this site claims to have it all, and its tagline is ''Pure Femdom with a smile!''. But will this site manage to impress porn connoisseurs like you and me? Let's find out!
What is Femdorado.com?
Femdorado.com is a premium Femdom porn website packed with professionally-made fetish content. At the time of writing, membership was running between 16 and 29 per month, depending on how many months of membership you decide to buy.
The site has a lot of content on offer, but not all is exclusive to Femdorado.com. In fact, a sizable chunk comes from third-party Femdom studios such as Aische Perverse and AltErotic. Femdorado.com makes no secret of this, though; it lists all studios featured in a dedicated category page.
Now, Femdorado.com might look like a very well-established site due to the amount of content contained within, but a quick search on Wayback Machine tells us that the URL was only set up in 2023.
However, let's not be discouraged because it wouldn't be the first time that a new porn site has proven to be an innovative beast capable of standing toe to toe with some of the world's most well-established smut websites. To see how Femdorado.com fares against the Femdom giants of the porn world, let's take a look at the kind of content to be found within!
What's the Femdom Porn like on Femdorado.com?
For a fresh-faced newbie stumbling onto Femdorado.com for the first time, knowing where to begin can be daunting as there are so many badass Femdom categories on offer here. But fear not because I navigated my way through the site and its content to find some of the highlights that'll give new visitors a solid idea of what kind of smut can be found within the leather walls of this Femdom site.
● Princess Nikki vs. Samantha - This intensely erotic catfight sees two dominant females go head to head in the wrestling ring. Wearing nothing but bikinis, it doesn't take long for their most intimate parts to become rudely exposed in the heat of the moment. The more dominant female makes her breathless and humiliated opponent submit and makes her territory by sitting on her face and forcing her to breathe in the sweet scent of her Alpha pussy. Damn, you don't see this on WWE!
● Smokey spits - This perverse Femdom porno starring Princess Nikki, Lady Anette and a pathetic male sub brings a whole new meaning to the term second hand smoke. This guy is taken into the lair of two Femdom bitches and forced to lick their assholes. Then, the girls take a seat on a leather couch and smoke a packet of cigarettes each before spitting their tobacco-flavored saliva into his open mouth. This guy is definitely not on board with this ''You're a fool if you think smoking is cool'' campaign!
● Raffa takes a foot and double fisting in one session! - When you have a drop-dead gorgeous Dominatrix like Princess Nikki in front of you, it's pretty easy to forget your safe work and go with the flow. That's exactly what this guy probably did because he didn't even flinch when this perverse Domme switched from fisting his ass with her latex-covered hand to sliding her foot inside of his butt instead! Damn, dude, your ass is going to look like a windsock!
The Design of the Site
In terms of design, Femdorado.com uses a professional-looking theme designed for adult membership sites, and it's looking pretty damn sleek overall! The site kicks off with a stylish white logo on a black background. This logo is nothing extravagant, but there's something about the font and style that just screams porn!
After the logo is the site's main menu, this comprises seven links and takes users to site areas such as all videos, categories, porn studios, a link to Clips4Sale, and live cams. This is followed by a search function, sign-up and log-in buttons, and a button that lets you switch the site's language from English to German and Dutch.
The site then truly kicks off with a badass video header showing some of the highlights of Femdorado.com. This is an eye-catching affair which, at the time of writing, showcased a particularly kinky Femdom porno that saw a submissive male being humiliated in the great outdoors and enduring a face-sitting escapade beneath the sweet asses of two Femdom bitches in a forest.
The site's homepage then showcases some of the latest videos in the most popular Femdom categories, such as fisting, cuckolding, ballbusting, foot worship, catfights, etc. Each section features five videos displayed horizontally with an easy-to-view thumbnail and metadata covering the video's duration, title, and Femdom pornstars featured.
What I Like Most About it
In a world jam-packed with free porn, maintaining a paid membership site is no easy task. However, Femdorado.com has managed to amass a formidable array of high-grade Femdom porn worth paying for. This site's portfolio of female-domination content is awe-inspiring and incorporates a vast range of kinky categories.
The design of Femdorado.com is also flawless, and this high-end theme that they're using makes the site a dream to navigate. Plus, all the content loads fast, and overall, it's super simple to explore.
Many premium porn sites can be downright stingy when giving potential members free samples to see what they'll be getting before they pay for a membership. Femdorado.com, on the other hand, gives you free one-minute previews of all content on the site.
What I Don't Like
As much as I appreciate a porn site with a dedicated translation button to allow porn lovers worldwide to enjoy the content, the translation feature on Femdorado.com is limited to three languages; English, Dutch, and German. Anybody outside those three languages will be forced to use less-than-reliable methods such as Google Translate.
Suggestions I Have for Femdorado.com
Add more languages to the translation widget to make the site more accessible to more people worldwide. The current three languages aren't the best selection, especially considering that many people in Germany and the Netherlands speak English anyway. For example, adding a Portuguese translation option would open your site to the vast population of countries like Brazil who, as well as know, have a particularly naughty penchant for extreme Femdom porn.
Conclusion
Overall, Femdom porn is a case of you get what you pay for. Femdorado.com isn't free, but it's a site run by people who know Femdom and are dedicated to catering to almost every kink and fetish that the world of female domination incorporates.
It might be a newcomer to the Femdom porn scene, but it's managed to amass a dick-hardening array of Femdom porn that is an erotic joy to explore from top to bottom. They market themselves as ''Femdom with a smile'', and I'm definitely smiling! The final verdict? It's a Femdom porn site I'd definitely return to!
An impressive portfolio of Femdom porn categories to enjoy
A flawless site design and high-end theme make it simple to use
Free video samples are available to non-members
The translation feature on the site needs some more languages added to it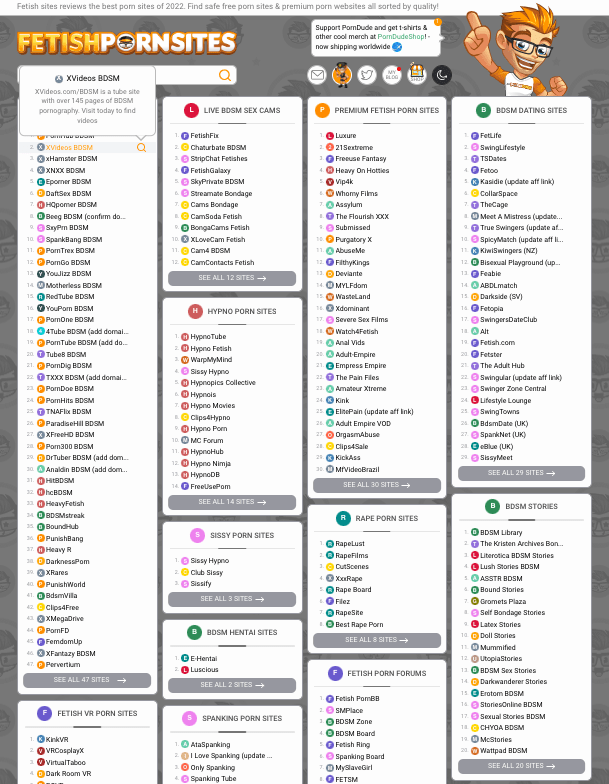 42+ Premium Fetish Porn Sites LIKE FemDorado