Show
42+
sites like

Kink

:
Pick your porn.
Straight? Gay? As the meme says, why not both? No matter what you prefer, Kink.com unquestionably is the King of Hardcore Carnality.
Whatever you prefer, you can find the sort of sordid entertainment that will get your motor up and running off to the whack-off races. Kink has gained a massive following during its monumental multi-decade-long history if you somehow have not heard of it. And so, to do it justice, this review is going to be absolutely epic.
If you are not that familiar with this platform, Kink's content has acquired the ire of radical feminists, the fundie religious right, and all of their allies, but also won more awards (dozens of them, in fact) than they have been nominated for. You know it's a good site when it's getting that level of fame and infamy. I imagine that I have sufficiently whetted your sexual appetite with that put out there, so let's go.
The Models Are Marvelously Entertaining And Ravenously Randy
This website shows off some of the finest talent in the industry. For instance, one of the familiar favorites is dominatrix Lady Black Diamond. You'll also see trans superstar, who usually does vanilla porn Casey Kisses. Other famous starlets and stars include those you may have seen on vanilla site but prefer to get their freak on here, such as Avi Love, Tommy Pistol, Ana Foxxx, Venus Luxxx, and Kira Noir.
So, now that you know who to expect to see on this platform let us look at what you will see them doing.
The Studios Found Here Will Tell You A Lot
There are way too many to mention, with dozens of channels churning out content. But to make this review a little bit manageable, I'll briefly describe one or a few channels per category.
BDSM/Bondage
Kink University – This website is an absolute must for those of you who are looking to get into the BDSM lifestyle or take your existing kinks even further. The level of creativity is truly impressive, even by kink standards, and features exquisite tutorials for how to pull off XXX moves just like the pros while understanding the culture and etiquette of the kink community.
The Training of O – This is an exceptionally exciting channel, even by kink standards. For those unaware, this representative of the Kink collective takes its name from the famed BDSM arthouse erotica film Story of O. (If you have never heard of it, look it up on Wikipedia.) Anyway, what makes this channel special is that it, like its namesake, features new slaves being whipped and dicked into submission. And beyond the usual light BDSM stuff, there is no shortage of intense bondage, humiliation, and even breath play.
Fetish
Fucking Machines – What would a hardcore kink site be without one where, basically, robots fucking eager submissive models. Well, as I have found, there are very few supposed BDSM sites that actually have this, which is yet another reason I think that kink is special. If you like seeing sluts get their holes stretched while their dom looks on in amusement, this channel will feel like a gift.
Gay
Bound Gods – This is not only one of the flagship gay sites for Kink.com; it very well may be their only non-heterosexual property to make it into the mainstream of porn. Or at least as close to that as you can, given how fucking hardcore this action is. As the title suggests, beefy blokes are wholly restrained and at the mercy of their masters.
Kink Men Classics – Who doesn't like a classic? I mean, there is just something about seeing vintage footage that somehow brings back warm memories. Well, if you appreciate seeing guys going at it, the scene from this channel will make your blood boil hot.
Femdom
Electrosluts – If you like lesbian action mixed with electric 'torture,' then you should make a beeline to this channel after getting your Kink account. There is nothing but women in front of the camera, and they push their submissive sisters to their absolute limits. I have seen a lot of electro-play before, but not as many different sorts of stimulating toys as the ones these ladies are using.
And depending on the channel you are on, you can even make requests of stuff you would like to see in the next scene? While I might be able to think of a few 'mainstream' porn sites that do this, Kink is the only one I can think of which operates in the BDSM space.
Take Your Erotic Experience To The Next Level
With so many quality scenes coming from a hundred channels, there really is not much else to comment on, except for the VR scenes. Yes, in addition to everything I have described, Kink.com has a massive virtual reality library that puts you (in a sense) in the middle of the action. And to make things even better, as their studio porn, they also take requests from members.
I'll cover the main site's prices in a later section, but to get access only to this part of the Kink empire, you'll have to pay $24.95 for a monthly package or $89.95 for an annual subscription. I would suggest getting a one-dollar trial which will also allow you to get a free download. After that, I am convinced that you will want to pay $299.95 for a lifetime membership, all site features, and a free set of Google cardboard goggles.
Oh, And They Have Glorious Webcam Shows, Too
Everyone major porn site has a link to their "official" webcam models – or at least you would think that. I have found that in many cases, these links take you to a white page, which is nothing more than a re-skin of an existing webcam page, like Live Jasmin or Chaturbate.
As far as I can tell, that is not the case when it comes to the marvelous models on GetKinky.com, the brand's official webcam page. There are oodles of oogle-worthy women who hail from worldwide and are ready to make you cum if the tokens you submit are enough. But trust me, these ladies are totally worth it.
As one might guess, every single one of them has a quirky kink (or several) that sets each model apart from the rest. To give you an idea, NiceGirlPT is a musclebound goddess, English_Milf is a BBW who is looking to please younger lucky lads and lassies. Amy_Lewiss is an absolute cumslut and oversized dildo enthusiast. Oh, and you must look up Victoria Balee and OliviaUK. They both give a literal meaning to the phrase "tits bigger than your head(!)," and as far as I can tell, in both cases, they are all real.
Unfortunately, you do not get too many free previews as a visitor, which is a bit unusual. But as a member, you will also have full access to these lovelies.
Can You Become A Kink Model? TBH, I Am Not Sure
Alright, I know that at least a few of you guys are interested in being a Kink model, amma right? Does the idea of being tied up, whipped down, and dicked up, or doing that to someone sound delicious to you? Well, as it turns out, Kink.com is looking for models, at least I think they are. As I said, I have been following this website for a while.
They have always had an application link, but I do remember that it seemed to be disabled for some time during and after the COVID-19 panic. As of now, the link seems to have been restored, but I am not entirely sure if they are accepting applicants. Still, it cannot hurt to help. Even if they are not looking for talent now, they'll still have your information on file. Best of luck if you do give an app the good ol' horny college try.
As You Would Expect, The E-store Is Quite Excellent
If this website gets you – and perhaps your significant other or fuckbuddy(ies) – in "the mood" and want to try out what you have seen, their e-store is a great place to visit virtually. I have written numerous reviews of several online shops which solicit sordid toys and other items for adult playtime. But I have to say, for those who are into kinky shit, this is probably one of the finest spots in cyberspace to buy from.
The selection of sex products is unparalleled, and I mean that seriously. Popular, well-known brands' products are here, such as Lello, Magic Wand, and Lovense. Not as well known, but still, high-quality brands can be seen here as well, like Dame (Products), F-machine, and Bad Dragon.
Naturally, they have fleshjacks and dildos and all sorts of lube. But what separates this e-store from sites like Amazon and Adam&Eve is the fact that they have hundreds of pages of leather gear, ballgags, chastity devices, sex ropes, speculums, and specialized fucking furniture. And don't get me started on the items which are motorized!
Each item has a full description, and there is the option to comment and rate them. They have seasonal sales regularly, and all major cards are taken. Lastly, payment is secure, and your package will be shipped discreetly.
The Aesthetics, No Matter What Machine You Use, Are Outstanding
As always, I checked out this website on different devices and was not surprised but still pleased that this site runs well. All browsers work like Safari, Chrome, Edge, etc. – or at least the worthwhile ones because I refuse to use Internet Explorer. The same applies to accessing Kink.com on all of the major operating systems. I cannot speak for how this site renders on Linux, but if someone is using that OS, I would be willing to bet that they are at or close to a tier on the sexuality spectrum.
And Now To Discuss The Payment Options And Pricing Plans
Getting an account is as easy as any other porn site, and the pricing is not too terrible either. While slightly above the industry average of about $30, a monthly package costs $39.99. Of course, that dips down to $23.33 per month if you pay the full $139.98 for a half-year subscription, which I think is great if you think about it. The savings get any better if you commit to a full year of kinky content by paying a flat $180, which equates to a mere $15 a month.
And if you have a coupon code, you'll save even more. While I have been an avid fan of Kink.com for a while, I did do some digging and found sites like CouponAnnie.com, ZenDesk.com, and, what do you know, KinkCoupon.com all provide fantastic deals which will save you a ton of money.
With respect to payment, you have a wealth of options. All major credit and debit cards are accepted, and even Diner's Club cards are as well. (Does anyone use those?) For Europeans, they also accept SEPA, but strangely they do not take PayPal. I get why some companies are slow to take crypto, but who doesn't occasionally pay via Peter Thiel's best initial investment. Then again, that company no longer does business with a lot of adult websites, so I won't hold that against Kink.
Not only that, but you can also score even more deals. I cannot say how long this partnership will last but right now, if you sign up for this network, you can get access to the fantastic site, Mr. Skin, for free for seven days.
Now There Are A Few Things That Could Be Tweaked, But...
Alright, as great as (almost) everything on this site is, some things need to be mentioned which could be improved. Besides the fact that they do not seem to be accepting applications for models, there are also a strange amount of links that appear to be broken. Perhaps both will be fixed sometime after this article is published, but I have been following Kink's content for a while. (I'll let you guess as to why.) It does feel a bit strange, though, considering how otherwise high-quality this website presents its content.
Some might say that the price is a little much, but when you think about it, it's totally worth it. You get access to several awesome websites in a package deal. And since I teased it earlier, this website has more than ten thousand hours of high-definition video with more coming. Moreover, they have at least ten videos are added every week. That is at least 520 vids a week, not to mention the two million photos and 12,000 archived movies.
As I mentioned, this website has talent, which is the best in the business. The scenarios are highly imaginative and never seem to do exactly the same thing again. And since I did not mention it, I really do like the post-orgasms interviews. Not only are they an excellent way to -- in a weird way -- bond with the models, but it's also a nice thing to listen to when trying to clear your head after emptying your other head.
Sure it's not entirely perfect, but I honestly cannot go lower than giving this supreme smut site four and a half hands out of five. If somehow you have never heard of this site or, for some reason, have opted not to join, you certainly should.
The number of movies, archived and new, is awesome, as is the cream of the drop of A-tier models
They have some of the most imaginative scenes ever captured on camera
Into straight, trans, gay-porn, or all the above; you'll find it here
As a network member, you'll get access to more smut than you can beat off to
As to be expected, this site renders well (for the most part) on all net-capable machines
There seems to no longer be a means to apply to be a model, maybe
While not outrageous, the pricing plan might seem a tad steep for some
Some of the links and features are no longer functional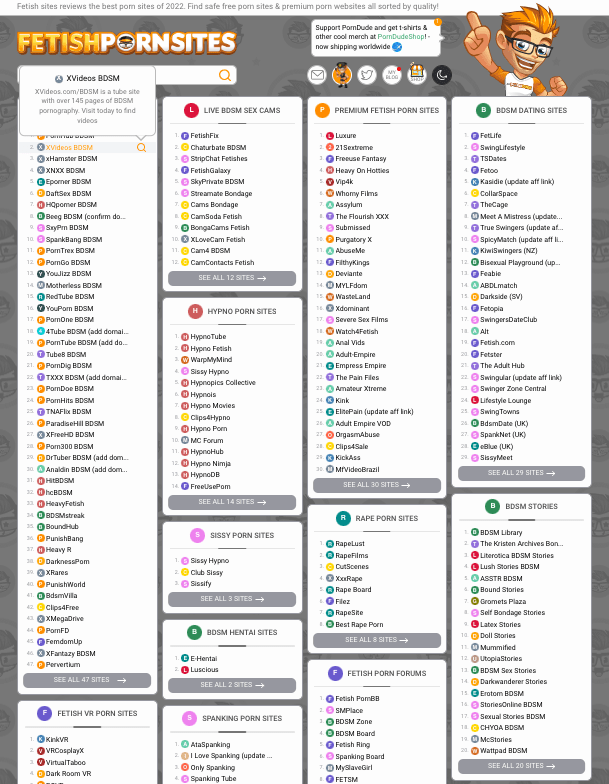 42+ Premium Fetish Porn Sites LIKE Kink