Show
42+
sites like

Luxure

:
Luxure
At first glance, I thought this site was a steaming hot pile of garbage, and I regretted signing up for it. Then, I took a closer look and realized that it's, in fact, a fucking treasure trove of quality smut. I went on a real emotional rollercoaster while reviewing this website, let me tell you. They do a bit of a poor job explaining their actual business model, but that's all right. That's what I'm here for. I'll mansplain it to you in great detail. Don't worry about it - it's my pleasure.
Luxure is a fantastic porn studio and site that aims to bring you high-quality pornographic content featuring hot babes and dedicated dudes who do not shy away from an erotic challenge. These videos push the boundaries of pornography as far as they'll go without going over the edge. There's nothing too eccentric on Luxure, but there's more than enough anal penetration for me to feel like the pornstars here have done their jobs. I hate porn sites that exclude anal from their roster. I think we should just accept that anal is the superior form of penetration and be done with the debate already. The tighter hole won. Anyways…
Luxure And Then Some
Luxure makes their own porn. That much should be clear from the get-go. You pay them, they pay porn actresses, and videos get posted to the site. It's simple enough for anyone to understand. What confused me, though, when I first came to the site was the gigantic pile of smut that was clearly not affiliated with Luxure in any way, but it came as part of the subscription I paid for. I thought I got gypped, that this was a scam. Nah, fam. As it turns out, Luxure figured that their amazing regular upload schedule might not be enough to satiate all of you wily fappers out there. So they padded their resume with some very welcome additions of high-quality external pornography from other studios.
Basically, they cast a wide net, caught a ton of smut that isn't hosted elsewhere, bought it, and slapped it on here for you to enjoy. You can see that this is exactly what happened since they didn't bother to hide any of the watermarks. Hell, I don't think they want to hide them. I believe they are proud of what they've accomplished. When other similar porn sites charge you a subscription, they usually only provide you with the videos they've handmade. Luxure seems to know better. They're the website equivalent of a loving girlfriend who casually brings over her hot friend to join you in the bedroom, even though you didn't ask. She loves you, and she wants you to have your cake and eat it too. That's what Luxure is bringing to the table. A whole lot of love and affection. They want you to fap your cock clean off, and by golly, are you going to fap.
So Much Retro
Don't worry; I'll talk about Luxure's exclusively content. Soon. You must be patient, young padawan. First, we need to take a look at some of the auxiliary content you get for free when you sign up to Luxure. The most striking of all these categories of free smut is definitely the retro section, which is fucking huge for some reason. I'm guessing that since these videos are so old, they're getting sold in giant packages for cheap, so Luxure figured they might as well buy a fuck ton of them and host them on here for the world to see. They're great videos. Granted, they don't come with the resolution of modern pornography, but I have no complaints other than that. This smut is amazing.
I like the retro shit on this site because it's clearly top-shelf stuff. The babes in the old clips are about as hot as those in the new shit, albeit through a blurry natural VHS filter. It's mostly blondes with perfect bodies and the occasional brunette who enjoys the taste of cum. It's all one big party on Luxure. I'm more than happy with the selection of retro smut on here. Hell, I welcome new additions to it if that's in the cards. And as a postscript, let me just say that there's a surprising amount of Asian porn among the retro smut, which I was not expecting. It's not JAV either; it's western. It just features Asian chicks.
The New Smut
There are two variants of new smut on Luxure. One comes from external sources. The other is made by Luxure themselves; it's the main event on the website. It's also the best smut you'll find on the site. They're working hard to outdo the competition or trying to gatekeep superior porn away from their website so as not to make themselves look bad by comparison. Either way, I've seen a lot of mainstream porn, and it's clear that Luxure very much knows what they're doing. On a scale from mainstream to mainstream, this smut is decidedly mainstream. But they also do a lot of anal, so there's that. Look, it's hot shit; what can I say?
They've got all kinds of perfect bodies with bitches that are evidently younger than 25 across the board, and each one of them is the kind of ideal woman you'd sell your soul for. Besides, they're not scraping the bottom of any barrels here in terms of the pornstar selection. They've got Lana Rhoades on the damn home page. That's how you know that this is top-notch stuff. So, the question then becomes, is the Lana Rhoades content on Luxure better than her clips on other sites? Yes. Yes, it is. At the very least, it's as good, but I think it's even better.
Class and Style
Lana Rhoades is the perfect yardstick that I can use to mansplain to you what makes Luxure better than other nearly identical porn sites. She's done all kinds of mainstream smut on other sites, but the shit on Luxure is just, well, better. Why? Small details. The video of hers that I'm watching right now features two cocks, double penetration, which includes a lot of anal, and a decent bit of cum play. Big deal, she's done worse on other sites, right? Yes, sure, but she hasn't done it with this much dignity.
Other porn studios blast their entire scenes with bright lights or straight up shoot their videos under the sun. There's nothing wrong with that, per se, but Luxure is thematically centered around a nighttime vibe. Specifically, they're selling a distinguished bedroom vibe, like something from a James Bond movie. Don't get me wrong, everything is still perfectly well-lit, but with soft lightning and nice backdrops. Everyone's wearing elegant clothing until it comes off, of course. The lingerie is expensive, the hotel rooms are five-star, and the overall color palettes are easy on the eyes. This is the kind of smut you put on the TV when you've got a girl over, and you want to set the mood. She'll probably run for the hills if you pop on a Facial Abuse video instead.
Paying for Primo Smut
I was pleasantly surprised by the price tag on Luxure. I was not expecting this. Their 30-day membership is 30 euros, which is par for the course. Of course, that's how much other websites charge as well, but keep in mind that on Luxure, you also get access to a ton of additional smut that's tacked on for free. On top of that, they've got a 365-day tier that costs 90 euros. That's insane.
The way this site is structured, I can't actually see how many videos there are in total, but I tried to reach a limit of some sort and failed miserably – i.e., there are countless videos on this site, and I doubt you'll watch them all in one year. Perhaps you might get close if you run them back-to-back, but I wouldn't bet on it. New smut comes in regularly.
Overall, Luxure is doing a fantastic job at schooling the competition, and they're doing it with sheer quality. I'd love to watch these pornstars in just about any scenario, but seeing them recorded by directors and cameramen who know how to convey sexual tension properly is priceless.
Near infinite supply
Retro videos for free
Luxure's content is amazing
Nothing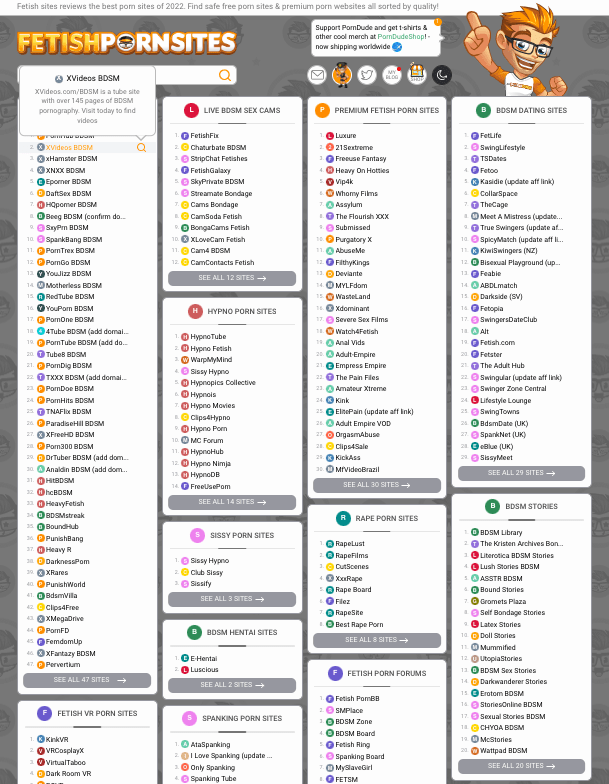 42+ Premium Fetish Porn Sites LIKE Luxure