Show
42+
sites like

MYLFdom

:
MYLFdom
MYLF dom! Sometimes, TeamSkeet does terrific work with fantastic porn actresses and original porn sites that add tons of quality to the industry. But, sometimes, they phone it in just to piss me off. MylfDom is a perfect example of the latter. This website confuses and angers me because it's so perfectly midway between being pointless and being fap-worthy. It's a porn site, like all other sites under the TeamSkeet umbrella, with premium videos that you have to pay a subscription to enjoy. So far, so good. <strong>The videos are top-notch, and they're delightful</strong>. They're hot. They're filmed in high resolution, and they feature some of the hottest babes in the industry. So, what am I bitching about?
Oh, we'll get to that. For now, let's try to pace this review like any other TeamSkeet site review, and we'll get to the part that made my hair stand out. MylfDom is a straightforward website that focuses on the more domination-oriented MILF action with 27 available videos as of the time of writing this review, which is a rather meager offering, but bear with me because it gets better and more annoying. The whole point behind TeamSkeet is that they offer tons of different studios that you can sign up to individually, or you could opt for the entire kit and caboodle with a TeamSkeet premium sub. Unfortunately, that doesn't work really well for MylfDom, and I'm about to show you why.
MylfDom vs Mylf vs TeamSkeet
MylfDom is one of TeamSkeet's many channels, but make no mistake, all the content comes in from the same studio. The same people make all the content, and the pornstars featured on one channel appear on others as well. Sometimes you might get lucky and see the same pornstar on a MILF channel and a "young" channel across different videos because, at this point, these women are practically interchangeable. There are far too many MILF centric channels on TeamSkeet, and this is why MylfDom feels like such a hit or miss.
The whole shtick behind MylfDom is that these are the MILF videos that feature a mother-like character being dominated or doing the domination. The former is more common than the latter. So, it's a sub/dom site, not a dom site. All right, so far, so good. And well, when you use the word dom in a pornographic environment, it's kind of a blatant reference to BDSM themes, which are only really present in the thumbnails and the previews on MylfDom.
These videos have nothing to do with domination or submission. They're regular porn videos. So, the videos on MylfDom are precisely the same as the videos offered by TeamSkeet's other MILF channels. But this is a unique channel that you can sign up for exclusively. This boggles my mind. It feels like TeamSkeet is stretching the content way too thin for marketing purposes. I understand the appeal of separate channels, but you can't just take a random smattering of videos, move them to the side, slap a label on them, and call it a channel. You need to do actual work to differentiate these channels from one another.
Why MylfDom?
Signing up for a subscription on MylfDom wouldn't be a mistake if they had a few more videos and either doubled down on the BDSM angle or got rid of it altogether. As it currently stands, they're promising one thing and delivering another. These are conventional MILF videos. Also, I don't know why the I is turned into a Y in the title. Maybe they're alluding that you want to fuck these mommies; therefore, "You" instead of "I." Perhaps the URL was taken. I don't fucking know. The point is that these videos are too vague to be used in such a specific marketing angle.
You'd be better off just getting a subscription to one of the other TeamSkeet mommy channels with more videos. I don't see myself spending serious money for a channel with only 27 videos. It's a bit of a waste of time. I could go through these videos in under a week, but they expect me to get a monthly subscription. That doesn't make any sense. That doesn't make mathematical sense. How the fuck am I supposed to enjoy this site for a month? Do they really expect me to watch the same videos over and over again? I mean, they're good, but they're not that good. I'd rather jerk off to random hentai videos than rewatch this shit over and over again.
The Content Quality
Let's try to get over the gripes for a second and look at this content objectively, sparse as it is. It's good stuff. I have no complaints about the overall quality of the videos. Sure, the whole MILF dom angle is underplayed, but that's TeamSkeet for you. Their approach to porn scripts is setting up a premise and then completely abandoning it in lieu of standard penis in vagina play. If you're lucky, you might also get a bonus shot or two of the chick in question playing with cum or scooping it off a glass table with her tongue. Again, it's good shit, albeit a bit played out. This is standard mainstream pornography at its finest.
The video quality is off the charts, the resolutions are high, the chicks are having a great time, and everyone is making money. This right here is the lowest common denominator smut. It's the kind of porn your dad pays good money for, and it shows. TeamSkeet puts their money where their mouth is, and they invest in their scenes. You can tell that none of this porn was half-assed. It was recorded by directors that knew what they were doing. On the one hand, the mainstream angle might deter the more eccentric fappers among you. On the other, the generic angle ensures that this smut will stand the test of time.
Signing Up for MylfDom
This is where things get a bit convoluted, and I have to start bitching and moaning again. A subscription to MylfDom costs $30 a month unless you sign up for a 24-hour membership, which will automatically renew once those 24 hours are up for a monthly subscription of $40. So, if you sign up for a month, you pay 30 bucks, but if you sign up for a day, you pay 40 bucks for a month. Does that make sense to you? It does not make sense to me. Mainstream porn sites are subscription minefields at this point. I guess I know where all the production value is coming from. All these people sign up for a day, then forget to cancel their subscriptions on time.
I have nothing against automatic subscription renewals, per se. But do you really want to penalize people who gave you a dollar by charging them an additional 10 dollars on top of the monthly sub they didn't exclusively ask for? It seems kind of scummy if you ask me. I'd complain less if the automated monthly sub costs as much as the explicitly stated monthly sub, but it doesn't. I feel like these guys are trying to scalp you.
Value Per Dollar
All this bullshit is made triple egregious by the fact that you're paying more than a dollar per video, as the site currently stands. Maybe they're priming themselves for the long run when MylfDom will have a lot more than 27 videos. Or, considering how adamant TeamSkeet is to invent new channels, they'll probably leave the site as it is and just make a new one. I don't understand this business model. I'm not saying that these videos aren't worth the $30; I'm saying that other websites offer you a significantly better price to video count ratio. Hell, some subscription sites give you hundreds if not thousands of videos at the same price point. Sure, you get locked out of them if the subscription runs out, but that's how the payment model works.
MylfDom isn't a bad channel, but it's underperforming, and I don't see why you'd ever sign up to it exclusively. Hell, you could easily argue that even other TeamSkeet sites are making MylfDom look bad by existing at the same price point with more videos. A premium subscription to TeamSkeet makes a lot more sense, and I guess that's what this studio is banking on. They want you to realize that signing up to one of their channels is illogical so that you get the premium subscription and watch all of their content in one go.
High-quality videos
Not enough videos
The dom angle is weak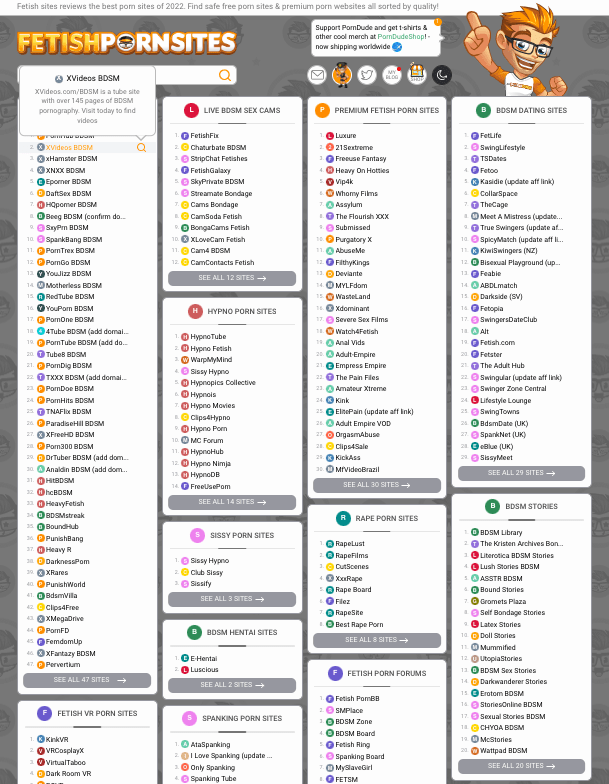 42+ Premium Fetish Porn Sites LIKE MYLFdom