Show
42+
sites like

Power Fetish

:
Power Fetish
Good chicks go to heaven, bad sluts go to powerfetish.com! You know, a nice lady minds her manners while she dines in a posh restaurant, making sure that the sauce doesn't stain her silky blouse. Yeah, she ain't a stranger to fucking and sucking, but she hides her naughty skills from nosy strangers. On the other hand, a powerfetish.com pornstar eats like a damn pig. She stuffs her face with cucumbers, gags on them, spits it all out, smears it all over her tits and cunt, and then masturbates, mixing pussy juice, piss and cucumbers all together. I think you got the point! Let me talk about this crazy place some more!
A divine mixture of satisfaction and shock
Yep, that's exactly what you are gonna feel upon loading the powerfetish.com. Before I even landed on the page, I thought that powerfetish.com was about some power-play, you know, sexy secretary and a wicked boss, landlord and a cheap-ass whore, and that kind of stuff. Then, I saw a couple of thumbnails and thought that powerfetish.com was presenting some kind of an extreme feeding fetish.
I mean, cucumbers, salads, and chocolate are all over the place, but not where these are supposed to be. Cucumbers go into asses, salads go into in asses, and chocolate goes into asses until it melts and gets smeared all over asses. If you are into scat, but you don't have the stomach for it, this might be a proper substitution.
There is not much to see when it comes to the website design - black background and a lighting symbol as a logo. The only thing that pops into my mind is that these ladies need the power to make the dishes they are gonna stuff in their asses later. A search button, a log-in button, and a language bar offering English, German and Czech. That's about it. The focus is on the content that is out of this world kinky, but please remember that all of this is just a role-play, and some scenes are made to look gross intentionally, to meet the needs of twisted pervs.
It's time to suck it up and watch a trailer
Ding, ding, ding! The time to see what's cookin' is now! Squeamish fuckers, get the hell out! The shit you are about to see is not for the faint of heart, although you could look past the mess and focus on pussies. Veronica Leal and Jennifer Mendez! Sounds promising. Oh, Brittany Bardot is the third lesbian in this wicked session. Smell like trouble. Ladies are in a kitchen, where they shave one of the chick's heads. Then they make a mess with food, lick whipped cream, then spit it on a humongous dildo, then fuck their asses with it until anal prolapse rears its head, and then they put food on their feet and feed each other.
Before you start giving me crap about how people are starving all over the world, and these bitches throw food away, let me tell you that all of this is for a good cause. Someone pays to see all of this, webmasters earn cash, and then they spend all of their money to buy more food, boosting the country's economy, battling inflation. You know, it's all well thought out. Nothing to worry about!
Over a decade in the adult biz
The only way to beat the harsh competition in the adult biz is to be unique, and powerfetish.com is definitely a rare gem. The content is extreme and not to everyone's liking, but, on the other hand, it's hard to find such content on the web. All releases on powerfetish.com are HD and downloadable. This option is reserved for members only, but I am gonna tell you how to make this happen later.
At the time of this review, powerfetish.com counted around 60 videos, but I had a distinct feeling that the tour page was lying to me. I think that the collection is much bigger, but I am too lazy to log in and do some real counting. Who cares, right? What's fucked up is that the videos don't show an upload date, making it impossible to understand the frequency of updates. Sometimes, premium websites delete old content that is not as good in terms of picture quality, but I can't say if this is the case since I can't see the fucking dates. I am too lazy to log in, I am too lazy to send an email...I want to watch videos and wank off! Can a man get some slack around here?!
Generally speaking, powerfetish.com's tour page is not as informative as I would like it to be, giving out a vibe "reserved for paying members only." You can't contact powerfetish.com unless you are willing to go through the contact form and wait for a reply. I did manage to discover that powerfetish.com is a Czech website that is a part of an affiliate program.
I am not here today to discuss affiliate marketing, but let me just tell you some basics in a couple of words. As an affiliate, your job is to promote powerfetish.com on your adult website, a blog, or anywhere you like. If you get more members to join powerfetish.com, you get a cut. I don't want to waste precious words I could use to describe the content on this, so I suggest you scroll down the powerfetish.com homepage, hit the webmasters affiliate section, and find out the details yourself.
Let's spend some cash on fetish content
Well, someone is lying. Either the screw-up happened on the tour page, or the trouble lies in the Join section. Namely, the join section claims that powerfetish.com is the largest fetish site in the world! I wouldn't say that, judging by the tour page! What's good is that powerfetish.com is optimized for all devices, and all content is exclusive. Actually, if you prefer free smut, then it's bad news, but since you are here reading this review, I guess you don't mind having a couple of dollars chipped off from your bank account.
The price for a monthly plan is $1.17/day (Billed in one payment of total $34.95). 90-day access is gonna cost you $0.83/day (Billed in one payment of total $74.95), and the 180-day access is $0.67/day (Billed in one payment of total $119.95). Powerfetish.com claims that the most popular membership plan is the longest one, and I believe it to be true because it is the most affordable one long-term. However, it looks like powerfetish.com membership doesn't provide members with any bonus content.
Crazy things you'll get to see as a member
Massive Zucchini Oral, Pissing Threesome, and Alexxa Vice Vomits on a MILF are only a couple of titles I decided to mention, only to give you a clue that this website means business. I have seen a shit ton of anal and vaginal prolapse, extreme dildo sessions, head shaving, domination, feet fetish stuff, and loads of MILFs. Spitting, pissing, fucking, sucking...and all of this to the extreme. Slime bathing, anal squirt, foot fucking. All of this stuff comes in HD, making it impossible not to see the inside of someone's asshole or pink, wet pussy prolapse. A charming collection, I have to admit.
I don't know if you are into all of this, but I guess you are since you've come this far reading this review. Hey, having a thing for messy sex and pissing ain't that big of a deal! Who the fuck cares about your sexual inclinations anyways?! You get to do whatever you want to do in your bedroom or in the kitchen, as long your partner agrees with it. Let me tell you something! Not only is the sex on powerfetish.com consensual, but the chicks seem to enjoy every second of it.
Don't be a sissy! You know that you deserve exclusive, dirty, wicked, and fetish content in your life! Yeah, you are gonna need to spend some money to unlock powerfetish.com, but it's not like you are gonna see anything similar on the web. Saying that powerfetish.com is unique is a serious understatement! Give it a go, fuckers! There's not much to lose besides a couple of bucks! Gotta get going now! Adios!
Exclusive content available for members only
4K videos that can be downloaded
Unique fetish content presenting hot and unique sex scenes
No bonus content
You need to become a member to unlock content
The tour page needs to be more informative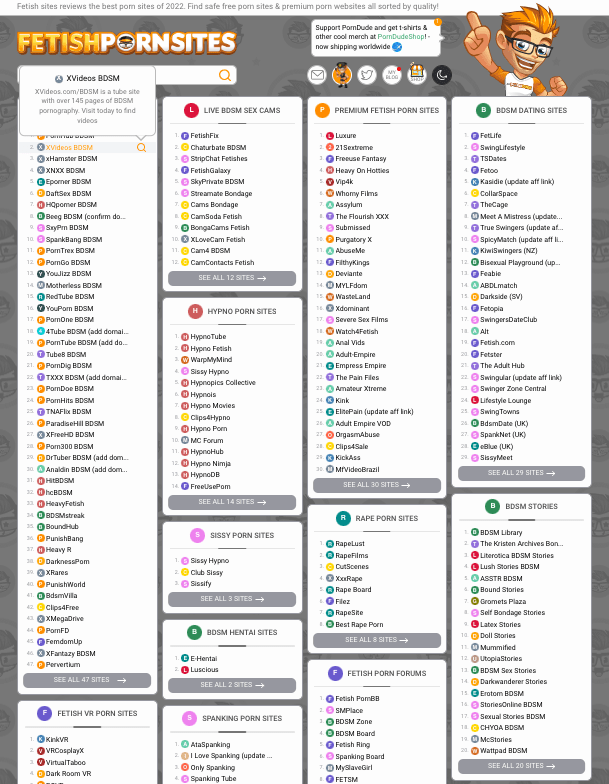 42+ Premium Fetish Porn Sites LIKE Power Fetish