Show
42+
sites like

Purgatory X

:
Purgatory X
I found you guys a very interesting little website with a unique spin on the classic BDSM fetish. In terms of BDSM, it's on the much lighter side. I've definitely seen significantly more violent shit. I'm not suggesting the smut on PurgatoryX is soft; it's still hardcore penetration with mild aggressive tendencies, but that's not BDSM, and it certainly isn't extreme. It's barely scraping against the surface of the overall BDSM fetish lifestyle. In essence, most of the videos on this site are classical hardcore penetration porn movies. They don't break any new ground, and they don't showcase anything we haven't seen before. All in all, I'm not particularly impressed with the action.
That being said, this site is still worth your time and possibly your money because of the high production value of the videos and how hot these chicks are. There appears to be a trend across sites that call themselves fetish or BDSM-oriented. The better the site, the uglier the girls. I don't know why this is the case, though, honestly. I wish it weren't true, but it is. My theory is that the ultra-hot babes with the triple-A potential don't want to get pigeonholed into doing fetish shit, so they stick to mainstream pornography instead because they hope they can get away with it. The uglier bitches have to develop talents, and fetish play is a talent. PurgatoryX is not a proper BDSM site, in my opinion, but it features spectacular bodies so take that as you will.
Heaven and Hell
This entire website is built around the heaven and hell themes, and there's certainly a lot you can do with that kind of terminology in terms of pornographic experimentation. But I feel like they kind of ran out of steam right after they figured out the name and general approach because this shit makes no sense. In my mind, this heaven and hell division makes for a perfect opportunity to split the site into extremely soft and loving pornography for babes and overly fucked up depraved shit for dudes. It could work perfectly. You wouldn't even need a gender switch for the preferences. But no, they went in a completely different direction with this nonsense.
The hell section of the site contains a bunch of hot-ass hardcore penetration between men and women. Sometimes there are several women at a time. The common thread here's that everyone's really excited and angsty. Once in a while, a woman gets thrown around or plowed violently, but it still falls under what I consider vanilla. The heaven section more commonly features multiple chicks; the hell section more often features multiple dudes. Sometimes chicks get fucked by four cocks at a time. Still, I'm bored out of my mind; how the fuck is this a fetish site? And to make matters worse, black people are almost exclusively featured on the hell side of things. We'll just pretend that this was a random anomaly.
Some Disjointed Themes
Both of these sections feature random nonsense that's in some way supposed to relate to the overall theme but fuck me if I understand the logic here. The heaven side of things features a sexy genie chick who grants wishes and Lena Paul. The hell section has Angela White and quadruple penetration. But what's the correlation? What are the rules? I dont know. Who the fuck knows? If I showed you a bunch of random shots from videos across these sections, you wouldn't be able to sort them into the proper place if I gave you a million years to figure out the connection here.
This leads me to conclude that the whole heaven and hell nonsense is just a shtick for promotional purposes. PurgatoryX is just a singular website with one overarching theme of, well, mainstream porn that sometimes, occasionally, does interesting fetish shit. For the most part, this is just a mainstream porn site like all the others, but with exclusive content that you can't get anywhere else. As such, it qualifies to be on this beautiful website of mine because the content, at the very least, makes passing efforts to be fetishistic and eccentric, so I'll just get back to reviewing the content.
Hot And Heavy Series
While this site does have one-off videos that are recorded, uploaded, and forgotten, quite a few high-quality productions come in as series. Essentially, they're just sequential porn movies with connected storylines, like some sort of glorified Netflix show. Their runtimes are slightly above 20 minutes, so they very much follow the modern format for TV releases. I adore this format. I'm sorry, I know you don't like being blue balled but consider this. PurgatoryX releases several interesting videos on their site. They figure out which ones are smash hits and then release more episodes.
You get to see more of the same content, featuring the same pornstars you fell for in the first place, but in new situations with even more production value since they've proven themselves profitable. Some of these are real smash hits from the start, and others take off after episode 2; either way, this is a great way to do porn. It would be problematic if it were forcing PurgatoryX into a narrow set of productions, but that's not really the case.
They make all kinds of shit. The heaven and the hell sections are littered with random, seemingly unrelated productions that cover the spread. They're more than justifying the price tag for the subscription. Their only real mistake is that they're too soft for a fetish site. I'd call them a starter site for people who want to dabble in hardcore smut slowly. This is a great place to dip your proverbial toes in the water, cut your teeth, and all that.
These Chicks Are to Die For
I'm assuming you already picked up on this, but the babes on PurgatoryX are primo meat. They're the best that the industry has to offer by a mile. On the very front page, you've got such names as the aforementioned queen of breast, Angela White, the petite Elsa Jean, and the absolutely irresistible Emily Willis. Those are three names I picked at random, and the three of them are modern goddesses of porn. The day Emily Willis stops doing porn, I'm going to chop my dick off, probably, maybe. We'll see.
You can pretty much tell where all the money is going. These are the most expensive pussies in porn. These girls don't bend over for cheap. I'm not seeing any padding in between the roster either. All of the bitches on this site are primo stars. There are no ugly bitches on PurgatoryX. That's just the truth of the matter. Whoever is behind PurgatoryX doesn't like taking chances or compromising on quality. Hell, even the dudes are recognizable faces from the industry, in that I recognize their faces, but I have no fucking clue what their names are. I don't remember dudes' names.
Worth the Dollars
These guys desperately need a yearly membership plan. It's rare for professional porn studios not to offer the option for you to pay for an entire year in advance. It kind of boggles my mind. Anyway, you get a 6-month tier instead, at $17 per month. Now, if you're considering this website for the fetishistic content against other similar sites, then it's definitely not worth the subscription. Mark my words. This is not even close to the most fucked up fetish site. If you have to choose one particular fetish site, skip this one.
Conversely, if you got plenty of cash and want to rack up your collection, then it's a no-brainer. Get on this shit right now. It's a site that's riddled with exclusive content and regular uploads that feature the hottest women in porn. You're looking at a nearly endless supply of high-quality content that keeps getting updated with new installments and continuations of the previously released episodes that are a part of a series.
Overall, this is a great site with an amazing studio behind it and a capable marketing team trying to make the best of the content they have. Granted, it's the softest possible type of content that still qualifies as BDSM or fetishistic but has included something softer for the lightweights in my audience. So that's what you got here.
Countless high-quality videos
Great site design
The best women in porn
Not kinky enough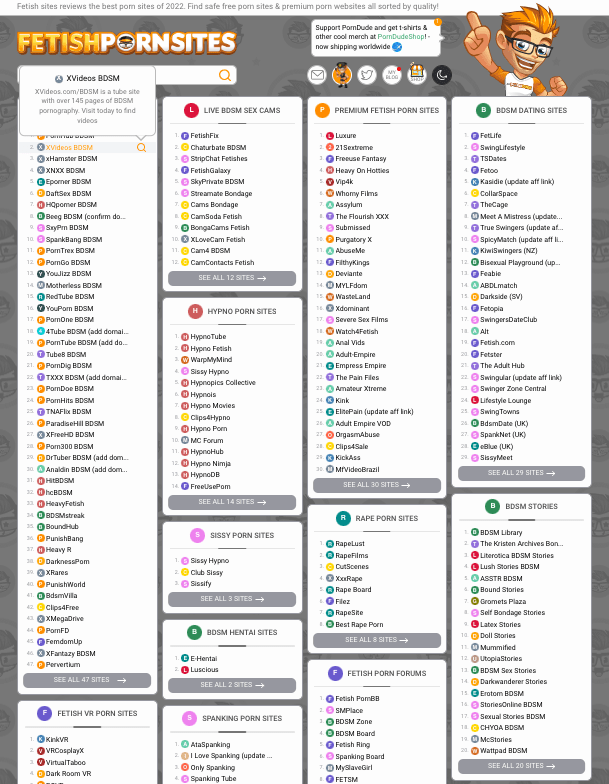 42+ Premium Fetish Porn Sites LIKE Purgatory X