Show
42+
sites like

Severe Sex Films

:
Severe Sex Films
I did it, guys! I found a proper depraved mainstream website! I swear to God, I had to scrape so hard between countless annoying mainstream websites to find SevereSexFilms, but I did it. I won. And I want you to know that I did it all for you. Sure I went through a thousand annoying ass mainstream sites to find this place, but it was worth it. I'm angsty and annoyed because there are way too many sites that call themselves fetish sites but focus mainly on tricking you into spending money to watch vanilla sex performances. You could view that shit on PornHub. You don't need a dedicated studio for that.
The smut on SevereSexFilms is proper depraved shit. These are the kinds of websites I wanted to review when I created my site, FetishPornSites. I was looking to find the truly fucked up shit that the real perverts can enjoy. I want to make you guys feel at home and give you an authentic and unfiltered look into the BDSM culture and fetishes in general. This site here isn't narrowly focused on BDSM, even though that's the main vibe. There are all kinds of mixing and matching of fetishes on here, but the most important common thread is that of quality and authenticity. In other words, this is a zero-bullshit site that doesn't censor anything. So you see, all of the action and shit gets really fucking wild.
Male Surrogates for Men
This is a rare concept I honestly haven't seen very often on other websites. I'm no stranger to the general idea, but I've never seen it implemented with this much dedication. In short, the camera's main focus is always on the male subjects of the video, provided there's a male subject at all. Some of the videos feature lesbians in a cis-to-cis combo with some trans to cis Tetris thrown in for the hell of it. There's mixing and matching of dicks and cunts all over. Anyways, most of the videos I see on here feature men as the subjects of the video. Though, in the actual sex, they're the sexual objects. They take the role usually reserved for women. They're sprawled on beds or tables, tied up, gagged, balled, and all-around punished.
They're treated with extreme dominance, put into the maximal submission, and they don't even try to fight back. It needs to be said that the dudes in these videos don't really remind me of the classical male pornstars I'm used to seeing in western porn. As far as the eye can see, the productions are equally as expensive as Brazzers, but there's a serious lack of chiseled abs in comparison. You know what I mean. These dudes look a lot closer to real men than perfect models. I guess this is for self-surrogacy purposes. In other words, I think they want you to live vicariously through these videos. I'm also 100% certain that this site is generally aimed at male consumers, even if the camera is constantly focused on a naked male body. The chicks are naked too.
For the Girls
There's a popular with women tag that features a good 50 or so videos that are apparently popular among chicks, though I'm not exactly sure how they got to that conclusion. It's not like they vetted my gender when I made the account. I'll take their word for it. Some of the videos on here feature lesbian BDSM action or some light domination; others have the chicks taking on several dudes at a time. Either way, I don't see a clear difference between this content and the other smut on the site. So I'm guessing women were a casual afterthought on this website.
That being said, it's not like women aren't welcome on the site. Given what I already know about women's fetishes, I'm sure they can find what they're looking for on this site. This content might be generally aimed at men, but it isn't filtered through the kind of male gaze that usually makes mainstream porn look cookie cutter. This stuff was produced by someone who knows sexual fetishes personally. Therefore, the fetish takes center stage. Both the men and the women are just props. The kink is the main focus here.
Why So Gay Though?
For an equal opportunity fetish site mainly aimed at men, this place has a surprising amount of gay shit going on. Disclaimer: I have nothing against gay shit. I'm just used to there being a switch to toggle between straight and gay porn on every kind of adult website. It's pretty much expected from every smut site at this point. Well, you can forget all that on SevereSexFilms. Instead of a gay switch, you get a bunch of loosely related videos across the whole site, and in some of them, men suck other men off. Oh boy.
But if it makes you feel any better, I found the common thread. It's insertions and bondage, in every combination of men, women, and trans babes, with the exception of dude-on-dude action. In other words, you get every permutation, but not pure man-on-man action without a woman present. The ultra-gay shit usually involves a girl or two offering instruction and domination. They "force" the men to suck each other's cocks, and if there isn't a spare man around, then the dude they're punishing has to suck them off. Of course, they wear strap-ons for this part. You get the idea. Dudes come here to get demolished.
Is It Gay to Fap to This?
Well, there are two ways to answer that question, and I'll give you both. One; no, it isn't gay to fap to this since it's the fetish that gets you hard, not the cocks. And two, even if you did fap to the cock for gay reasons, literally no one cares. It doesn't matter whether it's gay or not. What matters is whether it's hot, and here's where my professional opinion comes in. I think this smut isn't quite as hot as it could be, but it's still a strong 4/5 in terms of excitement. However, it gets five stars from me on the earnest way that the fetishes are portrayed. It's hard to find proper portrayals of BDSM that don't look overdone or flat out casual and wrong. This is real, proper BDSM with true heart and soul.
It's not perfectly identical to what goes on in a private bedroom between two consenting BDSM experts, but it's as close as you're going to get on the internet. I think the actors on here, both the dudes and the chicks, are doing a fantastic job.
Impressive Famous Pornstars
There's a particular roster of A-lister pornstars who are famous within specific niches. They rarely appear on top of mainstream lists because they don't really do much penis in vagina sex for the sole purpose of procreation. But, they're incredibly famous in adjacent circles for being legends in their own fields. For example, you've got Charlotte Sartre, the undisputed queen of BDSM play. In my opinion, she's single-handedly responsible for the booming success of Assylum, which is another website that you should probably check out if you're a fucked-up pervert. I love that place. Anyways, Ms. Sartre is here as well, and she's doing a bang-up job both providing the punishment and receiving it.
There are several similar actresses specializing in BDSM, and half of them have names that straight-up indicate that. They like weird goth shit and references to metal bands. You'll be able to tell which of these babes are exclusively down for BDSM from the get-go, just from the names.
Some Extra Details
Check out the kink instruction videos. They're a nice little bonus for you that give you some educational insight into the world of BDSM. They're fap-worthy as well, but they're mostly made to teach you how to create your own fun, preferably with a partner. There's also a sex toy shop where you can get yourself some quality toys for personal satisfaction. They're primarily designed for couple play, and for some of them, you might need to have the proper mounts in your bedroom, but for the most part, this is a great place to get your hands on some useful tools for proper bondage play. I'm delighted with their product selection. They also have sex dolls, by the way.
You can get a yearly subscription for $100, which is pretty decent considering that you get access to both the content that's already out and everything that will come out in the meantime. Besides, the video quality is perfectly HD. I didn't see any 4K on here, but I don't care much. It's really not necessary for this kind of content.
That being said, I have no idea why you have to pay extra to buy the content per video when you're already paying for a subscription.
Extremely high-quality
Proper BDSM
Men, women, and trans babes
Countless videos
Pay per video on top of subscription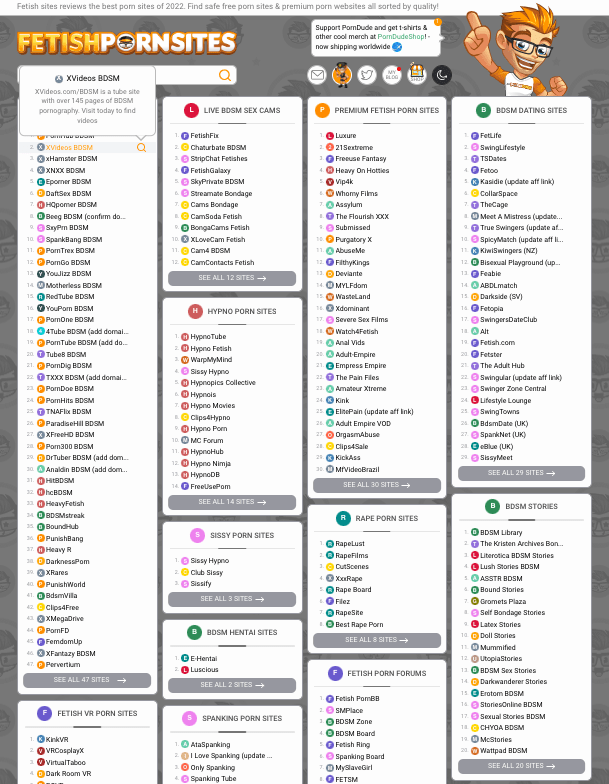 42+ Premium Fetish Porn Sites LIKE Severe Sex Films