Show
42+
sites like

The Flourish Fetish

:
The Flourish Fetish
Here I am scraping the bottom of the barrel again for fetish smut that you can enjoy. I swear I'm not just padding my lists with irrelevant content, even if it might seem like that's the case once in a while. It's hard to find all the fetish smut on the internet since half the sites that dabble in fucked up content tend to mix and match instead of devoting their time exclusively to fetish content. TheFlourishXXX is a relatively young and highly successful porn site that barely deserves to be on my website because of how vanilla it is. Compared to other porn sites in general, it's pretty extreme, but it's basically a walk in the park compared to the other fetish sites I've got on here. Very innocent and straightforward.
I struggled to find an overall theme to the content on TheFlourishXXX as the name itself doesn't give much away, and there's no clear tagline on the site to introduce you to the genres on here, but I think I've got my finger on it. This site has a serious appreciation for the domination of women. Most of the time, the women are dominated by gigantic black men. At first, I thought it was a black on white site, but a few videos break the pattern, so I guess that's not the main focal point. Still, women are very much being dominated here, and the videos are filmed in such a way as to really bring out the overall submissive side of the girls who are being filmed.
Some Girl-on-Girl Action
I'll start with the outlier case on TheFlourishXXX because it kind of stood out for me as an exceptional form of pornography that hasn't been nearly as popular as it should be lately. I'm talking about girl-on-girl hardcore porn with a serious dedication to raw power and domination. There's no overt BDSM theme, but there's the emotional domination that comes with proper passionate lovemaking. It's different from conventional lesbian videos because in your average Sapphic clip these days, the chicks act way too dainty to be taken seriously. They look like they're doling out massages, not orgasms.
The babes on TheFlourishXXX go the extra mile and then some, with their dedication to penetration and clit satisfaction. Their sex is far from the Sapphic romance you're used to seeing on certain sites that are made to appeal to women. These girls use the male playbook, even when there are no men in the scene. They wear strap-ons when necessary, which is most of the time. They rail each other like there's no tomorrow. They really give it their all. These girls make better guys than most guys. It's a great way to watch vaginal and anal penetration videos if you're the kind of person who doesn't want to see any actual cocks. I applaud this approach.
The Black Cocks
There are many talented black performers on this site, and they're all dudes. They even get their own honorable mentions across the model category because of all the fantastic work they've done. I'm personally quite satisfied with their performance, mainly because the content is raw and unfiltered. It feels extremely powerful. It's the kind of content that really gets you excited. I've seen some other websites that are proud that they only pair black men with white women, and that's not exactly what's happening here. It's not like the entire site is dedicated to the black on white pairing. It's just a part of the domination play. Also, not that I personally care, but these particular black guys are damn gorgeous. So if you're into that, you will have a great time.
The black guy on white girl content on TheFlourishXXX falls somewhere between big daddy domination and full-on gang rape. Obviously, I'm talking about fake gang rape. But the whole thing is very exciting and classical in terms of porn. The girls all seem to be having a great time even when three dudes are penetrating them at once. On top of that, none of these girls seem to be particularly amateurish. They are all professional porn actresses who're more than ready for raw, unfiltered action. Some of the girls who are a bit on the softer side get to make some softer content, but you're looking at powerful content for the most part.
The Sex Appeal
The average scene on TheFlourishXXX starts rather quickly. There isn't much by way of exposition. If you want a story, you'll have to envision one for yourself. This content is mostly here for hardcore faps. It's the kind of content that doesn't waste your time. This kind of smut will have you ready to orgasm right out the gate. You don't have to scroll forward to get to the good stuff. The entire video is the good stuff. I guarantee that you're not going to get bored.
If you need any additional motivation or convincing, you should probably check out the free previews. Every video on this site comes with a free preview that you can watch without even signing up for a free membership. For a premium website, this is a fantastic approach. They let you sample the best parts of the content before you even consider signing up. That should tell you everything you need to know about the quality of these videos. TheFlourishXXX has nothing to hide. They're not here to trick you into signing up for a subscription. They are genuinely bringing you quality content. I applaud them for their efforts. Every single video on this website that I have seen today for this review has had me hard as a rock. I'm damn convinced that you'll enjoy this content if you like watching women being penetrated. As for the price, well, we'll get to that.
Primo Mix of Babes
I mentioned that there's a serious trend of white women being the focal point of the videos on TheFlourishXXX. They are about 90% of the female stardom on this website. Oh sure, you will see the occasional Asian girl getting dicked. But, for the most part, you're going to be looking at a lot of white bitches. Some are blondes, others are brunettes, but they all have fat asses and giant tits.
On top of that, they are all perfect little whores. These are the kind of women I would pay serious money to gain access to. Even if that means that I don't get to touch them, I would enjoy the pleasure of watching them getting dicked by other men. I'm not saying I'm a cuck; I'm just saying I really like this porn.
As far as the general quality of the babes goes, I would say they're all around 8/10. There are a few tens mixed in, but you're looking at aspiring A-listers for the most part. So, you're not going to see Lana Rhoades, but bitches like Blake Blossom, for example, more than makeup for it. My favorite part of the bitches on the site has to be the tits. They are fan-freaking-tastic. I'm going to be dreaming about these tits for a very long time. They are going to be on my mind for a very long time.
Worthwhile Investment
There are several payment tiers on TheFlourishXXX, and I don't think they're all worth it. A single-month subscription will run you about $20. But if you sign up for the whole year in advance, you only pay $8.25 a month. So, in other words, you pay 100 bucks for the entire year. Considering how many videos are currently available on TheFlourishXXX, I would say that this is probably the best option. It allows you to stream and download any videos without any limits. You could pretty much download their entire library for a year. I genuinely couldn't recommend this enough.
There's also a streaming-only option in case you want to test the site before committing to something more expensive. This will cost you five dollars, but it will switch to an automated charge afterward, so ensure to cancel it before it expires. It's a great way to sample the content. Don't forget that you don't need any membership to test the previews for the videos. That's also a great way to get a sense of what you can expect to find on this beautiful website. I conclude that TheFlourishXXX isn't a particularly extreme fetish site, but I still think they do a wonderful job and that you will enjoy the content. Give it a try.
High-quality content
Recognizable names
Affordable rates
Previews
Nothing much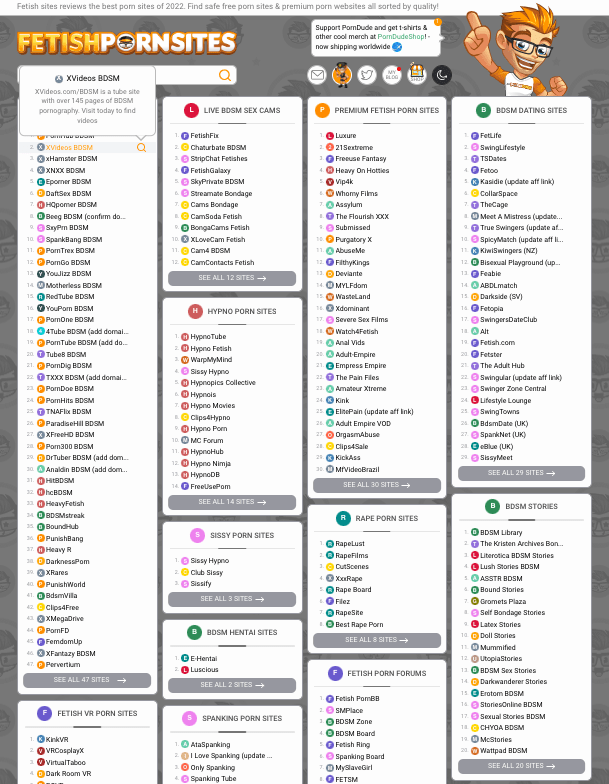 42+ Premium Fetish Porn Sites LIKE The Flourish Fetish