Show
42+
sites like

Vip4k

:
I hope you're ready for this review because I certainly am not. I'm still laughing my fucking ass off. VIP4K is a porn studio that seems to be aimed entirely at a western audience, but it features east European porn actresses, as far as I can tell. There's no shade on them, they're doing a fantastic job, and most of them are really fucking hot. The ones that aren't can't be faulted either because they're basically MILFs. VIP4K is trying to cast a wide net with their porn actress demographics. There are tons of young nubiles but a good number of older babes as well, presumably to ensure that every kind of pervert can get his rocks off on this site.
A VIP4K membership gives you access to multiple different channels under the same umbrella but offers completely different kinds of content. But the overall vibe and quality are the same, which leads me to conclude that this is all one production team trying to diversify their portfolio across different genres of porn, with some thematic twists here and there. One channel, for example, focuses on mature babes with young dudes, and that channel is aptly named "Mature." So they're basically playing it fast and loose with the idea of genres, calling them channels instead. But whatever. No skin off my ass. The system works, and you can quickly get to the kinds of videos that get you horny, so it's all well and good.
Tons of Channels
I'm not going to go through every channel individually because that would be splitting hairs unnecessarily, but suffice it to say you're looking at a very decent spread. If you'd like to opt-out of seeing a particular type of smut, you can just pick your favorite channel and go from there. I wouldn't make that jump unless you have some sort of aversion to older ladies or something, though. They're not that old. They're MILFs. For example, I don't see a granny channel, so you should be very much in the clear to just fap indiscriminately.
The channels do a great job setting up a nice little premise for the porn actors, and the actors themselves do a relatively good job with their instructions. I don't expect a Hollywood performance from porn actors that are clearly not even American or British, but they're performing in English. At this point, the mere fact that they can remember their lines is impressive enough. Plus, they give it their all with the line delivery. Some of the bitches really get into their roles, and a few of the male costars whose job is just to act as backdrop decorations try their best to deliver a believable experience. I'm beyond satisfied with the dedication coming in from the actors.
Acting to Smut Ratio
Where shit gets hilarious is, well, the final product. It looks fucking ridiculous. Sure, the actors might have given it their all, but the writing and direction leave a lot to be desired. That fancy talk sucks major gorilla dick. It's terrible; it's basically how second graders imagine sex talk works. It's unintuitive, strange, and immersion-breaking. All of the porn actors say things that flat out don't make any sense. It's all forced and kind of laughable. These don't feel like porn scenarios; they feel like porn parodies. The videos would have been a thousand times better if there were no acting scenes. They could have just had the actors fuck each other and then given you a bit of exposition in the video description.
But instead, you get proper acting scenes that last for a good 25% of the overall video. Now, I'm not griping about the lack of quantity here. If a 35-minute video features up to 8 minutes or so of acting, that's fine. I can skip it if I'm not in the mood for it or enjoy it and then still have nearly half an hour of pornographic content to enjoy. It's not the length of acting versus the length of smut that's the problem. It's the length of the acting in general that drives me up a wall. Several contiguous minutes of porn actors pretending to be in a real-life interaction is incredibly cringey, and it's the polar opposite of bonerific. It makes me want to stop watching. It certainly does not make me horny. I had to skip the intros entirely to get myself into a fapping mood. You might have to do the same.
It's a shame, too, since the actors are clearly doing a fantastic job at trying to follow the script. You can tell they're dedicated, especially once the actual fucking starts. This is primo porn performance. The chicks get railed like there's no tomorrow, the guys are ruthless, and they bring their A-game. Everyone gets plowed like it's going out of style. It's absolutely fantastic stuff. I'd give the actual fucking on VIP4K a 9/10. I'd give them a ten if they did more experimental anal shit, but a nine is good too.
I'd Fap to This Shit
I recommend the content on its merits. It's hot stuff. But the acting really detracts from the experience, and I'm not sure if they're trying to market the cringe as part of the appeal or hoping viewers will take it seriously. As it currently stands, it's half joke and half porn. I don't know what to make of it. The best advice I can give you is that you should preview the content before you commit to a paid membership because paying for porn without sampling it first is damn stupid. That being said, you get a ton of content if you do sign up, so it's not like they're trying to stiff you either. Remember, a good 75% or more of the total video time on the site is exclusively sucking and fucking with the occasional scissoring.
Overall, I give the website a glowing recommendation for one reason and one reason alone – this content is generally unavailable on conventional western porn sites and tubes. You can tell that these videos were not produced in America, which means that finding said videos on the top results pages on PornHub is highly unlikely, though not impossible. These kinds of studios try their best to float to the top against the competition. Keep in mind; I don't actually know anything for a fact – This isn't my website. Some of the technical pages on VIP4K list the Czech Republic as a point of contact, so I guess this is a Czech site. But it's obviously marketed at a western audience, so I'm just saying that you shouldn't discount this content if you're a Western viewer. There's a ton of stuff here for you to enjoy that you can't get anywhere else.
Hot and Unique Content
As for whether the content on VIP4K is hotter than the average stuff, well, that depends. You'll find a few contenders here if you want the hottest women in porn, but this is hardly where AVN winners congregate. On the other hand, if you're tired of seeing the same female body archetype and want to diversify, you'll be pleasantly surprised. VIP4 K's content has all kinds of women. They range in size, shape, hair color, breast size, ass size, face, age, etc.
Some of the babes are in costume, and others are in character. A few pretend to be in relationships, and some even fake familial connections. There are all kinds of setups and imaginary scenarios to get you prepped for a hot fap session, and it all comes together really neatly, that is, if you ignore the poorly written scenarios. The pornstars' performances can't be complained about, though. They're doing their absolute best, and not a single shot I've seen so far features a pornstar who is just sort of going through the motions – they're all emoting to the fullest. The men and the women on this site are constantly in the zone, so to speak. They're committed, excited, and entirely dedicated to their craft. I really admire their professionalism.
Grab a 2-day trial for a single dollar or get a yearly subscription for $7.50 a month, obviously paid in advance. You can also get yourself 30-day access for $30, but I'd go from the 2-day tier to the yearly tier if I were you. Paying for porn per month is kind of a scam. Of course, that's just my opinion. Then again, if you only have 30 days to live, the 30-day tier is perfect for you. Happy fapping!
Countless porn videos
High-quality productions
Everything's in English
Pretty damn affordable
The scripts are hilarious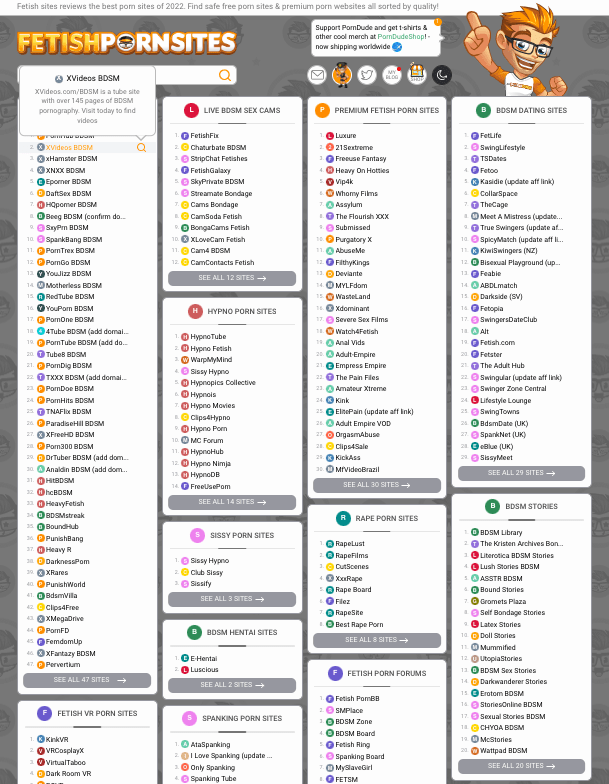 42+ Premium Fetish Porn Sites LIKE Vip4k