Show
42+
sites like

Whorny Films

:
Whorny Films
I love my job, I genuinely do, so it's easy for me to get excited about reviewing and describing dank raunchy websites. However, not only did this site get me jazzed up, but I had to jerk off a couple of times before I could calm myself down to write this. It did not work, so I got off again. And there's my pitch to you to read this whole report.
This Network Of Nudity Is Nasty
To begin with, this is not your creepy, older uncle's porn site – and not just because of all of the crazy amount of delightful deviance going on. This is actually a network of websites, all of which fantastically present different fetishes. Here's the official down and dirty guide to all the sexy six of them.
We will start with Feet Delight. Okay, the title may seem like it describes all that this site is about, and this is indeed a foot-fetish collection of carnal craziness. But what's important here is the presentation of the sex scenes in question. Unlike most sites in this genre that go through the motions of the same shit, like have a woman flex her tootsies, suck dick a little and give a footie, they add far more variety.
A big deal is made about the footwear that these ladies wear, they are frequently shown in fancy lingerie and adorned in BDSM restraint gear, and each model adds her own unique flair to each performance. Ass Delight is much the same when it comes to presentation and execution. One example I can think of is that they seem to fit their models with a studded butt plug in every scene. Come to think of it, why is that not more common in anal-centric smut?
Your Little Slut (and, to an extent Red Hot Heels) seems to be the most generalized of the Whorny Films, but not in a boring sense. There's loads of variety and shows off an array of intense BDSM action, some of which involves acts you sometimes don't see on other BDSM sites. One example that stood out to me and made my pecker stand straight up was one of a model dousing herself in milk just as a warm-up for even more perverse action.
Whorny POV is fantastic and presents all of the same sweet sex but is all optimized for VR devices. Finally, Whorny Films features slightly more "artistic" videos shot in high definition. Plus, they have a library of more than ten thousand videos archived with a couple of new additions added every week. Guys, this network has one of the best videos on the web in the larger BDSM genre. Check out the free preview if you doubt me at all (and if you do, how dare you).
The Categories Of Kink Are Fitting
I once heard a cheesy joke: what's the difference between a BDSM slavegirl and a mosquito? The mosquito stops sucking if you slap it. I thought it was funny, but it's nice to see crass humor played out in real life. That's certainly the case here as the ladies in the many hardcore, sub-dom scenes are not put off by a lot of pain.
Indeed, I would say that the only thing they don't like is a little bit of pain since the many mouthwatering categories include Latex, Rough, Harness, and Spanking. Others include more female domination types of porn such as Fishnet, Corset, Stockings, Glamour, and, of course, Femdom.
This is not a primary selling feature to me, but it's nice that the "classy" categories include Anal, 3some, Creampie, Orgy, and Lingerie.
My God (!) I Love Discovering New Models
One thing about "normal" porn that frustrates me is seeing the same person do the same thing over and over again. I'm sure you guys know what I mean: the girl kisses the guy for a bit, then she sucks him. This is almost always followed up with fucking in missionary, cowgirl, reverse cowgirl, then comes the face shot. Hell, in the mainstream, there's not always anal!
I think I have made the case that this platform provides plenty of novelty, but there's an incredible array of models, many of whom seem to be exclusive to the network. Of course, I could be mistaken, but as someone who has seen more porn than Axel Braun, I recognize hundreds of sex stars. There are dozens of dirty dames on this platform, too many to go on in detail, and they are adding new ones frequently.
(In fact, you could be one of them but more on that later.)
If I had to come up with a brief list of the gals you should check out as soon as you get your account, I'd look at the work of Paige Ashley, Angelina V, Valery Summer, Delta White, and the amply endowed Michelle Thorne. I have seen thousands of tits and women made famished for a glass of milk and a milking pail to get it. But most of all, you need to look at Evilyn Jezebel! It will be instantly apparent when you see half a minute of her work.
If you think you have what it takes to become a model for this site, they are accepting applications. There are no strict requirements besides the obvious (so, being of age and not drunk while filling out the form). The only other thing you need to present is a couple of recent pics of yourself. And based on their movies, I'd say show off a lot of skin but add a little lingerie.
If You've Got The Chops, They Accept Affiliates
To be honest, not everyone is cut out to do porn, and you know what, that's okay. If you are one of those people, you could partner up with these pervs and make some sweet cash by promoting the smut you crave. I can say from experience that there's no shortage of other hardcore kinksters, and if you know how to pimp out a web platform on the level of Iceberg Slim, you have a good shot at bringing in the big bucks.
I say 'if' because they do not provide you with tools like other affiliate programs, so newbies at internet marketing might not have a lot of success. However, if you have experience and a shit ton of determination, then this is for you. The only other thing I should clarify is that the only people who will win at this are the ones who know and appreciate the source material (i.e., love not like BDSM) and are Whorny Films members.
If that applies to you, smack the Affiliate Signup button like I'd like to slap Evilyn's plump ass and fill out the form. It should not take more than thirty seconds, but I'm not guaranteeing how fast the webmasters will get back to you.
The Cost To Join Is Mighty Fine To Me
Okay, let's put a bow, or rather a collar, on this bitch by going over the package deal and what you have to pay to get access to it. You get to see over ten thousand crazy kinky videos that you can't find elsewhere for a relatively reasonable amount of money. Besides, two new movies are added every week. And once you are a subscriber, you can download all of these in 4K ultra-high-definition and keep them on your hard drive forever.
You can get exclusive members-only discounts for additional material and offers, plus see bonus videos no one else can. And if any new websites are added to the network (which I suspect will happen soon), you can see their content at no additional charge. Of course, you can also favorite videos and customize your experience in other ways.
And now onto the money issue. This is studio porn, so you will have to pay, but the prices aren't too bad, unlike other niche nudity sites.
You pay about $0.35 a day for a month, which equates to ten dollars a month. Of course, like most sites, everything is on a sliding scale. You get a yearly pass for less than a quarter a day or a hundred dollars. Naturally, you can cancel at any time, customer support is always on standby, and all billing is secure. When it comes to the particulars of how to submit the money, major credit and debit cards, PayPal, and crypto are accepted.
What Are The Downsides? Should You Join?
I don't really have anything to complain about, which, admittedly, is a rare thing for me. I found that if you resize the menu in certain ways, the menu is not responsive, but there's an easy fix for that: go full screen. They don't do a great job at explaining the affiliate program, but hey, that's what I'm here for. It's kind of shitty that one of the only two payout means is Paxum (people from some countries are banned from using that service), but it's nice that they also send money through Coin Payments. Other than that, this website has no flaws.
If you are still a little iffy about Whorny Films and their mammoth collection of hardcore, extreme erotica, consider a two-day trial membership which will only cost a dollar. I'm not sure what else to tell you other than joining up right now because I'm giving this site a five-hand rating.
This network includes half a dozen kink sites
You'll see sexy starlets you likely won't find elsewhere
The quality and quantity of content are incredible
The subscription costs are some of the best I've seen
There are many ways to pay, including crypto
It would be cool to see them explain their affiliate program better
There can be problems when you resize a window and try to access the menu
Sadly, the affiliate program only pays via Paxum and Coin Payments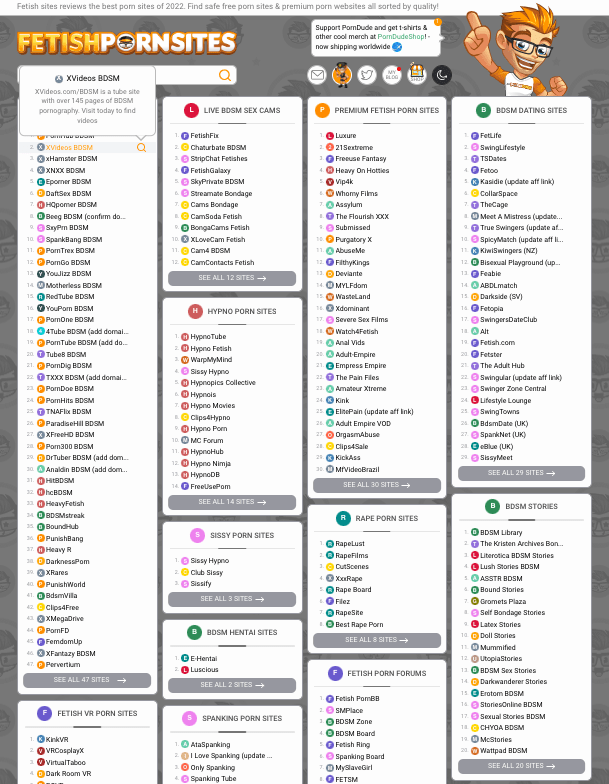 42+ Premium Fetish Porn Sites LIKE Whorny Films