Show
42+
sites like

Xdominant

:
Xdominant
Xdominant, Xdominant. Where have you been hiding all this time? If you're just getting into some fetishes like anal, ropes & ties, and dominating women, Xdominant can be your home. It's warm in there. Like a pussy. Xdominant keeps things clean so you can enjoy something dirty in the meantime. From the very moment of stepping into their space, you're immersed in sex from their latest video.
Seeing as this is a premium site, you should be expecting high-quality porn content. Xdominant holds themselves pretty high in that regard, ensuring the best quality BDSM porn.
Design - Sleek, Crispy
Xdominant does a great job at designing their website. Although, there isn't much that's going into their design in the first place. The landing page, what you see when you first load in, is what stands out. As always, the landing page should be standing out. Especially when we're talking about watching sexy pornstars fuck.
Xdominant's home page is a wide-screen movie of their latest sex video. The sample video goes through some scenes from that video to get you interested. It makes you want to see more of that specific model or whatever else Xdominant is offering.
As you scroll down, you'll find their "Xdominant Models." The women listed here are most likely those who are popular currently. There is a specific "models" page that gives you a few pages of all their models. Xdominant has some young and petite women, waiting to suck you off. You even have others with fatter asses and the biggest titties.
It's the home page that really grabs you, honestly. It's going to grab you harder than some of these dominating women grabbing your pathetic balls. Everything on the home page is bright, vibrant, sexy, and erotic. It oozes porn which is a great fucking thing. We want that. I want that.
Xdominant even looks pretty good on mobile too. The massive wide-screen video that you'd see on mobile doesn't quite translate to mobile. The video doesn't fill the center of your screen while viewing and it doesn't even play either.
Content - Good & Expanding
Xdominant, being a website that loves its fetishes, should continue to expand its array of content. It looks like they're doing that. Hopefully, this continues. Right now, looking at their main page gives you basically all the information you need. From the top welcoming video of a girl being spattered with cum to the very bottom video.
Everything in between is fantastic. You have a selection of some of their hottest models. Below that, you have a showcase of their "latest videos." You want to see things like this that show they are showing an interest in their fanbase. Some sort of display that this premium site is actively working to produce amazing content.
Going down a bit more, like pulling down her panties, you'll find a sample of their "upcoming video." This is unique. Much like the top of the site, you have a sample video at the bottom. This shows off a few scenes from a new video coming to Xdominant in whatever timeframe they have set. Things like this, planting seeds in our brains, keeps us thinking about Xdominant. It makes us want to come back and see what this new video is all about.
Maybe during your time there, you've fallen in love with a busty dom. Fantastic, now she's in this new upcoming video. You've got to stick around now, right? It's smart on their part, for sure.
Just Love Porn (The Positives)
Xdominant doesn't seem to skimp out on quality porn. What's interesting is they're just not this "hardcore" fetish producer. They mix things up with their wonderful models and allow them to enjoy sex how they see fit. Some are more domination-heavy with a submissive guy on a leash. Others have two women dominating one guy or allowing him to fuck their asses.
Other videos produced by Xdominant are masturbation videos and easy-going, good sex videos that are one-on-one. While these previously mentioned two videos seem more "vanilla," they do incorporate something a bit kinky. I've seen some anal fucking, gagging during blowjobs, and shit like that.
But we always have to remember: Xdominant loves their fetishes. While they provide this balance of video genres, they do go the distance with some of their fetishes. Xdominant does produce lesbian films with one woman dominating the other. She'll fuck her pussy with a dildo and then sit on her face. Others include a man dominating a woman with some nipple clamps and making her ride a sex toy.
All of this is to his amusement. Or, if the roles are reversed, the woman will have a man wiggling around in agony because she won't let him cum. That's to her amusement. Or you'll find some absolutely pure chaotic fucking sex. Threesomes, where it's just nothing but banging. The girls are screaming for him to fuck them harder until they can't breathe.
It's a lot of good porn content.
Another good thing, and you know I love my money, is the pricing of Xdominant. Their tiers aren't something that's too out of the norm - even by non-porn standards. They do offer a trial run if you'd like to see what they could offer you in the long run.
Xdominant even has its own social media links where you can find them tweeting. They even have an Instagram. While both of these are sort of on the quiet side, it's nice to see them taking that extra step.
More of What They're Doing (The Negatives)
Xdominant does a lot of things right when it comes to its website. There's very little wrong with the content they're offering as a result of their attention. Although, with that being said, I've to narrow some things down.
Xdominant does a great job of looking really good but not backing it up in some areas. They could do with expanding more on what they're already doing. They're showcasing fucking and they should really push that. Bring about more togetherness when it comes to their site. I'm paying, make me feel like this is a great place to spend some time.
Bring more information on upcoming videos. Tell me something about a brand new model you've got in store in the coming few weeks or months. Be more open. Xdominant doesn't really do that. They talk a bit about things via Twitter but not on the main website.
Smothered in Xdominant (My Suggestions)
A website like Xdominant should be more expanded than this. If you were to ask me, and even if you weren't, they could show off more of what they're offering. Like I said in the last section, they could do with some more expansion of what they're already doing.
What I mean by that is to talk more about the videos they have. Show them off but don't let them all sit together. There's no shuffling of the video genres on Xdominant. Right now, if you're looking through their videos, you're literally looking through all of them. There's no way to find submissive, dominatrix, masturbation videos, etc.
Things could do with a bit more sorting. The model profiles are good too. Not many places have information about their pornstars readily available for people to read through. And Xdominant does a good job of showing their birthdays, measurements, and the like. However, they could spruce up the written portion of these profiles. They got a little basic with just the white text inside a black box.
One final thing would be to ensure the sample videos work everywhere. This idea of having this splash of a sample video to reel people in is great. But it doesn't work on mobile too well. Some videos are broken while others work just fine.
In Conclusion
Xdominant is a really good website for quality, good-looking fetish porn. You'll find a lot of variety here that some sites wouldn't even care to do. Yes, some fetishes are hardcore but not all of them. Xdominant takes their time with some of their videos.
Some girls are in solo masturbation videos while others are enjoying anal with one guy. Yeah, they do get buck wild and start fucking like wild animals. Other women are dominating their lesbian partners and sitting on their faces. It's the variety and the quality that can help Xdominant stand on its own.
Fantastic homepage
Sample videos
Variety of videos (from vanilla to hardcore)
Different pornstars with their own thing
Not enough attention to the mobile version
Content not sorted for ease of access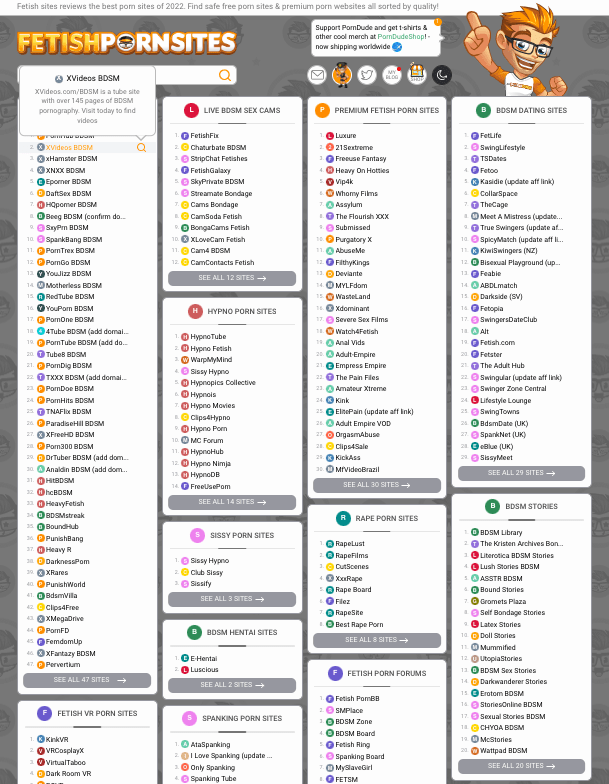 42+ Premium Fetish Porn Sites LIKE Xdominant