Show
17+
sites like

Reddit Pegging Unkinked

:
Reddit Pegging Unkinked
This subreddit's name had me a bit underwhelmed, but also quite confused, because they're implying that this is a vanilla destination that deals in pegging. This makes no sense to me. Pegging is extreme stuff. I thought they were running some sort of support locale, without any actual smut, but the second I landed I was bombarded by images of dudes getting fucked. So, what's the deal? How is this place unkinked? I'm glad you asked. Apparently, there are many pegging enthusiasts out there, both male and female, who are sick of being lumped in with the BDSM crowd without any explicit reason. BDSM is all well and good, but apparently there are many people out there who quite simply want to enjoy pegging without making it all about domination play. The sub is also mainly targeted at female users. They're expected to do the posting. It's kind of like those subs where you're supposed to post videos of you fucking your girlfriend, but with the genders swapped.
Watching porn from this particular point of view can be a little difficult, but luckily not all videos are recorded from the perspective of the babe providing the dicking. Some give you the opposite perspective, so you can make believe like you're getting dicked by a babe instead. This is unfortunately the minority. Most videos are very clearly made by and for naughty women. They're not necessarily authoritatively dominating, but they are definitely inserting fake cocks inside men's assholes. There are countless camera angles here that you would love to avoid if you're a straight man – believe you me. This shit is a bit too gay for me, even though it's absolutely 100% straight. The angle ruins it for me. I just can't get involved with the idea of seeing a dude getting fucked in front of me. It feels like they've mounted the camera to immerse me into that role specifically. It's not arousing. 99% of the screen is man-ass.
Amateurs Having Fun
It is abundantly clear that this sub was made by and for pegging enthusiasts who love showing off their craft. They also love talking to each other about their particular kink and sharing ideas on how to improve their sex lives. /r/Pegging_Unkinked is one big sex club, essentially. Everyone on here shares the same passion and everyone who is into it is perfectly welcome to discuss whatever the fuck they want. I could wholeheartedly recommend this place to just about any dude who enjoys a bit of backdoor action with his blowjobs.
There are tons of people on /r/Pegging_Unkinked who are aspiring pegging enthusiasts, but who haven't figured out quite how to join the fetish yet. They're interested and very aroused, but they're either single or their significant others are not willing to participate. They ask for advice and encouragement from the other members of the sub and they generally want to know what it feels like to go through with this fetish. I'll come clean and tell you that I have indeed tried it out, with a babe of course and I enjoyed it quite a lot. It really isn't my go-to fap fantasy or my go-to sexual play, but it's far from a regret. For once in my life I got to lie down and enjoy myself while someone else did all the work.
Pros and Cons of Pegging
I might as well give you some information on pegging, since you're already reading about /r/Pegging_Unkinked. If you're experienced, feel free to skip this section. Also, please don't judge me for my subjectivity – these are my experiences, not scientific fact. Firstly, I've found that as a man, I flinched and complained a lot less than my female counterparts when it came to anal penetration. Sure, it wasn't all smooth sailing, but I didn't have to quit or cry or whatever. Women are just terrible at taking it up the ass. It takes them forever to warm up. You should definitely use lube, regardless, though I have gotten though an entire session with nothing but a girl's spit. I'm a real champion, though, so don't compare yourself to me.
If you're going to try pegging for the first time, remember to pace yourself. You might even want to try that shit alone with a buttplug or whatever, before you upgrade to having a bitch doing the work. This may or may not impress her. I haven't the slightest idea. The whole point of pegging is that she has the control while you have the privilege of getting satisfied while resting. You don't have to move much; she does all the work. It's a fantastic way to relax and unwind. Plus, if she knows what she's doing, you'll probably end up blowing the biggest load of your life, since she might hit the prostate in all the right spots. God put the male G-spot up the wazoo, so you might as well let your girl smash it hard. Squeeze that cum right out.
Jacking it to Pegging
/r/Pegging_Unkinked is a great place to fap whether you're a woman who wants to live out her nastiest dreams or you're a man who wants to be fucked by a woman. It's porn, you're not going to be judged. I said that it's a bit too gay for me, but who the fuck cares? I'm not your inner sex conscience. Fap to whatever the fuck you want, my man. Why does it matter what I think? From an objective perspective, this smut is OG quality, homemade primo pornography that you can't get anywhere else. Most of the content is initially posted here, so you're looking at a very unique supply of pegging related smut. Plus, if you like your pegging without all the loaded BDSM themes, you're in luck because that's exactly what you get on /r/Pegging_Unkinked. This place could be your next favorite bookmark, provided it works for you. My advice is that you try jacking off to it and figure out how satisfied this shit makes you.
You should also definitely check out some other pegging subs just in case. You don't want /r/Pegging_Unkinked to give you the wrong idea about the fetish. This place might be perfect for your preferences, or it might turn you off the fetish entirely. That's why it's best to spread out, cast a wide net and find your favorites. Remember, you're always welcome to post on the sub and ask questions as much as you'd like. The only forbidden form of pegging on here is solo images of dudes fucking themselves with dildos. There simply must be a woman in the scene, even if she's barely visible. This is mostly to prevent dudes from flooding this place with regular gay porn. It's not that kind of sub. It's a male/female sub. No judgment, of course, but that's kind of natural for the pegging fetish. Gay dudes don't need strap-ons.
Extreme Romance
The people on /r/Pegging_Unkinked are extreme romantics, more so than the folks on actual romantic subs. There's some kind of deeper love and understanding between couples that do pegging. I'm assuming they also fuck in the other direction, but that doesn't get broadcast here. I love seeing these people living their best lives. Like I said, pegging isn't exactly my forte, but I love it when people indulge in fetishes together like this. A fetish is all well and good when you have it, but shared with a loved one, it's basically a dream come true. This type of shit keeps marriages from falling apart. No kidding.
The folks on /r/Pegging_Unkinked talk about how pegging has improved their relationship and their marriage and how much they love each other. Plus, most of the content's coming in from the babes themselves, so you get to hear their perspective. They don't go too far with the dom shit, naturally, but they do share their view on the whole dynamic. They seem to be overjoyed to be in charge for a bit. They love fucking their husbands and boyfriends and they go the extra mile, most of the time. You'll see them jacking off their dude's dick while they're doing the fucking and sometimes they'll even wear toys themselves, so they can feel the penetration as well, while they're doing the dicking.
All in all, this is fantastic subreddit that I can wholeheartedly recommend to everyone, but especially middle aged people in long term relationships. That fits the vibe the best, I believe. It's a very couple-centric destination.
Welcoming and homely
Female-centric
No solo males
No BDSM
Needs hotter babes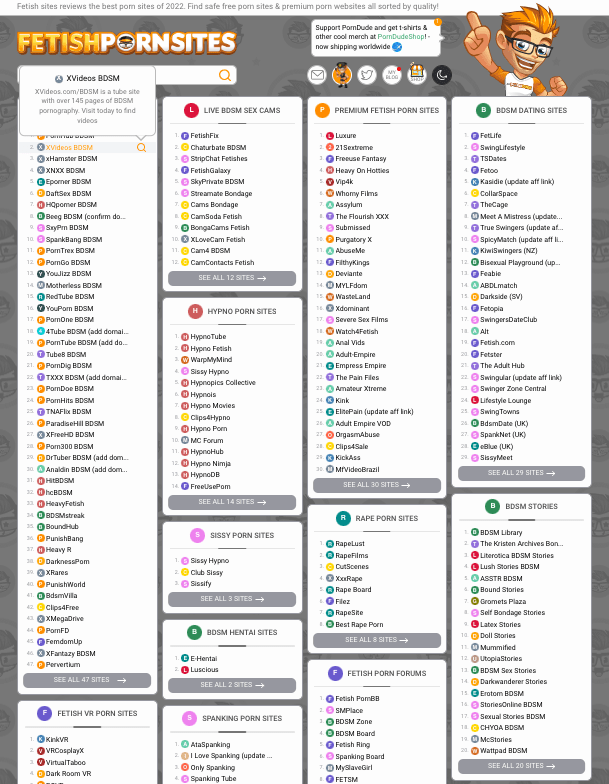 17+ Pegging Porn Sites LIKE Reddit Pegging Unkinked