Analdin BDSM (add domain to webmaster program)
Show
47+
sites like

Analdin BDSM (add domain to webmaster program)

:
Analdin BDSM (add domain to webmaster program)
Despite the name, Analdin has BDSM content in the collection, too. Honestly, if you've ever checked out the site or read my full review over at ThePornDude, you know the name is a bit misleading. Maybe the site was envisioned as a showcase for free butt-fucking porno movies, in which case they've clearly evolved from when the domain was registered back in 2008. These days, it's an anything-goes sex tube where even the front page has a mix of MILF pussy eating, lesbian threesomes, and public blowbangs, to name a few random thumbnails I see right now.
Today, though, I'm not talking about what's on Analdin.com's front page. Here at FetishPornSites, I like to dig into the fetishy content of any adult website, and today I've got my heart and mindset on one thing: the rich library of BDSM porn collected on this free tube. Of course, any porn tube that can pull 40 million visitors a month has to have a pretty diverse stash of fuck flicks, so I lubed up and made my way to the bondage movies.
Rubbing the Magic Lamp at Analdin
Can we talk about Analdin's title for a second? Besides the "anal" part of the equation, it's kind of a mystery what they were going for with that name. It's not an obvious pun or play on words, though the motto suggests it might be a playful, pornographic creative misspelling of Aladdin. "Rub the Magic Lamp" reads the text under the logo, which is fitting because that's precisely what I'm about to do. By "magic lamp," of course, I mean my penis.
You can find some of the site's kinkiest movies by selecting BDSM from their extensive Categories menu, or you can just do it the lazy way and follow my link below. Either way, you'll end up on the front page of a catalog that stretches 57 pages deep. With a hundred painful and degrading thumbnails per page, that adds up to nearly 6,000 BDSM movies in the current collection. You are horny, right?
It's already a sizable collection, and it's growing at a decent rate. Analdin.com runs on user uploads, and they've got a fucking ton of users. That said, BDSM is a deep enough niche that it's not going to see that non-stop stream of uploads that genres like blowjob and teen get. A handful of new BDSM movies pop up every day, though. Today's crop includes a MILF getting chained up and fucked, plus a couple of amateur scenes that don't have any apparent or obvious BDSM in the thumbnail previews.
What gives? Sometimes a gift can also be a curse, as is the case on any free tube that takes user uploads. As much as I appreciate all the free fuck flicks, the misfiles and badly tagged movies can be annoying. That said, Analdin isn't as big an offender as some of the shittier tubes out there. In fact, I think today has just been a bad day for uploads because most of that first page of BDSM movies looks kinky as all fucking hell.
Just How Kinky We Talking Here?
Just how kinky are the movies in the Analdin.com BDSM library? Well, besides that MILF I already mentioned, I see a couple of office ladies spanking each other, a few babes getting their asses caned red and bloody by a room full of mean mistresses, and a gagged Asian being fucked in a jail cell. And that's literally just listing off the movies in the second row.
The range of BDSM porn runs wide and deep and depraved. There are teary-eyed cougars being orally dominated, paddled pornstars, and restrained teens. One sexy plumper is strapped into an automated twat-stuffing machine, another slave trainee is getting her pussy shocked, and some chick is tied up with ropes and fucked in front of a bunch of people in a porn store. If you prefer the female-dominated stuff, you'll love seeing the cowgirl dominatrix fisting a girl in the stocks or the goth girl pegging a guy up the ass with a strap-on. I even found some big-dicked shemale bondage domination on the second page.
Honestly, though, Analdin's BDSM collection does lean more heavily toward the maledom stuff than femaledom. That's likely a result of the demographics; the fans of restrained bitches probably got here before the submissive men, made themselves at home, and made the place their own. There's still plenty to jerk off to if you like seeing stern women calling the shots, but you'll have a lot more material if you prefer women on the helpless end of these scenarios and situations.
Many of you will want to dial in your preferences a little bit tighter than the whole-ass BDSM section. That's natural even with vanilla porn, but kinksters tend to be even more specific about their choice of fap fodder. Analdin helps ease the process a bit by offering up some popular search terms at the top of the page, like Lesbian BDSM, BDSM gimp, Vibrato BDSM, and BDSM fem. So however you like it, you'll probably find it here.
Who's That Girl in the Blindfold?
Pull up any random porn site, and you're bound to see the same famous pornstars. (These days, you'll find many of the same girls I've been banging over at PornDudeCasting!) But fetish tubes are a bit different, aren't they? If you're a regular on kinky sites, you might start recognizing the more prolific fetish models, but most of the restrained women will be total strangers.
Analdin. com's BDSM movies feature a mix of sexy amateurs, hot fetish models, and the occasional big-name pornstar. Big-titty MILF Allura Jenson is in chains on the front page, and the exotic Jayda Blayze is getting her ass spanked. I don't recognize any of the other broads out front, which is saying a lot for a professional masturbator like myself. The chicks are pretty universally sexy, though. I guess there isn't a big audience for ugly bitch pornos.
But, of course, beauty is in the eye of the beholder. Personally, I love all kinds of women. That's why I was happy to spot Estella Bathory's pretty face and monster rack as I was flipping through all those humiliated faces. It's ironic that I was complaining about incorrectly tagged videos earlier in this review because the title here is SSBBW Gets Dominated And Throated. Estella's a Big and Beautiful Woman for sure, but I'd say she's still a couple of hundred pounds away from Super-Size status.
Whatever, though. I clicked on the Play button and settled in for my fap test. It's a twelve-minute scene from Pascal's Slutty Subs. Estella describes herself as a stupid fucking whore in the opening interview before turning around to shake her big ass, which gets spanked nice and red. She gets her head forced on a dildo next until her face is a mess of tears and spit and smeared makeup. I'm not even a third of the way through the movie, so I've decided to wrap up this review to enjoy the flick with both hands. I love this chick!
With my adblocker running, I didn't have much spam during my visit to Analdin. However, the spam I did get was some of the worst I've seen in months. At one point, I had some malicious shit pretending to be Microsoft Windows Defender. "Access to this PC has been blocked for security reasons," read the very official-looking text, which also supplied a phone number I was supposed to call to restore access, presumably while ponying up some bitcoin. The fucking thing even made my mouse disappear. Eventually, I was able to close the tab and keep jacking off without incident, but your grandpa might end up paying the scammers.
Some would argue that a little bit of spam is just the price you pay for a fucking mountain of free porn. I know I've made that argument plenty of times. Still, while there may be a risk of pop-ups on Analdin.com and even a mild risk of identity theft for the morons in the audience, millions of visitors a day have decided they're cool with that. So how about it? Is 6,000 free BDSM movies worth a little bit of inconvenience or what?
Free porn tube with BDSM section
Nearly 6000 free bondage movies
A handful of new scenes every day
Crazy range of kinky content
Pornstars, amateurs, and fetish models
Misfiled movies without BDSM
Malicious spam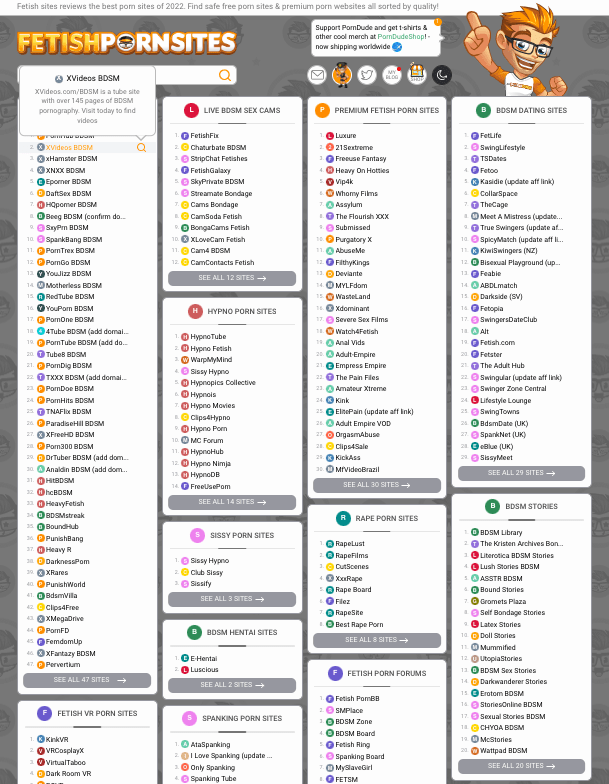 47+ Free Fetish Porn Tubes LIKE Analdin BDSM (add domain to webmaster program)