Show
47+
sites like

PunishBang

:
PunishBang
Punish Bang! Despite its extremity, BDSM continues to be one of the most common fetishes that people embrace. There must be some strange miswiring of the human brain that puts pain and pleasure in the same category. Whatever the reason, the fact remains. Sex and torture go together like bread and butter.
That's why websites such as Punishbang are so popular. They focus exclusively on the extreme content that gets our collective panties in a bundle. There are a thousand types of BDSM and a million different tools to help accomplish them. I want to look at some of the tools you will see used on the site Punishbang.
Hook Her
Everyone is familiar with devices such as handcuffs, whips, and ball gags. But how about anal hooks? Anal hooks, also known as ass hooks, look like giant fish hooks with a ball on the curved end and a ring on the straight end. Unlike most other anal penetrating toys made from soft rubbers and silicons, anal hooks are made from stiff, unforgiving materials like stainless steel.
Please keep in mind that anal hooks are not meant to be load-bearing devices. Hanging a dumbbell from your asshole will almost certainly lead to a catastrophic injury. Instead of hanging yourself up like a plant, you can make the hook part of rope binding or connect it to a bitch's long hair.
Cock and ball torture sounds like, well, torture to most people. For others, it's a portal to pleasures like few others. I, personally, prefer to treat my balls with loving kindness, but to each their own. One of the many devices that can be used to torture the cock and balls is a ball stretcher. These elongate the scrotum and trap the balls in an ever-tightening sack.
Another popular tool is the ball crusher. Clearly, BDSM practitioners are not particularly creative with their tool names, but at least they're descriptive.
Ball crushers are made from two pieces of acrylic that are brought together by screws, and the tighter the screws, the more squished the balls. I can't imagine how that shit is fun at all.
Humble are the Meek
The humbler is an interesting device. Imagine that you're on your hands and knees. Now imagine your balls being pulled behind you and attached to a metal rod with a hole in it. Your balls are placed in the hole, and the rod is kept behind your thighs to prevent you from standing up. I understand how this thing got the name the humbler. I feel humbled just looking at it.
Even worse than ball crushers and humblers are chastity devices. As much as I don't want my balls turned into pancakes, the thought of never cumming again is even worse. Chastity devices come in many forms, the most popular being the belt.
Chastity belts are cages held up by the waist that fully contain the genitals and prevent any penetration or stimulation. If you are so unlucky to get hard in one, your cock will squish against the cage's bars.
If these devices don't advertise the wonders of BDSM, I don't know what will, but I'm sure you'll be happy to know that you can find these and many more on Punishbang.
Punishbang's only concern is with extreme BDSM content. It isn't a tube site that happens to have a BDSM category. BDSM is all these perverted fucks do. That means you will find shit here you could never find on general tube sites.
The web design is relatively minimalistic. These guys have too much brain damage from years of sexual violence to bother with fancy coding. All they give a shit about is loading the place with more content.
The main menu sits up top and has the options Home, Videos, Photos, Categories, Channels, Porn stars, Playlists, Tags, Watchmygf.me, Shemale BDSM, a Search bar, Language selector, Community, Upload, Log in and sign up.
Everyone loves a little violence mixed in with their sex, and that's why Punishbang offers its site in English, Spanish, Dutch, and Polish. Also, anyone can submit a video or picture for addition to Punishbang's library.
Oddly enough, the community on Punishbanh is thriving. There are thousands of members swapping war stories, trading porn, and sharing secrets. BDSM practitioners are a tight-knit group. It's one of the ways they stay safe while performing such dangerous acts.
Signing up for an account isn't a requirement to watch content here, but it's highly recommended. It gives you access to features that will make using the site even more accessible than it already is.
I tend to use the channels list to get around when exploring the site. They did a superb job of breaking down content into digestible chunks. Some examples of channels available are Brutal castings, Helpless teens, Horror porn, Infernal restraints, Public disgrace, Sadistic rope, Bound gangbangs, fucking machines, Teens in the woods, sex and submission, and Teen creeper, to name a few.
I love when BDSM sites include photo galleries. Sometimes the look of pain on someone's face is best savored by a still image over a moving picture. That way, you can stare deep into the eyes of a woman who loves and despises what is happening to her.
I hate that the first picture in the gallery is a close-up of a female hand crushing a pair of balls. It makes my nuts hurt to look at. But, besides that, the rest of the gallery looks great.
I see a bitch with an ass so bruised from whippings you might confuse her for Jesus. She won't be sitting down for at least a week. Next to her is a bitch with heavy clamps on her tits. Judging by the scars on her chest, she has lived the life for years now. This bitch is as likely to kill you as she's to make you cum.
Would You? No Doubt
One of my favorite pictures on Punishbang is a deep fake of Gwen Stefani with her head poking out of a urinal drain. Her arms are locked behind her, and it seems she's in a public restroom. If I ever walk into a port-a-potty to discover Gwen Stefani ready to get pissed on, you can bet I will fulfill her wishes. But, of course, the hope is that she will suck my cock in return.
Let's switch things up and take a look at the videos featured on the front page of Punishbang right now. These videos will make the pictures seem like friendly foreplay.
The title of "Insane Master Sews Up Her Pussy During Extreme BDSM Session" says it all. I'm not going to lie. I've seen a lot of sewn-up pussies in my day, but none have been so cleanly done as in this video. The motherfucker must be a surgeon. He stitches this cunt up like he just pulled her spleen out of it. If he left the stitches in, that bitch would heal up and look like a Barbie doll.
Now to head in a more classic direction, we have "A Priest is an Ardent Fan of the Cane." I think the title would be more accurate if it were "All Priests are Ardent Fans of Caning Young Teens," but what they have will do.
This is some shit you might see on any Sunday in the back rooms of a catholic church. Young girls squirreled away out of view where the priest could have his way with them and say sorry to God about it later.
I estimate that ninety-five percent of people that attended a Catholic school have a BDSM fetish. When nuns beat you and priests diddle you during your formative years, that's what happens.
We might as well end with a bang, and "Playful Hottie with an Accurate Pussy is Getting some Leeches Inside" should do that for us. I'm not sure what the title means by accurate, but if they mean the pussy is being held open by fish hooks, then accurate they are.
I've sucked on clits pretty hard during my life but never hard enough to suck the blood out. I guess that's what this bitch was missing when she decided to pour a cup of leeches down her gaping twat.
Punishbang couldn't be better titled. Every bitch on this site is experiencing the best and worse that sex and pain have to offer. You will love exploring the list of channels that the admin has split the content into. Before diving into some heavy videos, check out the photo gallery to get warmed up.
I do have one major complaint about Punishbang, the pop-ups. They are one of my least favorite forms of pop-up: pop-ups that haven't been sold yet. So you are wasting my time, and the site isn't even making any money. It's just forcing me to click out of ten Google windows.
Well, to this point, your cock is either hard as a rock or running in fear. Either way, check out Punishbang today.
Insane content
Only focused on BDSM
Photo gallery
Unsold pop-ups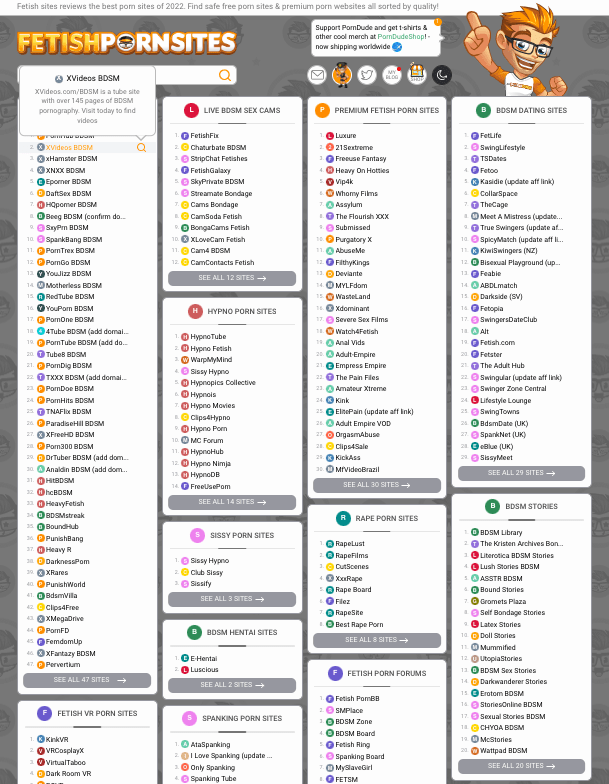 47+ Free Fetish Porn Tubes LIKE PunishBang