Show
47+
sites like

SpankBang BDSM

:
SpankBang BDSM
Spank Bang! Oh, BDSM. So you're interested in watching some BDSM-related content, hmm? How fucking adorable. Good news for you, I've got just what you're throbbing for. Spankbang BDSM is the perfect place to find everything you'll ever need to stroke that masochistic dick of yours – or pussy. If there's one thing you can expect from Spankbang, it's an incredible amount of free porn videos for you to consume with your eyeballs.
BDSM, if you're dumb, is a combo of two different areas: bondage and discipline (BD), sadism, and masochism (SM). Now that you're all educated, how about a "thank you, Mr. PornDude."
Design - Easy to Manage
If there's something I love more than the sex videos themselves, it's a clean-ass UI. And I'm talking; I need to be able to bury my tongue inside this UI, you get me? I need to eat this UI like a three-course meal for dinner, okay? Besides, Spankbang's UI is only amplified when it comes to their BDSM section.
We all know (and if you don't, wtf?) how deep BDSM can get. You can find so many kinks that get people and get you off once you're finished reading me ramble on. Their videos are all time-stamped with icons to let you know what's coming at what part. And, if you'd like a visual, there are images right below the video you're watching that show off what's happening. If you're looking to skip to where she's being deep-throated, go right ahead - I did that a few times. If you're into spanking scenes, find it, it's there.
Content – Red Ass Cheeks for Days
I love spanking a nice juicy ass, you know? And when it comes to BDSM, you'll find a ton of that shit through Spankbang. There's a little thing in the BDSM world known as "training." And there's no shortage of such videos here in Spankbang's BDSM category. One fantastic thing is that there are Japanese pornstars doing some of the training in their videos.
Training is exactly what you think it is: teaching these beautiful young women how to deep throat a real dick with either the man's fingers or a dildo. Fall in love with their light gagging sounds and the sloppy remnants they leave behind after the dildo comes out of their throat. And wish it was your dick that was deep inside of them – because I know that's where your mind's going to wander.
While BDSM isn't always this extreme side of sex, you can find other versions of it if that's what you're looking for in Spankbang's BDSM section. Lighter forms of it include tying a woman's hands and playing with her pussy using a vibrator. Then, of course, there's nothing better than bringing her to the most intense orgasm when she's unable to wiggle free. Or, you can kick things up to eleven and find some candle-dripping videos. There are even whips, spitting, and dominatrix videos.
Not Really Dropping The Ball (The Positives)
Spankbang and their BDSM section aren't really doing anything you wouldn't want. It's a unique category, a kink, a fetish. So, this isn't something for everyone looking for some good porn to satisfy the urge for the morning, afternoon, or late night. If this is, however, you will not be disappointed. I wouldn't bullshit you on this. Everything's clean and crisp.
One excellent point that I can say about this website is the huge viewing window for the videos. The player is massive when you go to watch a video. And you can even go full screen with the click of a simple button. It takes the video from being prominent on your screen to a theater view, if you will. Scrolling down will then show off the rest of that video's page with more BDSM recommended videos.
The ads, oh, the fucking ads. Listen, I have a problem with ads. I know, I know, they're a necessity for free content. Hell, look at free mobile games. Wanting me to watch a damn ad for some fucking gold coins, and I still do it. Anyway, I'm off track. The ads here on Spankbang are not bad. Not bad in the least. They are minimal and don't hinder your progression to getting to your BDSM video.
On both mobile and desktop, Spankbang's BDSM section really shines. On mobile, the ads aren't even an issue. They pop up, not making a new tab, and you can click them away. The UI on your phone is clean and as easy to navigate as it is on your computer. Obviously, if you're on your computer, you can enjoy the website from a broader perspective. From your phone, things are condensed, but the video remains front and center.
Another fan-fucking-tastic feature of this website is the ability to sort through videos. So, if you're clicking on BDSM as you damn well better be, you'll find different tools to sort these videos. Now, if you're like me, you've already gone through the "relevant" videos. But, I'm a man of culture. So I'm going to go and click on what's "trending" next. Then, what's "new" and what's "popular." I've spent hours on this site; I'm looking for the next thing.
Fortunately for myself and all of you, Spankbang has you covered. You can easily find what's new and relevant with a simple click or spank - tap... my bad. And if you're a bit snobby and only accepting high-quality videos, you can sort their content through that as well.
Oh, I have to? (The Negatives)
I'm struggling to find much bad about Spankbang and their BDSM department. Everything is laid pretty much bare for you to see when you're going in to watch a porn video. If I had to say something here, and this is me being nit-picky, is some videos are mislabeled. You'll find a title here that doesn't belong as it has nothing to do with what you're here for.
Again, me being me. Let me be fucking me. Videos should be labeled clearly enough through the tags so people can click on a category and get right into it. There is no need to click on something that's misrepresented and fall back to find something new all over again.
Tighten The UI (My Suggestions)
I've praised the UI in a couple of different areas so far. But, while I love it, it doesn't mean there's nothing wrong with it. Things can always improve. Except for me, I'm absolutely perfect. Don't @ me. The UI here on Spankbang, while being clean, can use some proper cleaning. The main area of finding a video you'd like to watch through the category is completely fine.
On the other hand, the pages where the video you've clicked on could use some work. Even though some areas are clearly marked and labeled, it feels like everything sort of bleeds into one another. Like the video pages are one solid piece with everything carelessly shoved into it. You've got to take your time. Give me some foreplay first, fuck.
There are some deeper lines that separate the sections, but they aren't so immediately visible. I've had to go back and look to see if there are divides between the video's tags and recommended videos, and there are. It isn't easy to see. Spankbang can benefit from altering the color of certain areas' backgrounds, spacing them a bit more to give some clarity.
In Conclusion
Spankbang and their BDSM make their presence known in a very bold way. The way their videos stand up so well when you click on them is the biggest plus. They're very prominent, and if you don't want to go into this "theater mode," you don't have to. The videos are already large enough to be viewed comfortably on a desktop. Viewing them on mobile can be adjusted by just turning your fucking phone to the side for landscape viewing.
The array of BDSM videos is another point. There are so many ranging from lighthearted BDSM to more serious, hardcore type shit. Spanking asses until they're red or slowing things down with a juicy submissive girl on her knees; whatever, whichever you're looking for, you can find it.
BDSM genre is filled with a ton of content
UI is clean
Video viewing is comfortable and large
Tags/Pictures for videos to skip ahead or back to preferred scenes
Ads aren't too annoying for a free porn website
UI, at times, feels like it's mushed together a bit
Some videos are not tagged correctly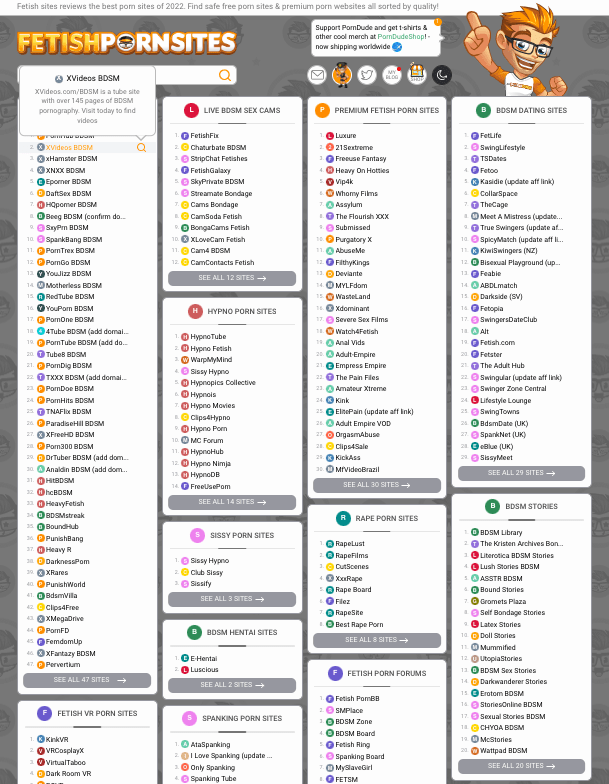 47+ Free Fetish Porn Tubes LIKE SpankBang BDSM