Show
47+
sites like

Pervertium

:
Pervertium
What's up, you phenomenal freak! Have you ever wondered if there are any girls that are as depraved and fucked up as you are? I mean, there are about 8 billion people on Earth, right? There's got to be somewhere girls get together to share their kinky nature! Wouldn't it be cool if there was some website that focused solely on uploading the kinkiest content? Then there could be a community revolving around sharing their favorite kink videos or even uploading their own! It would be even cooler if the site had its own cam service EXCLUSIVELY for girls who only get off on the kinkiest shit.
If only there was a site dedicated to the kind of filth people like us enjoy… That's right. You know where I'm going with this! I'm here to tell you about what is now one of my favorite porn sites to date! Pervertium! This treasure is a haven for perverted guys and gals alike! Get ready to find some of the wackiest, kinkiest, most exciting content you've ever seen! This site is dedicated to sharing the very best of the most exciting and bizarre porn videos from all over the world.
After today, you may never be the same again! I guarantee you're going to forget about everything you've got to do for the next fucking week! Haha! I've already let a whole day go by, and I barely even realized! There's just so much great content! Pervertium is home to the kind of content XVIDEOS wishes it had! You'll not only be able to find videos that match your interest, you'll find videos that will give you fetishes you didn't know existed! This site is truly a love letter to the freaks among us. From the pleasantly kinky, to the downright depraved! These videos are an expression of the perverted freaks within all of us!
So, get ready, my freaky friend. Today is that day that everything changes. I'm about to open your third fucking eye!
Clean and kinky!
Pervertium rocks a black, white, and pink color theme — one of the more popular color schemes for the bigger porn platforms. The first thing you'll notice when you land on the site is the lack of ads. That's right, there are no pop-up ads that cover up a quarter of the screen! When you click on an open space, you stay right there on the page! That seems to be a little too much to ask nowadays. There's a collection of ads at the bottom of the page, right where they belong. Under that, you can find a cluster of tags to start your journey down a wonderful rabbit hole: Anal fisting, squirting, deepthroat, massive dildo, toilet, extreme teen — just to name a few!
In the middle of the front page, you can find thumbnails of the latest and most popular videos. And, let me tell you, you're gonna be there for a fucking while. Each and every video has something worth catching your attention. You're going to be distracted A LOT while you're enjoying this site. Some of the titles on the videos are kind of weird, and the front page often features some weird compilations of antique German action. It's pretty fucking weird, but we like weird here! Regardless, be prepared constantly think "What the fuck is that?" as you browse the front page. (And that's just the front page!)
The navigation bar is clean and simple — like good pussy! There's not really a sophisticated filter system for a spoiled horndog like me to enjoy. Instead, it's been integrated into the navigation bar. You can click the "Videos" button to immediately filter between the top-rated, most viewed, and latest videos. The "Category" section is pretty solid. Again, there's not as much variety for someone like myself to enjoy. But, for a site like this, who the fuck cares! I wouldn't even know where to start if they organized every single kink into a category. In this very rare case, less is absolutely more! Each category is represented by a thumbnail with the number of videos underneath. You can even choose from five different filters to land on one that you like.
The kinkiest content online
One of the first things you'll realize is the number of German and Japanese videos on the site. I don't know what it is, but the Pervertium seems to be hoarding those the most. I guess the developers just have a strong bias toward axis power porn? I suppose the weirdest kinds of porn always did come out of either Germany or Japan. Although, Japan ended up eclipsing pretty much everyone in terms of weirdness.
The second thing you'll realize is that most of these videos don't even make much sense at first glance. Each thumbnail will have you looking back at it for about a minute. They really are that interesting. I mean, shit! The first time I landed on a page, I saw a thumbnail of a girl inflating her belly with water. That's right! Just like a fucking hentai! And yes, she was Japanese! But, of course, It doesn't just stop there! Right next to that thumbnail, I found another video of a girl shooting vegetables out of her ass! What kind of glorious absurdity is that?! How the fuck can you top a bitch literally shooting groceries out her ass? Don't worry. Stay on the site for long enough, and you'll eventually find something that will!
I could go on and on about the golden content you can find on this gem of a site! From Japanese whores getting cum in every hole in her body (including ears!) to bitches impaling themselves on a traffic cone IN PUBLIC. (It wasn't even a porn stunt by a professional. It was literally just some girl!) But top-tier kink videos aren't the only thing Pervertium has to offer. That's right! There's more!
You can follow the "Fisting Cams" link to find one of the best cam girl services you'll ever find. That's right, this site has its own streaming service! Pervertiumlive.com. Not just that, but these cam girls are the type of freaks that would make every bitch on Chaturbate blush! This is a space exclusively for the freakiest of sluts. And there is never a dull moment.
The first time I visited, I clicked on a random stream to find a busty Latina babe, gushing like a fucking faucet! Usually, I would have to wait about 30 minutes until some generous bastard tips enough coins to see that! "Alright, PornDude! Maybe your lucky ass arrived just at the right time!" I thought so too until I realized that this bitch was leaking and convulsing for the next 10 fucking minutes! It turned out that she'd been squirting for the entire stream! How is that even humanly possible? I've never seen anything like that, and I've seen everything!
The best parts
This is hands down some of the most unique porn content I've ever seen in my life! Some of the things these bitches do on this site, I didn't even think was possible until now. You're going to have to see for yourself, my friend. This site is the real fucking deal. I mean, holy shit. I saw a girl swallow an entire dildo! And it wasn't just a regular 7-9 inch dildo. It was one of those dildos for sluts who can never find a cock long enough. She put the entire thing in her fucking throat and took it out like it was no big deal.
I can always appreciate an active community of perverts sharing all of their favorite kinks. The world can use more safe places for people to be open about their degeneracy. What better way to hook up than to find a girl who's into the same fucked up shit as you? Just create an account and shoot your shot!
What I didn't like
There is really not much to dislike about this site. It's damn near perfect. My only issue is with the HD tags.
Look, a good indicator of a legendary porn video is a thumbnail with millions of views that looks like it was recorded on a flip phone. The best porn videos are in low definition. So, you don't need to put an HD tag on any of the thumbnails. None of these videos are HD. Stop it. The videos are fucking perfect. You don't need to sell them. If I'm watching a bitch shoot vegetables out her ass, I couldn't give a fuck whether it's in HD or not.
Tips from ThePornDude
There's not much that I can suggest for this triumph of a website. I've said it before; This is as close to perfect as you can get. Although, it wouldn't hurt to add a tag system. Sure, creating a bunch of extra categories for the range of content on this site would be overwhelming for the developers AND the users. But, letting us select multiple tags at once could only enhance the search experience. If I select "teen, anal, voyeur, pissing" who knows what the fuck I'll find!
It also wouldn't hurt to have a larger collection of videos. Sure, a respectable collection of classics is… well, respectable! But, I'd love to see a similar kind of wild shit that might have happened a week ago. That would definitely enhance the experience of this brilliant site!
Conclusion
Pervertium has become one of my personal favorites. This for sure gets the PornDude stamp of approval! If you're tired of watching the same basic, vanilla shit you see on Pornhub and XVIDEOS, Pervertium has a home just for you, my friend. I know I'll be spending a lot of time there from now on. Especially with those freaky fine cam girls! This website is full of the most beautifully bizarre porn on the internet. And you can share it with freaks just like you! It's kink heaven! You'd be a fucking idiot not to try it! Don't waste an experience! Visit Pervertium today, and I might just see you there! Haha!
Unique bizarre content
Active community
Amazing live cam service
No intrusive ads
No video ads
Seamless video streaming
Weird video titles
Unrelated video compilations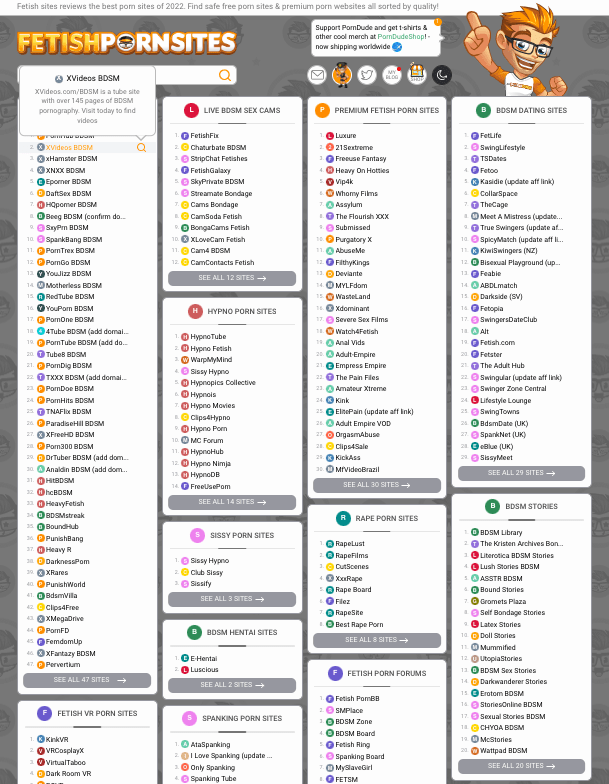 47+ Free Fetish Porn Tubes LIKE Pervertium