Show
47+
sites like

XFantazy BDSM

:
XFantazy BDSM
What's up, my fellow prince of perversion! Have you gotten tired of the same old vanilla drudge you see everywhere in mainstream porn? When you've been around the block like I have, even the hardcore shit on Pornhub feels a little too clean cut. And every time you want something a little bit harder, you'll likely end up on a site that will make your grandmother look down at you from heaven and say "What the fuck have I done?" There's no balance!
If only there was some kind of porn researcher who's willing to find the kind of S&M that's not so clean, but not so fucked up. If only there was someone who can find something that can get you off but not upset your poor grandmother… Worry not my depraved friend! ThePornDude has always got you covered!
XFantazy is a solid aggregator site with an impressive roster of videos from all around the internet. Like many other sites of its kind, you can find videos from sites you may have visited before. Unlike the other sites, MOST of these videos are fucking phenomenal. I doubt you'll find one video that'll cause your dick to go limp. This goes especially for the BDSM section. If you want to experience some true, down and dirty BDSM action, your cock is about to have a fucking field day!
There are a collection of videos that some might have considered lost and forgotten from the internet! I mean videos from years ago, featuring the sexiest, most brutal action you'll ever see in your life. It's the perfect balance between sexy and hardcore! None of this clean-cut "maybe take a spoonful of cum and see if you like it" shit, and none of that watching a bitch getting choked unconscious with two fists in her pussy. What you're about to experience is the lost art of S&M. Some of these videos are pretty old-timey, but we all know that new doesn't exactly mean "good". You're about to experience the true art of S&M!
Darker Pornhub
XFantazy rocks a black, white, and gold colour scheme similar to Pornhub. Hey, if it ain't broke, don't fix it, right? I applaud them for using what works! The user interface is pretty simple. There's not really much to it but to navigate to the types of videos you want to watch. Fucking perfect. Other sites like this are happy to plug every little thing they can: "Join the community", "Follow these girls", "Create your playlist", "Upload your own content". Sometimes, we really JUST want to cum. XFantazy understands this, and I respect that.
You have the option to sign up or log in at the top right-hand corner. Right next to that is the option to upgrade your account to premium. Underneath, there's a navigation bar that consists of: "Top Videos", "Tags", "Categories", and "Channels". And if you needed any more options to filter through the types of sluts you'll be watching, there's a collection of filters on the right-hand side. Most sites like these couldn't really give a fuck about the kind of videos you'd like to watch specifically. They're happy to just throw you the "search by newest or most viewed" option and leave you to figure it out. XFantazy's filter system is a thing after my own fucking heart. You can filter by upload date, from days to months! You can filter by most viewed, longest videos, latest videos, and most relevant! You have all of these options under one category!
Above the list of thumbnails, you'll find a nice note about the kind of thing you'll find for your chosen category. You can tell the developers are men of culture! They've put a lot of time into curating a fantastic collection of the dirtiest whores in the world.
Old school bdsm goodness
Now, I've been to sites like this all the fucking time. They're pretty much all the same. They take old and new videos from sites that they probably don't get many views on. They'll pull as much as they can without really giving a fuck about whether the content is any good. Then there are the newer sites. A lot of them are great! They decide that they'll do the same, but only upload the best of newer content from all over the internet. XFantazy decides to curate a collection of only the hottest, sexiest videos from sites that people have probably forgotten about!
Most of these videos look like they came out of the 70s, but damn it! If it isn't some top-tier fucking content! All the girls on this site are drop-dead fucking gorgeous. There isn't one "okay" looking bitch on here. And the things they do… let me tell you, I spent a damn long time on this site. Every video got more interesting than the other. It was like I was going down this dark, sexy rabbit hole. When I was watching a video of a girl doing something amazing, I would see another girl doing something even more interesting in the thumbnails below.
The video streaming is great. I wasn't really expecting much. I've run into a lot of sites that have been under-performing with their streaming quality lately. XFantazy does not disappoint. I managed to seamlessly watch an hour-long German porn movie featuring this gorgeous petite bitch getting sensually tortured and pleasured. It was some of the most sensual BDSM videos I've ever watched. There was no plot, and I would have watched that entire movie for the fucking action alone, WITHOUT jerking off!
The kind of shit that was happening in that movie was fucking wonderful. My cock was begging me to join the action when that petite little babe had her ass full of whipped cream and her pussy full of würstchen. They even made that bitch play the piano while getting her ass whipped and her pussy poked! She was pretty good too! Seriously! It was some of the finest BDSM action I've seen in a long time. A fucking lost art!
What I liked
The first thing I noticed about this site is its simple navigation system. There isn't to distract you from what you came to do: Cum. The navigation bar gives you a handful of options to choose from a giant list of some of the best slut action of the past. I can even choose multiple tags at the same time! I'm a sucker for multiple-choice, haha!
Not to mention, this is some of the best content I've seen in a damn long time. This site is a great example that "newer" doesn't always mean "better". Where else are you going to find a guy receive the most sensual handjob you've ever seen while his balls are being squashed in a vice?
What I didn't like
The fucking ads. Most congregator sites overdo it with ads on their site, and XFantazy is no different. In the list of thumbnails, you can find box and banner ads littered between the fucking videos. I mean, at least some sites have the decency to separate some of the videos with the banner ads! I found myself mistaking ads for the fucking videos!
Not only that, but as soon as I landed on the front page, I got a full-page pop-up ad that I closed only to be met with more fucking pop-up ads. When I tried to close them, I was redirected to another fucking tab! Thankfully, unlike a lot of other sites, this doesn't happen consistently. But, it shouldn't really happen at all. I almost didn't find that great content because I got tired of closing ads with my dick in my hand!
Tips from ThePornDude
This site would be pretty fucking close to perfect if it wasn't for the intrusive ads. If I had any advice, let me and my dick enjoy this great content in peace. I'd prefer not to receive ads about my hard drive having malware or whatever the fuck AliExpress wants me to buy. There are more effective ways of organising ads on your pages.
Conclusion
XFantazy has some of the finest BDSM action that has been lost and forgotten to time! You can find the sexiest hardcore content you wouldn't be able to find on these cookiecutter, mainstream porn sites or even the backwoods, borderline illegal ones! XFantazy collects the sexiest, rope & whip dungeon play that's rough enough to get your dirty little dick hard, and classy enough to make your dad proud! Oh, and I forgot to mention, it's all absolutely FREE! Give your cock a treat, and give it a try!
Clean streaming
Huge variety of girls
Classic porn movies
Amazing amateur content
Intrusive ads
Too many pop-up ads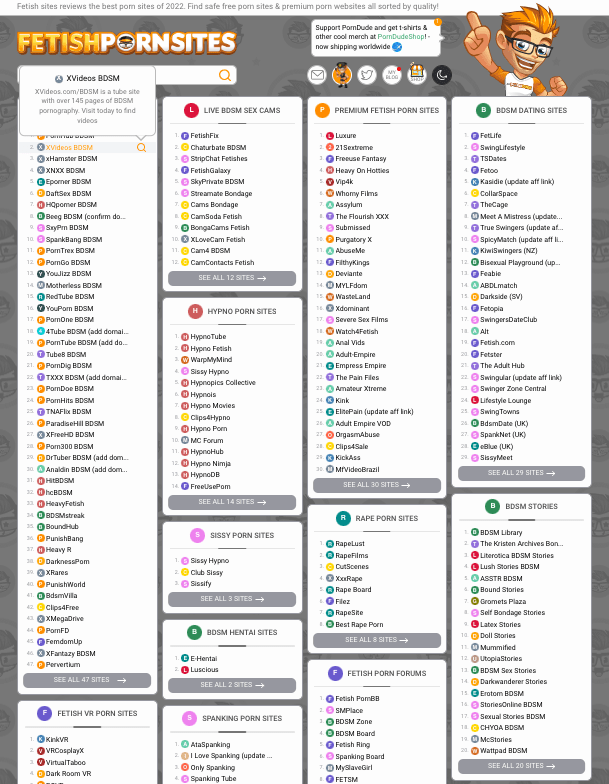 47+ Free Fetish Porn Tubes LIKE XFantazy BDSM