Show
47+
sites like

BDSMstreak

:
BDSMstreak
BDSM streak! BDSM is one of the few sexual activities my readers can shine at. Unfortunately, those opportunities are few and far between, so it's best you take advantage of what you can get.
There are a few reasons BDSM works out for you fuck faces. First off, you're just so punchable. Any bitch who likes to punish men during sex will love to punish you. You are the perfect victim. An alpha woman will savor every moment she spends tearing you to pieces, drinking your blood, and throwing your appendages to the wolves.
These violent whores will tie you up to a whipping post and rip into your flesh with cat o' infinite tails. All the while, they will laugh at your tiny sissy penis and faggy cries for help. There are no safe words where these bitches come from. Only further suffering followed by hard cumming.
On the other end, you would add a terrifying layer to any sub-bitches BDSM experience. Not only is she being humiliated by some fuck, but that fuck happens to be you. Talk about adding insult to injury. It doesn't get more crushing than that. Can you apply a safe word to an entire person? If so, you better get used to hearing the word pineapple.
On a more positive note, my readers have a lot of pent-up aggression. That aggression is the perfect inspiration to devise sick and twisted methods of torturing poor cunts. You lie in bed at night thinking up different contraptions and techniques to extract the maximum amount of pain from the preppy girls in high school who never fucked you. Those are the faces you picture when you're busy spanking some stranger you met at a dingy dive bar just dark enough to hide your true self.
Some Men Just Want to See the Whores Burn
When an ordinary man might tie a bitch up with rope, my fans will pull out the barbed wire. When a commoner might strap a bitch down to the bed using fuzzy handcuffs, my readers chain a cunt up to a gyno table and spread her pussy wide open. Where an ordinary man might spank a bitch's ass, my readers flay a cunts inner thighs open using a two by four with rusty nails sticking out of it. Regular guys show up to the BDSM orgy looking ready to fuck. My fans show up looking ready to fight a zombie horde.
You boys arrive at the orgy looking like an extra in the movie Mad Max - Fury Road. Ladies, call you the bitch butcher, and men call you sir. It's the only time you garner such respect. The key is your gimp mask. If they can't see your face, they won't know you're an ugly bitch.
That's why I love you fucks. I know I make fun of you a lot, and to be fair, you deserve it, and I mean every word I say. But that doesn't mean I'm not one of you. You guys just read this shit. I sit down and write it every day.
You bastards can't show up to the BDSM orgy every day. Because of that, you must settle for porn a lot of the time. However, I wouldn't call it settling when you visit BDSMstreak. These guys run a premium BDSM porn site that you can access for free. You're supposed to be watching people get punished, not your wallet.
BDSMstreak has more than a BDSM streak. They should have called it BDSM obsession. The admin is dedicated to hunting down the finest content from the past and the now. You will find a great mix of brand spanking new shit you have never laid eyes on before and old favorites we have all come to know and love.
The admin didn't get so distracted finding content that they forgot to make a great website. BDSMstreak is both a breeze to navigate and aesthetically pleasing. The main menu sits up top and contains the options Home, Pornstreak, Categories, Photos, Webcams, BDSM simulator, Games, Users, Search, Best porn deals, Register, and log in.
The selections "BDSM simulator," "games," and "best porn deals" are all links to other sites. And surprisingly, the "webcams" option is not; BDSMstreak runs its own live streaming service.
It's not just an addition they tagged on without thinking about it, either. Instead, it's a well-developed streaming service with easy-to-use controls and a wide selection of performers. Moreover, all the bitches are focused on BDSM, so you don't have to worry about filtering through a bunch of vanilla bullshit before you get to the good stuff.
Below the main menu is a small filter to help organize content on the front page. The options are New videos, Recently watched, and popular. Finally, down the right side is an extensive category list covering shit like Whipping, Vintage, Tit torture, Tickling, Latex, Hot wax, Forced orgasm, Cunt torture, Gang bang, and Hand job. You know, all the essentials.
Let's see the kind of amazing content there's to enjoy on BDSMstreak. Why do I fuck with shit like "Denied Fuck Pet"? Fuck whips and chains. Nothing's more torturous than being tied up and having pussy danced in front of you. Especially when a bitch lets you fuck her just long enough to want to cum but then takes it away. I would much rather catch the Jesus treatment than have that shit done to me.
Despite my trepidation, I still love to watch this type of thing. I just like the combination of growing anxiety to match my growing erection. It's like getting hard while running away from a horde of zombies. All the adrenaline pumping through your veins makes the experience more pleasurable.
Squeezing your Ass Udder
Prostate milking isn't for everyone. Men tend to either love it or hate it. Personally, my asshole is very shy. It doesn't like to be approached by any objects outside of toilet paper and my soapy hand when I'm washing back there. Otherwise, it prefers to be left to its own devices.
Other men swear by the prostate. Those men will love the shit out of "Ash Hollywood Prostate Milking." I may not like it myself, but I know a job well done when I see it, and this bitch is a master craftswoman. She must have taken an anatomy class or some shit. I bet she's a registered nurse. Registered nurses are just the type of bitches to love doing this kind of thing.
I understand why prostate milking gets labeled as BDSM, but I'm not sure I agree. Sure, it's intrusive and unusual, but technically it's the opposite of BDSM. There's no pain involved, according to fans. Instead, it's one of the greatest pleasures a man can experience. Perhaps I'll share it one day, but that day is not today.
I and all of my readers dream of owning a bitch like the one in "Human Doll – Pervert Face Fuck." Who doesn't want a living doll that shuts the fuck up and takes dick whenever I need her to. Yes. I have my Tesla Sex Robot Early Beta Release, and it works wonders, but no matter how realistic they make it, it can't beat a real sex slave.
This bitch plays the role to the maximum. No matter what gets done to her body, she stays in character. They even use a bizarre contraption made from twine and chopsticks to create lip traps that hold her mouth open. Afterward, they treat her mouth like a fleshlight they plan on burning after use.
I have to give these fucks a nine for creativity. I've never ordered Asian, then looked at my utensils and thought, I bet I could use these to face fuck a dumb slut. But that's why these guys are the actors, and I'm the reviewer.
When the video title is in German, and the thumbnail features an old naked man on his hands and knees licking a dark-colored object on the floor, you can know what's happening without needing to click. That man is licking poop and loving it. If that's your shit (pun intended), I suggest searching for "Zu Ihren Fuessen" the moment you arrive.
BDSMstreak has more than a BDSMstreak. They have a BDSM addiction, and if you can't get enough either, you will love the place. The admin has hunted down an astonishing collection of extreme porn that will make your cock so hard it will detach from your body and leap at your computer screen.
The web design is simple and efficient. Between that and their exclusive focus on BDSM content, you will have no trouble finding the right video for you.
My one complaint about the place is the absence of tags. If they combined tags with the categories, it would make finding niche content easier. For example, instead of searching for only "whips," you could search for "Whipping big tits."
My readers love beating on and getting beaten by dirty little sluts. When those dirty little sluts are just out of reach, visit BDSMstreak to get your fill.
Content selection
Lack of ads
Live streaming service
No tags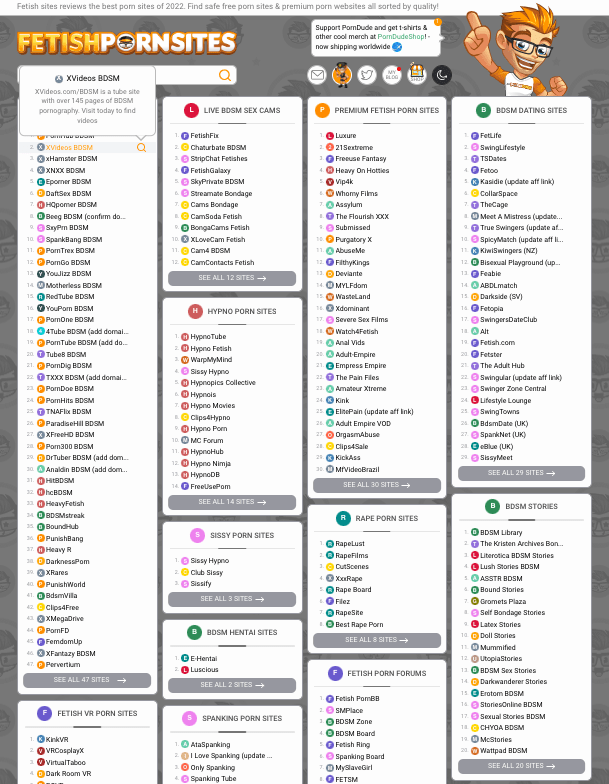 47+ Free Fetish Porn Tubes LIKE BDSMstreak