Show
47+
sites like

Eporner BDSM

:
Eporner BDSM
If you fucks are anything like me, I know you can't get enough kinky BDSM content. You devour that shit like it's nothing. You've fapped to thousands upon thousands of degenerate videos, and you now need a new stomping grown. Well, you fetish freaks are in luck. I went searching for a free, high-quality hub of hot BDSM content. After all, you shouldn't have to overpay to indulge in your favorite fetish content from top studios and whores alike. Well, I think I've stumbled across one of the best sources of free amateur and professional BDSM. Keep with me to see if it'll be your new favorite website to blow your loads to.
Now, I'm not suggesting some obscure, dark corner of the internet this time around. If you've jerked your dick to sexy online whores for any length of time, you've probably come across eporner.com in the time. It's a long-running porntube that's been around since back in 2008. And this is one of the big dogs. The website brings in an easy 100 million fappers every month. But I'm not looking to review the website as a whole today; I have already done that, and you can check out that review in you're interested. On the contrary, I only want to focus on the depraved content they've packed into their BDSM category for this article.
Over 100,000 Fetish Videos to Jerk Your Dick to
The website has a fuck load of content. It's stuffed tighter than a hung fuck in a chastity cage. Specifically, there are over 108,000 videos in this section alone. And these aren't just short clips. We're talking about full-length fuck fests featuring top stars like Veruca James, Taylee Wood, and Riley Reid. But I think I'm getting ahead of myself a bit here. You cucks probably want to know how to access the content-rich section first.
Well, it's easy. Just use the left-hand sidebar to access a long list of categories. Then click on "BDSM," and you'll be good to go. Otherwise, you can just plug "eporner.com/cat/BDSM/" right into your search bar to be redirected directly to the good shit. You'll know you're in the right place when there are dozens of previews of degenerate whores getting tied up, spanked, gangbanged, and abused on the screen.
Sleek, Modern Theme with Minimal Ad Clutter and a Dark Mode
Eporner hooks you up with a sleek black theme without a bunch of obnoxious ad clutter. Don't get me wrong; there are a couple of ads on sight. But these aren't the kind of ads that ruin your experience. You'll get some banners and a pre-roll every now and again, but you won't be redirected every click or deal with hundreds of pop-ups, making the browsing experience a chore. On the contrary, it's manageable, especially compared to other free porntube websites. I didn't have any trouble popping around to different videos and sections.
You have access to multiple sorting options here. For example, you can sort the whole page by most recent, best of the week/month, most viewed, top-rated, and the longest videos on the platform. It's also a breeze to create a free account. But it's only worth the time if you want to have custom fetish-themed video playlists or get notifications when your favorite piece of ass uploads a new video of them getting spanked. Besides, creating an account only requires a valid email and confirmation to get started. You don't have to dish out any dosh for a subscription.
Easy-to-Use Filter Options and Tools Make for Easy Fapping
You also don't have to be stuck with just one fetish tag either. You can click the "+" sign next to any of the categories to continually narrow your selection of content down. For example, do you want BDSM content featuring horny sluts giving footjobs? Easy. Just click the tags for "BDSM" and "Footjobs" to only get videos with both tags. Fuck yeah. I wish more platforms had such easy, streamlined ways to get the perfect videos. So many websites make you aimlessly browse or only search by a single tag. Screw that. Eporner has one of the easiest to browse catalogs there is.
But the good stuff doesn't end there. The previews for this website also kick ass. You get a preview window highlighting the name of the video, view count, rating out of 100%, length, uploader, and the exact resolution. I fucking love that last bit. It doesn't just say "HD" or "SD." You get tags for 1080p HD, 720p HD, and 480p SD. That way, you know precisely what you're getting into. You can even hover your cursor over a video preview to get a hot 5-10 second clip as a peek into what the whole scene will look like.
Unlimited Direct Video Downloads with No Required Account
Once you find a video worth jerking your dick to, you can click on the preview to get taken over to a full video page where you can expect a nice, large player. You might have to close out an ad or two, but the video will play smoothly afterward. I didn't run into any issues with buffering or lags. I could jump around to different points in the video without waiting around for it to load. Eporner even hooks you up with a "Scenes" button where you can get thumbnails of the hottest moments in the video. Just click on one to get sent right to that point in the scene.
Best of all, <strong>you can download as many videos as possible without an account</strong>. You just have to click "Download" and select your preferred resolution to get that ball rolling. As for mobile, this site nails it. It's easy to load up Eporner's BDSM category on the go and use all of the same site features that you enjoyed on the desktop website. You can download content, create playlists, and all of that good shit from the comfort of your mobile device with no strings attached.
FetishPornSites Favorite Features
It's certainly hard to beat a massive catalog of content with over 100,000 full-length fetish videos featuring the top sluts in the industry. Oh, and it's fucking free. Most competing websites would charge you out the ass for this sort of sexy content. But, nope, Eporner lets you get your grubby hands on as much content as your hard drive can handle without charging you a dime.
Furthermore, you can download as many hot videos as possible without running into any limits, caps, or required payments.
Besides, this website makes it easy to sort through its massive catalog. You have plenty of filter options at your disposal and a sleek website design that's easy on the eyes. There aren't even that many ads. The way that this site does category tags is fucking great, and I hope to see more websites follow suit. It's one of the best porn tubes in terms of usability. I'm also a big fan of the "Scenes" button; it makes it easy to jump to a video's best bits, especially when dealing with a 1-2 hour-long movie. It's an incredible feature. It's the kind of feature that you usually only see on premium porn sites.
FetishPornSites Suggestions
I don't have any complaints about Eporner. It's one of the top porn sites in the industry for damn good reasons. I could bitch about the little bit of ad clutter, but you're getting free, direct downloads. That more than makes up for a few banner ads and shit. My only suggestion is that you horny fetish freaks check this site out for yourself. You won't regret it for a minute. Fill up that spank bank with these free, full-length videos!
FetishPornSites Final Thoughts
Overall, I'm a big fan of what eporner.com (BDSM) offers. I'd consider this porntube a must-visit if you're a fetish-addicted cuck who needs to see sluts get used and abused to cum. This site has tens of thousands of videos to sate your addiction to hot BDSM content. And with new, free content uploaded daily, you'll never run out of amateur and professional videos to rub yourself raw to. This website offers free downloads, great filter tools, and a solid website design. It doesn't get much better than that. I recommend all of you horny fucks to go and check it out right now.
A massive catalog with over 100,000 fetish videos
Amateur and professional BDSM content
Full-length 1080p movies
Free direct downloads with no limits
A solid mobile site
Loads of filter options and tools
Nothing yet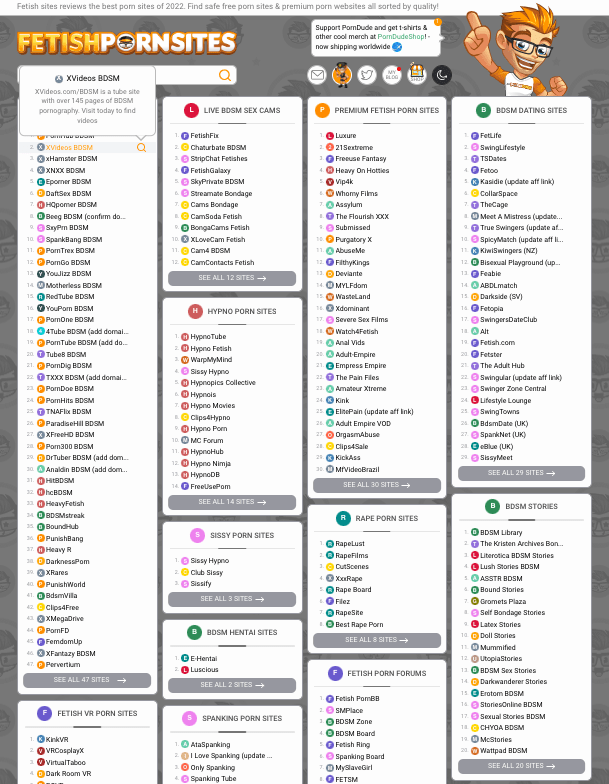 47+ Free Fetish Porn Tubes LIKE Eporner BDSM