Show
47+
sites like

FemdomUp

:
FemdomUp
Femdom Up! I have found a treasure trove of femdom porn and all in one location in cyberspace. Femdom Up hosts hundreds and hundreds of host movies featuring females doming dudes, and fellow dames. Once you start watching, you may be wanking for hours, and if you want to know why, you know what to do.
A Little Flawed, But Otherwise This Is A Great Looking Site
Let's start with how everything looks in terms of the structure of Femdom Up. At first, I thought, "well, I have seen this before a hundred times." The homepage hosts the categories, but when I went through a checklist of things I usually look at. It is easy to surf around, especially since there are no ads and no popups. Plus there is a neat feature in the menu where you can cycle through the color scheme, which is cool.
There is an enormously long, text fest at the bottom of the homepage which seems entirely unnecessary. It does not distract from the overall site experience and does have links to some neat sections of the site. But coming in at four hundred and fifty-one words they could certainly have shortened it quite a bit.
Get Ready For A Bevy Of Beautiful Videos
Like other, tube-inspired websites like this one, the video count is vast.
And all of this juicy content is cost-free if you are content with seeing it in the standard definition. While I like seeing every detail in adult films, that is not a bad detail. Plus, standard-def looks pretty good on this website anyway. There is not a buffering issue and from what I can tell, the rendering is in 720p.
However, if you want to upgrade you can sign-up, via K2S.com and create an account, or you can do so with your Google account. For a fair cost, you can get access to high-definition versions of the video plus a high-speed download feature.
For a month, you have to give the network a mere $24.95, which seems reasonable to me. Of course, they have a sliding scale payment system so if you pay for three months, you'll end up only spending $19.99 per month, and an annual package comes down to the equivalent of $13.33 every thirty days.
The Video Pages Themselves Are Typical, But Appreciated
One thing about Femdom Up is that it does not host any of the posted videos on its servers. When I saw that disclaimer on the homepage, I started dreading that this was an aggregator website which might mean varying levels of quality or being redirected to a site swarming with spam. But I was mistaken, the posted videos still show up on-site so those concerns are not a problem.
The video pages do not have much out of the ordinary other than the usual, like share and download options. They do post an impressive number of tags, and there are loads of related videos at the end of the page. So, this aspect of the website is not terribly inspired but it is still nice.
Holy, Damn, There Are A Lot Of Performers
When I clicked over to the Models' page, my eyeballs nearly melted and my brain started to hurt. After trying to speed count the number of links to different performers there were. So after I stopped and two-hundred-and-two, I took note of the names that I knew. Examples of erotic performers are ladies such as Kendra Heart and Bobbi Star. There are even trans starlets like Eden Coxxx as well.
There are also links to who are at least to me, more obscure starlets Daze Hays, and dozens of others at least. So, if you like finding a fap star who is someone new to you, this is the perfect platform.
They also have some guys linked too, if that matters to you.
They also list studios, like the massively popular Cruel Reell and Tara Tainton. This includes some I have not heard of like All-American Foot Worship and A Cane Threshing. The one thing that I do have to complain about is that with so many links, it looks super busy.
From these porn producers and performers comes all kinds of kinky, cum summoning smut. Besides the usual such as standard but sexy corporal punishment, there are movies showing off ballbusting, clothed-female-nude-male, and plenty of footage of different sorts of foot worship.
And I was impressed to see plenty of strap-ons and footjob films which I find are harder to get access to in this genre.
Should Desperately Need To Add More Search Options
I do like the category pages and the search engine works well enough, but with so many options they need to improve the filter options. To be exact, I'd like to see an advanced search feature where you can whittle down your results by video length, date, studio, and performers' age, gender, and role. If you ask me, it would be great to see an image gallery or possibly a page full of GIFs with each upload.
I might even write to them about this because they do take recommendations from their viewers, and I have it on good authority that they take suggestions seriously.
I know that because they also have another page to make requests. I am not sure how quickly they respond, but based on the 88% positive rating that they have it must be quick. All you need to do is post a URL and you are good to go. They don't work with clips4sale.com, but they do with three other websites.
Find You Way over To Femdom Up Quick As You Can
Well, I feel rather chuffed (and have a little chub that might need to be rubbed) after finishing this review. With so little to criticize and so much to have fun with on a supreme site that looks good on desktops, tablets, and smartphones, I think my four and a half hand rating is justified. Click on over to Femdom Up, but be cautious not to stay cooped up too long looking. With all of this titillating dominatrix dirtiness, you might forget about doing anything else.
As it should be, there are loads of vids
They have hundreds of starlets' works hosted
For the most part, the website works great
There are no pesky adverts on any page
You can send feedback and make requests
The standard definition edition is free
The actress page is incredibly busy to me
You'll need to pay money for premium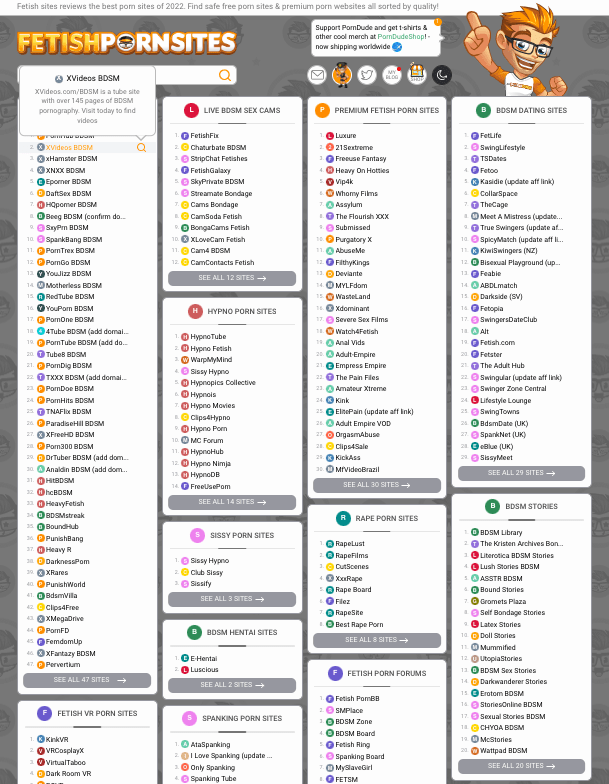 47+ Free Fetish Porn Tubes LIKE FemdomUp