Show
47+
sites like

hcBDSM

:
hcBDSM
I've been thinking. I might make fun of my readers by pointing out their pronounced shortcomings, but I always have your best interests at heart. I make fun of you only because I am one of you. We are one and the same, so I'm allowed to call you guys losers. No one else is.
I often attempt to think of ways to make your lives easier, and I think I stumbled onto a way you might be able to get laid. Of course, it's not a guarantee, and it will still take considerable work, but if you try hard enough, this system could get your dick wet in six months or so.
The key is fetishdom. Let's break down your lifestyle real quick. You have no job, no money, no prospects, no investments, nowhere to live that isn't your mom's basement or garage, no passion, and no large penis.
Now let's try to be positive and look at what you have. You have video games, empty Chinese food containers, a small dick, a pile of tacky tissues, and tears running down your face as you read this. Before blowing your nose, make sure it's not into one of those sticky Kleenexes.
Fuck Wad Fetish
You won't be able to change any of those immutable truths, but what you can do is reframe them. Who's to say being a loser fuck wad isn't your fetish. You might have millions of dollars in the bank. You might own a mansion in Paris with three pools and two tennis courts. You might have a garage full of Lambos and Ferraris. Maybe living below your means gives you a huge boner.
There must be a bitch who wants to help you cosplay being a piece of shit, and she never has to know that she's fucking the real McKoy. Instead, she'll think that you're the best actor ever.
I understand this is a long shot, but a long shot is better than no shot. As it stands now, you're going to die a virgin. Both because no one wants to have sex with you and because your diet of Cheetos and mountain dew will lead to an untimely death.
While you let that idea roll around your head, let's check out some of the more established fetishes featured on HCBDSM. I didn't find any loser fetish content, but let's be real. If you're allowing some dumb cunt to piss on your face, you are probably a loser.
HCBDSM is a classic fetish website. These guys aren't breaking new ground, reinventing the wheel, or planting flags on undiscovered isles. Instead, they take the lessons learned by thousands of explorers before them and use the information to craft a world-class fetish website.
The main menu is split into two sections. The first has the options Log in, Sign up, Change colors, and language. The second has the options Movies, Albums, Categories, Community, BDSM webcams, Best porn sites, BDSM tube, Rabbitsreviews, a Search bar, and Upload.
The "movies" selection offers a content filter to organize videos by Most Recent, Most Viewed, Top Rated, Most Discussed, Longest, and VR. Albums can also be filtered in the same way.
Anyone can submit content for addition to HCBDSM. Pending approval, you should see your video pop up in as little as a half-hour.
The first batch of thumbnails you'll come across on the front page are videos being watched right now. The list is updated every fifteen minutes. I'm always a fan when sites include this feature. I like to know what my fellow masturbators are up to today.
The second layer of thumbnails is the most viewed videos of the past week. Finally, a list of the most recently added content is at the bottom.
The video player screen is uncomplicated but still includes all the information I hope to see. Each video has a stat sheet that includes its rating, length, number of views, and release date. There's also a link to share the content on any of your social media accounts. I know how much your Aunts and Uncles like to keep up with your porn viewing habits. I remember back in the day when I could make jokes like that while being blissfully unaware that most of you want to fuck your Aunts and Uncles.
Let's begin the content review with something that everyone can get behind because she has such a great behind. Of course, I'm talking about Remy Lacroix. She has one of the most beloved white asses that ever existed. You're not a man until you have watched this bitch hula hoop. I can't count the number of times those hips have hypnotized me.
We will skip right past the hula hooping, though, and get directly into the gang banging. "Remy Lacroix Gets Gang Banged" is one of my favorite gang bang scenes.
It starts with an extensive interview that's held while Remy gets her makeup done. She sounds so clean and innocent. It's hard to believe she's about to get triple penetrated like a bowling ball. That's one of her most endearing characteristics. You would never guess meeting her in the street that she's a freaky-ass porn star.
That façade is violently torn down when you see her sucking five cocks. And she isn't just sucking those cocks, either. She's suuucking those cocks. No innocent woman knows how to do that shit.
Defiled?
Most of the time, videos with titles like "Defiled18 - Ilina" feature a woman incapable of being defiled any further. It's usually apparent by the look on her face that this is just another day on the job. Unfortunately, that's not the case with this video. I've watched a shit ton of porn, and I can tell when a bitch is actually nervous, and this bitch is terrified.
I'll teach you my secret. It's all about who a bitch is acting for. If a bitch has been there and done that, she acts like a scared bitch because that's the character she needs to play. She's acting for the camera. If a bitch is genuinely about to be defiled, she doesn't act scared. She does her best to play cool. She isn't acting for the camera; she's acting for the set crew. She doesn't want to look like a newbie, but this bitch Ilina is clearly new in town.
I have to give this cunt some credit. Despite her misgivings, this bitch gives it her all. What she lacks in experience, she makes up for in audacity. Once tied up to a table, she gives in to the moment.
Much of BDSM is about treating cunts like farm animals, and few genres do that better than pony play. Some pony players focus on the animal aspect by trotting around, doing dressage, and chewing on hay. And others, like the stars of "Ponygirl Preparation," focus on the abuse aspect. Personally, I prefer the abuse.
This video starts with a bitch locked in a barred cage. That's how every porno should start. There's a small window in the cell just large enough to pass things through. The first thing that passes through the window is a pair of handcuffs. The second thing is a milk bottle full of piss. And this is not regular piss either - this dude isn't getting his recommended eight glasses of water a day.
As a prize for finishing her piss bottle, she gets to leave the cage. Her celebration is short-lived, though, as she's immediately restrained with a collar and leash. It's around this point when the bitch starts wondering, "when does cock get involved?" This bitch is begging to give a blow job or take a dick. Anything but being treated like this.
But, she receives no cock. The only saving grace she receives is a brutal fingering toward the end of the video. But before she can cash in on her reward, she's forced to haul the guy around his yard in a chariot. Life is about balance.
HCBDSM isn't the most extreme fetish site on the net, but it's one of the most well-balanced. They have a fantastic selection that features a wide range of kinks, so everyone will find something to love. In addition, you guys will enjoy the thorough category list and handy content filters that make browsing a breeze.
My only gripe with HCBDSM is the pop-ups. They aren't the worst pop-ups in the world, but that isn't saying much. I don't see any banner ads on the site. Perhaps they could trade in a couple of the pop-ups for some un-intrusive banners.
I know my readers have all sorts of unique and fascinating fetishes. No matter what they are, you will find content to love on HCBDSM.
Classic BDSM site
Varied selection
Features stars such as Remy Lacroix
Pop-ups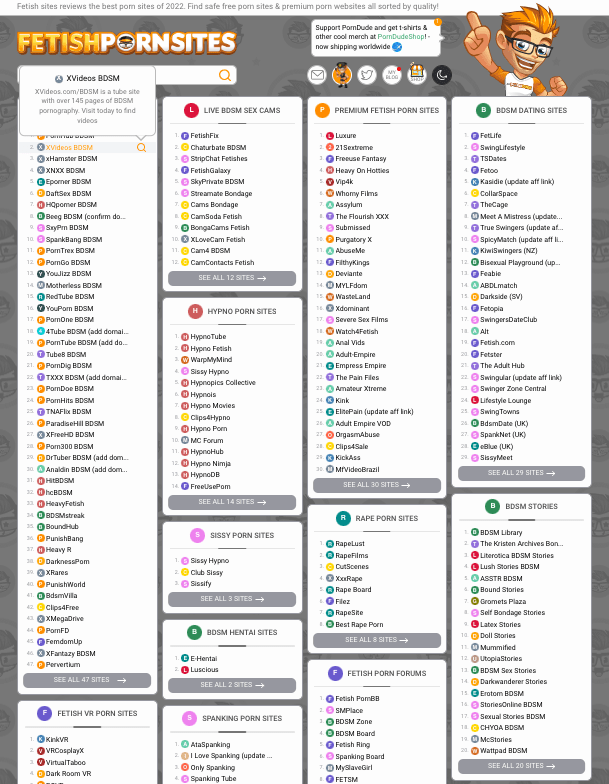 47+ Free Fetish Porn Tubes LIKE hcBDSM