Show
47+
sites like

HitBDSM

:
HitBDSM
Hit BDSM! All of my readers can find something to love in the realm of BDSM fetishes. The possibilities are endless. As long as people are still around, they will keep dreaming up new ways to hurt and please each other. When it comes to our genitals, we are a motivated species.
A few fetishes stick out to me as perfect options for my readers, and they can all be found on HitBDSM. Most of my fans are lazy fat fucks, so feederism is a great place to start.
Feederism has two sides, the feeders and the feedees. The feeder controls what and how much the feedee eats in these relationships. This gives the feeder complete control over how the feedee's body develops. It's this control that puts feeders into the BDSM category.
Many times feederism goes hand in hand with other fetishes such as squashing. I assume you have a pretty good grasp on what that may be without me describing it. But what else can you do with all that extra fat besides let a bitch crush you with it?
Most feeder relationships feature the woman as the feedee, but I don't think that's how my readers roll. All you bastards ever want to do besides masturbate is play video games and eat fast food. Imagine being with a woman who wants you to do those things as much as you do. Imagine it well because that scenario will only ever live in your head.
Fisting is another fetish that comes to mind as something my readers would love because, you gents, haven't been blessed with massive penises. At best, you're rocking what I would call a modest cock. Not tiny, but far from impressive. You could never imagine using it to crush some poor bitch's pussy into oblivion. If you had a dime for every time a woman asked you, "is it in yet?" you would have no money. That's because women don't even let you fuck them to find out that you have a small penis. They can sense it from a distance and avoid you like a bucket of shit.
Fisting gives you the chance to treat a pussy like you have always wanted to treat a pussy; with complete disregard for its safety and well-being. For the uninitiated, you don't actually want to start by balling your hand into a fist shape. It doesn't present enough taper to allow smooth entry into the vagina.
Start by forming your hand into the presidential pointer shape. Once you get inside the pussy you can make a fist and start plowing away like you're sawing a tree down.
Bitches that are anal vets may want you to fist their anus. I personally draw the line there. The chances of pulling out a handful of turd butter are too high to ignore. My penis is one thing. It can't scoop a bitch out.
My small dicked friends can even use fisting to increase their own pleasure. Let's say your cock is so tiny that you can't feel a bitch's loose floppy pussy. If you stick your fist in there, you can masturbate your cock while it's inside. If done correctly, you might trick a bitch into thinking you have a fist-sized dick. Emphasis on the word "might."
Both feederism and fisting are well represented on HitBDSM. HitBDSM is a porn tube dedicated to finding hardcore BDSM content that will make your penis sling rope like a cowboy hogtying a calf on horseback.
HitBDSM consists of only three parts: black background, a small menu, and tons of porn. What more could a proper porn website need? The main menu resides up top and contains the options Home, Categories, Pornstars, Non-BDSM, Live sex, a Link to the finest porn reviewer the world has ever seen, and RabbitsReviews. Unfortunately, they do not host their own live streaming service.
Thumbnails on the front page can be filtered by Latest videos, Most viewed videos, Longest videos, Popular videos, and Random videos. The default selection is random.
The Electrosluts VS The Strap on Squad
BDSM sites always have the best category lists. Standard sites use the same thirty keywords over and over, but each BDSM site comes up with its own unique monikers. Some of my favorites on HitsBDSM are Electrosluts, Brutal sessions, Chantas bitches, Families tied, Everything butt, and Strap on squad. That sounds like the least effective group of superheroes ever convened. Their arch-nemesis is a shy guy named Steve.
Now that you're caught up with the design, we can talk content. I love when BDSM videos have descriptive titles. For example, "Inverted, Elbows bound, Severely Arched Back Brutal Crotch Rope, Massive Screaming Orgasms! EPIC!" tells me everything I need to know.
The star of this savage feature, Elise Graves, is a badass bitch. I've seen sluts destroyed in every way possible and rarely do they take it on the chin like Elise. She may be indestructible.
The video starts with her being flogged while spread open and hung upside down. And this is no gentle beating. They are digging into this cunts flesh with whips like she just turned water into wine. My readers would have cried out like pussies at the first crack of the whip.
Once her ass is a shredded mess, they bind her elbows behind her while stretching her wrists toward the walls. It looks about as uncomfortable as uncomfortable can get. They even take it a step farther and use her hair to crank her neck back into a spine crumbling position.
At this point, I'm thinking this cunt can't take anymore. She's being absolutely brutalized. But, apparently, being absolutely brutalized is this bitch's thing because instead of giving up, she cums as hard as I've ever seen a bitch cum. She came with such force that I thought her pussy would leap off of her body.
I figured that'd be the end of the show, but little did I know that this was just the beginning. There's no rest for the wicked, so after she's done cumming, the gentlemen hang a bowling ball from her upside-down pussy. Holy fucking shit. Her pussy looks like it survived a rolling artillery barrage. Everyone should stop what they're doing for a second to send this bitch's pussy some hopes and prayers.
"She Has A Family" -J.R
Almost all of my readers are pro-wrestling fans, so you guys will love "The Cutest Little Piledriver." Imagine the undertaker finds a cute petite teen and decides to tombstone her into oblivion. Then imagine her frozen in the moment of impact, and that's the position that Kristina Rose finds herself bound in. It looks fucking unbearable.
It's only the start of her torture, though. The pile driver position leaves all of her most tender bits exposed for abuse. The gentlemen in the video rubber bands her feet, tickles her ribs, flogs her ass, and finger fucks her pussy. They also pinch clothing pins down the back of her thighs in a stocking seam pattern. It's only then that she's rewarded with some cock.
And speaking of pro-wrestling, there's plenty of it on HitBDSM. But, of course, it's a little different than your average Monday Night Raw. Bitches in the Ultimate Surrender league blend fighting and fucking into one beautiful event. They start in tiny bikinis, but those get quickly ripped off in the fray.
Events usually start with some serious wrestling. These bitches are really trying to hurt each other. Eventually, though, things devolve, and they start finger fucking and mound munching. It's the best of both worlds, and you'll never see more potent nipple twisting.
"Live Tag Team League - The Pirates (0-1) VS Team Ice (0-1)" is a great place to start. Each fight begins with an arm-wrestling match to decide who starts the fight. Then, the first three or four minutes consist of a real fight before clothes come off and orifices get penetrated.
HitBDSM is a classic fetish porn tube with a sprawling library of extreme content that will make the blackest hearts hard in the pants. The familiar design makes navigation second nature. The content filter on the front page is ideally suited to finding new and exciting videos you've never seen before.
The bitches on HitBDSM are tough. They know how to both give and take a beating. Nobody's crying uncle unless it's because their uncle is fucking them.
HitBDSM kept the site simple enough that there wasn't much room for error, but the site does seem ideally suited to host its own live streams. Stripchat is nice, but they should toss that link out and replace it with their own service.
I know you horny fucks want to see some nude tag team wrestling. Don't try to act like you're above it. Head over to HitBDSM now.
Unique content
Fun category list
Lack of ads
Should host its own live streaming service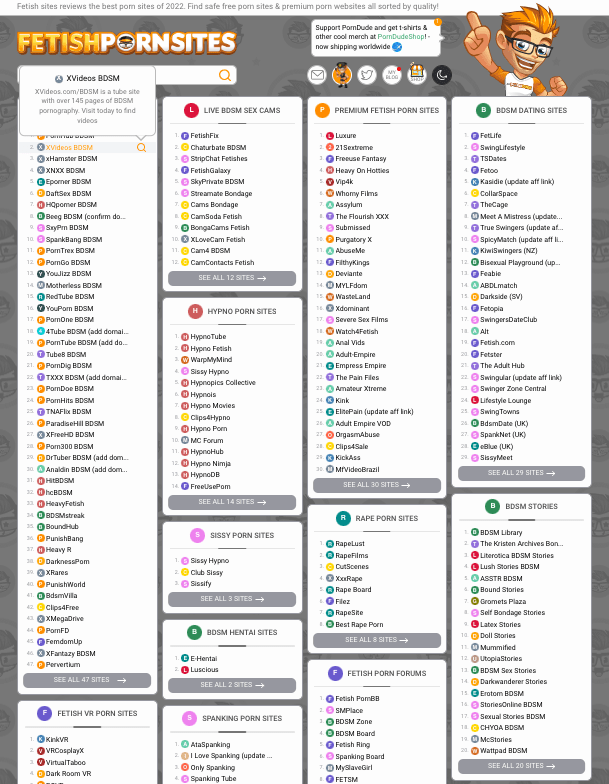 47+ Free Fetish Porn Tubes LIKE HitBDSM