Show
47+
sites like

Motherless BDSM

:
Motherless BDSM
How's it going, you glorious freak!? I have a quick one for you. Well, a couple. How much of a sexually depraved psycho do you think you are? How far are you willing to go to get off? Do you like the idea of having your own harem of sex slaves? Or maybe your freaky ass wants to be a sex slave! There's no shame in that! Well, there's if your mother finds out or anybody else, for that matter. But, you get no judgment from me. You'll also get no discrimination where you're going. You're about to enter a haven for people who really wouldn't want their mothers to know how fucked up they turned out — a place where all the world's bad parenting can flourish in all of its gravely depraved glory: Motherless.com!
If you think you're into some freaky shit, wait until you meet the average Motherless.com whore. After reading this article, I can tell you that you might feel like taking a bath in holy water. Motherless.com serves as the breeding ground for the most fucked up, sexually perverted, godless degenerates the world offers. There's nothing that you can think of that's not on here. Oh, you think I'm exaggerating? I saw a video of a guy sticking about ten pins in his cock until it bled dry. And there were people in the comments who got off to it!
Let that be a warning to all you wannabe extremists. We're diving into the deep end here, and there are no life jackets where we're going. Just bring some lube, a buttplug, and a fucking bible if you ever want to find your way back. After visiting this site, you might never be the same again. But if that's just what you're looking for, today's your lucky day.
No bells or whistles. Just ropes and whips
Motherless.com is exactly what it says it is, and the developers do a great job at making you understand exactly where you are. The only thing that screams danger more than this site's red and black theme is the red and black penis you'll likely see on the front page. And no, I'm not talking about a black guy fucking a virgin.
Motherless.com wouldn't want you to be distracted from your journey into moral jail. So, you won't find any distracting ads on the main page and only a minimum amount of ads on the video pages. You can scroll all the way down the main page if you're really interested in face-swapping porn or "Hot girls in your area," but you'll probably be too distracted by some guy pissing into a bitch's asshole to care.
When you click on a thumbnail, you won't be watching a 5 or 10-second video of a girl (who you're way too desensitized to be interested in) from Live Jasmine begging you to fuck her. Instead, you'll be directed to a full page of that same girl begging you to fuck her. It may be a little disorienting at first, but you won't have to wait 5 seconds to skip to what you really want to see. Motherless.com knows you're not going to be interested in some hot girl asking for your cum and money. You want to see how wide a bitch's pussy can stretch! They don't do that shit on Live Jasmine.
On the top of the page, there's a search bar with a small icon inside. When you click on it, it'll show a drop-down menu with a list of search options. So, if you want to search for "forced orgasms," you can choose to find videos, pictures, forums, or even groups related to that category. (That's right! I said, groups! That means you'll likely find people who are just as fucked up as you!)
On the left side of the page, you can find the categories section. Under "Categories," you'll find a search bar with a list of categories and kinks that go all the way down the fucking page. (Try not to get distracted by some of the videos on the way down!) "But PornDude! This hasn't got nearly as many categories as XVIDEOS. Why is that such a big deal?" Oh, my dear degenerate, that's just the tip of the iceberg!
The search bar I just mentioned lets you search by tags. So, whatever unspeakable thing you type into that search bar, an entire cloud of tags related to that appear! Fuck a page of categories! I have no idea how many tags Motherless.com has, but I know that if I'm feeling incredibly freaky, that search bar will give me whatever the fuck I want! You can also access the "Categories" from the navigation bar. That provides a better view of the category list, but trust me, you'll want to use the search bar.
You're going to need holy water
If you think you're into some dark shit, this site might be enough to make you feel tame. We all have our secrets, and they're all on Motherless.com! This is the moment you realize you're fucking vanilla compared to the other perverts in the world. You'll find every kink and fetish you can dream of on here. For example, if you're into vomit porn, you'll not only find videos of thousands of real whores vomiting their guts out for you. You'll also find a whole fucking community dedicated to that very thing.
If you're a clean freak, this is not a site I would recommend for. On Motherless.com, it's not a matter of if you'll see some skank masturbating with her own shit; it's a matter of when. The community of Motherless.com is where you're going to find the kind of whore who wouldn't even dream of starting an OnlyFans page. She wants everyone to see the kind of freak she is for absolutely free.
Today, I was in the mood for some bondage. I like to get a little rough with myself once in a while, but I don't have it in me to actually be tied up. I also don't have anyone willing to let me tie them up! So, I figured I would tide myself over with some videos. But, I didn't want some studio-grade movie with highly paid actors and health and safety protocols. I wanted a real slut with a high sex drive and low morals. I want a dirty fucking whore who's willing to humiliate herself globally for absolutely fucking free. At Motherless.com, that's precisely where you're going to find it.
Most of the videos here are either homemade or amateur. So, you're not going to find much of a storyline with this kind of BDSM content. Instead, you'll find videos where a man lets his wife tie him to a chair, put him in a gimp mask, and treat him like a bitch for half an hour. But, of course, if you're not into watching men get humiliated, there are plenty of videos where bitches will gladly walk on the floor like a dog, pissing on the floor and licking their "owner's" shoes.
The variety on this website will make your pervy little brain spin! Do you like the idea of a guy being bound and fucked by a hot bitch with a real dick? There's enough of that on there to last you the year! Do you want to see a bitch suspended in the air with ropes and forced to orgasm? The question isn't if. The question is how. Giant "massage wand," fisting, double penetration, triple penetration, a fucking toilet brush… you name it!
The best parts
I'll start off light. Some of the bigger porn sites still haven't figured out that people would like to see what the video will be like before clicking on the thumbnail. No one wants to click on the thumbnail and realize that they'd rather jerk off to someone else. Motherless.com is one of those who have figured it out! I salute sites that care about their users enough to save their ball-bashing time.
Most of the videos you're going to find here feature either amateurs or just regular-ass whores who get off to the idea of you cumming to their slutty videos. I'm not exaggerating. You'll find videos of girls degrading themselves just for jerk-off material. There are no links to their OnlyFans. No subscription. There are not even that many fucking videos. Some girl just got horny enough to write "WHORE" on her face and beg you to cum on it.
What I didn't like
There's not much I can say about the site. It's pretty much perfect. The developers put a lot of time into making this a haven for the most sexually perverse. It's a fucking masterpiece. But I'm not really sure how I feel about myself after jerking off to all that. If there was one thing I didn't like, it's the guilt of knowing that someone I love is watching me from heaven, absolutely mortified at what I've become.
Tips from ThePornDude
I don't really have any tips for one of the best porn sites in the fucking world. The amount of time that must have gone into this site remaining on the surface web is astounding. Amazingly freaky users on a fantastic web platform. It's one of a kind!
The only thing that would make it better is users' ability to choose more than one tag at a time. You know I love mixing and matching categories. So, if I want to see specifically "anal play" with my BDSM sprinkled with a bit of cuckery, I would love the option to do so.
Conclusion
Motherless.com is the most extreme streaming service you can find outside of the dark web. It not only has an outrageous collection of homemade and amateur content, but most uploads are from the sickest, dirtiest sluts you never even thought could exist.
If you're looking for BDSM from people with an unhealthy appetite for hardcore, humiliating, godless sex, Motherless.com is the one place to find it. Anything further, and you're going to need special software, a trustworthy VPN, an extra fucking computer, and... counseling.
Enjoy, you godless animal!
Extreme amateur porn
Active communities
Intuitive web design
Regular uploads
Thousands of extreme kinks and fetishes
Multimedia content
Nothing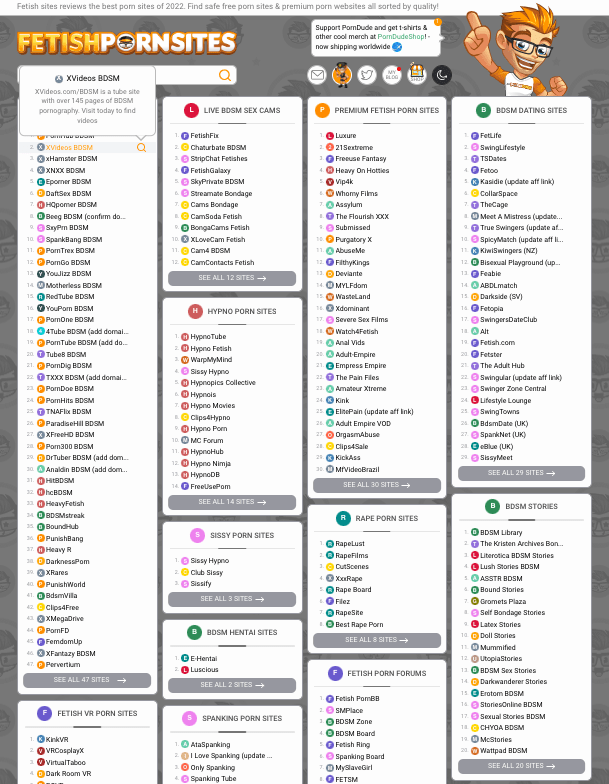 47+ Free Fetish Porn Tubes LIKE Motherless BDSM