Show
47+
sites like

ParadiseHill BDSM

:
ParadiseHill BDSM
Paradise Hill! BDSM is not one size fits all. There are layers to this shit. Almost everyone likes a little spanking here and a touch of nipple twisting there, but some of us want to take it much farther than that. Spanking and nipple twisting is a visit to Sunday school for fucks like us who want their sex to look like a Saw movie.
The blend of pain and sex is a combination like no other. I wouldn't say it's like peanut butter and jelly; it's more like sweet and spicy. Think of ordering general Tso chicken when you're drunk, except even better.
Paradisehill doesn't fuck around with their BDSM. If a film set doesn't look like a scene from Hellraiser, they don't fuck with it. If there aren't cries of pain at some point, they mark the movie PG. You fucks would probably love a PG porn movie. You all wish your parents took a more guiding role in your sex lives. And by guiding, I mean active.
Now, I'm not a linguistic genius, but I'm going to take a crack at where they got the name Paradisehill from. Well, to me, it sounds like Paradise Hill is the exact opposite of what the site should be named: Hell Hole.
The Vagina of our Dark Lord
This place is truly Satan's vagina. It definitely isn't for the faint of heart, weak of spirit, or flaccid of penis. It's for freaks, perverts, and sadomasochists to get their rocks off from the safety of their homes. Unfortunately, the basement dungeon isn't always available, so sometimes, you have to settle for the next best thing.
The name may be a twist on hell hole, but the website design is far from one. The dark aesthetic matches the overall vibe perfectly. It looks like you're visiting Necromonicon.com, and in a way, you are. There's no literature to read, but you're seeing the ideals play out on screen.
The main menu is split into two parts. One runs along the top and the other down the left side. The menu on the top has the options Home, a Search bar, Upload porn and earn money, Telegram channel, Log in, and Sign up. The left menu has the options Home, All films, Popular, Categories, Actors, Studios, News, Help, Order film, Upload porn film, and Up.
The order film selection is an option more porn tube sites should have available. In it, people can make requests for porn they have been trying to locate. So toss it into the cloud and see what happens when you need something done. And while you're there making a request, look over some of the titles other people are looking for. Perhaps if you pay it forward, karma will be on the side of your penis.
Paradisehill gets its content from a wide range of studios. Some put out all sorts of content such as Bangbros, Team Skeet, Reality Kings, Nubile, and Digital playground. Others are focused purely on BDSM, like Evil Angel, Devil's Films, Max Hardcore, Wicked, Pure Taboo, and Jules Jordon Video.
The news on Paradise hill usually focuses on technical problems and updates. For example, the video player was recently updated, making watching porn on the site even easier and more enjoyable.
There's so much fucking content on this site. It's loaded to the brim with the most depraved videos ever created. Your penis won't know whether to cry, cum, or scream. Mine usually does a blend of all three.
I can't wait any longer to jump into some of this content. Let's see what has been added recently. Someone really loves watching tiny white cunts get torn asunder by huge black dong. The last six videos to be uploaded are from the "My Daughter's Fucking Blackzilla - More Meat Per Square Inch." I don't even know how these bitches are surviving filming. They must get carted off to the hospital in a stretcher after they are done for the day.
Why is it that white America loves watching black dudes fuck the innocence out of their next generation? I think sociologists and historians would have a field day answering that question. Unfortunately, as a simple PornDude, I don't have the education required to make any theories that hold weight amongst scholars, but as a BDSM fan, I recognize self-flagellation when I see it.
"The Adopted Daughter - Family Secret" captures the range of content on Paradisehill. I would have never thought they would host biographies, but here we go. To be more precise on what the film is about, they should have included Woody Allen's name in the title.
I'm glad they didn't go for realism when they chose the guy playing Woody. Nobody wants to see that man fuck a young impressionable teen. No one wants to see him fuck anybody. I'd rather watch a commuter train fuck the cast of My Six Hundred Pound Life while footage from a house fire plays in the background.
Speaking of Woody Allen, he would probably love the movie "Teen Hiking Abduction." The tag line says it all, "Caught in the woods, and taken to a remote cabin... it's time to give in to the wild." The dude on the cover looks like a generic brand William Defoe. AKA one of the few men people want to fuck as little as Woody Allen.
This instant classic gives us three separate stories of innocent girls out for a walk in the woods that get attacked and kidnapped by diabolical Ranger Brick. So-called because he has a cock like a brick. Despite these ladies being small and naive, they must be destroyed by massive throbbing cock.
My readers love to imagine being dominated by big strong women. It's similar to white men's urge to self-flagellate with long black cock. You guys know you are a bunch of pussies that deserve a beating from a woman more masculine than you are.
WWFuck
"Evolved Fights Mixed Wrestling" is a great way to live that fantasy. The rules are simple: no standing, no strikes, six-minute rounds, and three judges score the fight out of ten points.
Outside of no striking, almost any other method can be used. This includes but is not limited to body slams, leg sweeps, hand jobs, blow jobs, and pussy fucking. I personally have never used those methods in a bar fight, but they would work according to these videos.
There's an ample supply of perverted remakes on Paradisehill. Sisters of Anarchy is one of my favorites. Ever since I saw the original series, I have imagined the orgy that could spawn from the cast. This title is the closest I will ever come to that dream.
Another one of my favorites is the Harry Potter remake "Harry Pornter." The name could use some serious work, but the film is excellent. It stars some of the hottest names in porn, including Brooke Blue, Ella Mai, Danielle Maye, Nina Lee, Sensual Jane, and Stacey Lacey. The only thing better than a solid pair of handcuffs is a magically conjured pair of solid handcuffs.
Who doesn't love a good gang bang? Running a train on a bitch is one of life's most precious activities. Unfortunately, my readers could never perform under such pressure. They can barely perform while masturbating by themselves, let alone surrounded by six other guys.
That's alright. Videos like "Gang Bang Fever" are here for you. This title features five dudes ranging in age from twenty-five to fifty-five running a train on a sexy teen. By the time they are done with her, she has become a cum puddle.
Teens aren't the only kind of bitch that like to be gang-banged. Grandmas want to be dicked down also. "Oma Gang Bang" gives a look into what that looks like.
These grandmas might be old, but they sure do have big perky titties for their age. The thing about fucking grandmas is that they know what they are doing. This isn't their first rodeo, and over the years, they have mastered the art of riding dick. Nothing can stop them from making a man cum.
Paradisehill is far from a hill in paradise. There's no way humans are allowed to do any of this shit in heaven. This is the type of shit God does to the dumbasses he puts in heaven. It's the porn version of a kid with an anthill. If you give men complete reign over the female body, this is the result.
Paradisehill is one of the best fetish sites on the net, so I don't have much to complain about. However, there are still a couple of additions that could take place over the edge. First off, why hide the link to my site at the bottom? How savage. Second, I would love to see them add photo galleries to their extensive video collection. Pictures of BDSM can be just as powerful as films.
Don't you want to learn more about Woody Allen, Harry Pornter, and gang bang grandmas? I certainly do, and now you know where to do it.
Extreme content
Lack of ads
Dark template
No photo gallery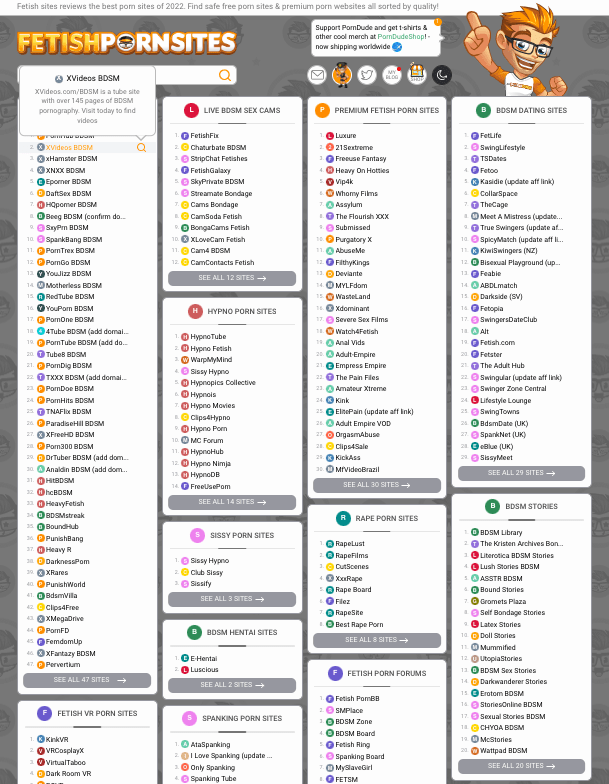 47+ Free Fetish Porn Tubes LIKE ParadiseHill BDSM