Show
47+
sites like

Porn300 BDSM

:
Porn300 BDSM
Porn 300 doesn't immediately hint at BDSM with the site's title, but it's ambiguous enough that you might suspect some of the porno contained within is of the rough variety, the kind with whips and ropes and blindfolds. You'd be right, too. Honestly, any tube of this size is bound to have some bondage movies in its archives; the big question is always "how much?" That's why I'm digging the silicone fist out of the closet today, along with the numbing lube with a bit of topical anesthetic. I will get to the bottom of this, whether it takes me all night or makes me walk with a limp for the rest of the week.
While it may not be one of the most well-known video libraries on the internet, overshadowed by powerhouses like Pornhub and XVideos, Porn300.com has maintained a slot within my top 50 Free Porn Tubes over at ThePornDude for a while now. Top-fifty might sound like some truly half-ass bullshit until you consider the internet consists of like 50% free porn tubes, at which point you realize these guys are doing just fine compared to the thousands of similar sites I've never mentioned. Just look at their nearly 50 million visitors a month if you aren't convinced.
This isn't ThePornDude, though, so I'm not going to talk about all the amateur bedroom hookups, lesbian muff diving adventures, and step-sibling threesomes that Porn 300 is hawking all over their front page. No, this is FetishPornSites, so I will focus on some of the kinkiest material these guys have to offer. To play along at home, click my link or type BDSM into the search bar at the top of Porn300. So who's ready to get freaky?
How Many BDSM Movies Are There in Porn 300?
I assumed Porn300 was founded early on in the 21st century, considering their name and logo are a riff on the epic historical action film of 2006, based on the 1998 Frank Miller comic. Unfortunately, it turns out I was off by a good decade since the domain wasn't even registered until the very end of 2016. Still, that's a nice, long run for any site on the internet, let alone one with basically an endless amount of competition.
A massive element of their enduring popularity is just their enormous catalog. The site runs on user uploads, and with such an extensive user base, they've got a fucking shit-ton of uploads. Their entire library has well over 200,000 movies.
BDSM is arguably more popular than it has ever been. It's been pushed into the mainstream by fluff like Fifty Shades of Grey, and I also feel that the rise of OnlyFans-style amateur content has also increased interest in non-traditional flavors of smut. That said, it's still a niche, which means it's only going to be a small fraction of any all-encompassing pornography library.
When you start with such a huge pie, though, the slices are absolutely fucking enormous. As of this writing, Porn300.com has around 4,000 free BDSM movies in its collection. I hope you're really horny and that you like it rough, painful, degrading, and humiliating. Otherwise, you've definitely come to the wrong place.
What Does BDSM Mean to You?
If you're into BDSM, the chances are you have some pretty specific preferences. There's no one-size-fits-all kink, no general "fetish" category that will appeal to all fetishists, no matter how convenient that might look on the Categories page of your random porn tube. The numbers may sound promising, but you're probably still wondering just what kind of dirty movies I found on Porn 300. "BDSM" can mean a lot of different things.
And yeah, it means a lot of different things here, too. I see a sexy redhead bound, gagged, and hanging from the ceiling on the first page of search results. In the video beside it, a woman is in control, manhandling a helpless guy's cock and balls, which have been tied up elaborately with rope. There are blindfolded babes being boned and restrained men getting pegged. I see blonde punishment, bound lesbian anal, Asian rope bondage, and a couple of Latinas giggling as they straight-up torture a guy strapped firmly to a table.
In other words, their BDSM section encompasses a wide range of kinky play. There are maledom and femdom aplenty and mixed groups dominating their victims. There's amateur fetish content, professionally shot bondage flicks and a lot of middle ground with unknown actresses in twisted situations. I even found some hentai and CG bondage movies, so it's a lovely mix of content for those with perverted minds.
If I have one complaint about the presentation, I'd say they need some more filters because they lack some basic options you find damn near anywhere. For example, the BDSM search results seem to be laid out in order of popularity or hotness, which are both kind of vague, random metrics. I especially wish there was a way to reshuffle the pile by upload date so that you could see the newest Porn300 bondage movies first.
If they had a date filter, I could also tell you how often Porn300.com gets new BDSM flicks in the collection. As it stands, I can only guess. However, the site does have enough activity that I feel comfortable telling you they're adding fresh bondage movies all the time. But as far as precise numbers go, your guess is as good as mine.
Getting Your Kicks to Porn 300
I didn't immediately start recognizing pornstars in Porn300.com's BDSM section with the default sorting method. But I know that the site is crawling with famous video sluts and that they do sometimes star in the extra-kinky fare, so I wonder what this little factoid says about kinksters and their choice in smut. I'd wager it means they like things harder than the random bondage-themed movies the big studios occasionally put out.
It all begged the question of just where I'd begin my fap test of Porn 300's BDSM flicks. Do I want to see a woman ball-gagged and fucked, or should I tune in to watch a fat guy get tied up and kicked in the balls? Will it be something shot in a darkly lit dungeon with a stern mistress or a domestic scenario of hardcore domination starring a housewife and a hubby?
I decided to play a little roulette game, turning my head and spinning the mouse around a little before clicking randomly. I landed on a four-minute amateur video called Dude Tied Up In BDSM Porn. I'm guessing it's a husband and wife or a couple of swingers because it's clearly shot in somebody's basement, outfitted with a big wooden X. The guy is currently strapped up with a metal apparatus around his ding-dong.
It's a relatively low-res clip, which is expected from amateur porn. The babe spins a cat-o-nine around in a circle, smacking the dude's boner repeatedly before going in for some harder shots. Sometimes dudes in CBT videos take it without flinching, but this guy shows more and more pain as she goes harder, grunting and squirming. I think they really are husband and wife because she gives him a vicious shot after complaining about the weekend.
The scene captures the eagerness and intimacy of a good amateur video, along with the major power imbalance you want in a good BDSM movie. She tests his limits with something between cruelty and tenderness, mixing the pleasure with the pain. It's a hot clip if you're into it.
"If you're into it" is kind of the game's name on any fetish porn site, isn't it? The video description above has either made your dick shrivel back inside like a frightened turtle or got you so hard and drippy you quit reading this to go find that very video. Even if that bit of female-dominated pornography did nothing for you, there's almost certainly some male-dominated business that'll get your heart rate up and your dick smacking the bottom of your desk. Or maybe you're a switch, in which case you can enjoy the best of all worlds.
If you're into it, that is. Porn300.com has been around as long as they have by serving up a ton of what people want to see. For most of their visitors, it's the usual bunch of relatively vanilla blowjob flicks and reality porn lesbian videos. For you, though, and other BDSM fans like you, they've got thousands of videos that push all kinds of limits. Where's yours?
Free porn tube with a big BDSM section
Around 4,000 bondage videos
Wide range of kinky activities
Tons of users, tons of updates
Hot amateurs, fetish models, and pornstars
The site could use some more filters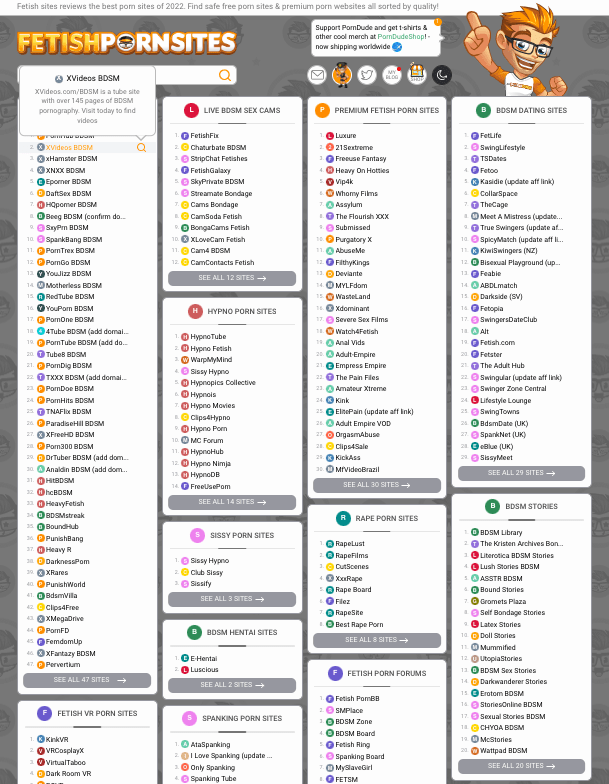 47+ Free Fetish Porn Tubes LIKE Porn300 BDSM