Show
47+
sites like

PornHits BDSM

:
PornHits BDSM
Porn Hits! A considerable portion of my readership is into BDSM because BDSM represents everything my readers are not. It's the ultimate display of control over a slut, and you fucks have zero control over sluts. It requires a lot of trust between partners. No one trusts you, assholes, least of all women. And you have to be able to afford tools such as surgical tables, mock guillotines, and speculums. You bastards can barely afford a gordita from taco bell, let alone surgical implements.
Regardless of those truths, you guys return to BDSM porn over and over again. It gives you that taste of something you can never have. But, hey, don't beat yourself up too much about it. You should be happy you live in this generation. Imagine being in the seventeenth century when women would not only refuse to fuck you, but you couldn't see them on the net either. You guys would probably jump into the ocean.
BDSM also represents what life has been doing to you bastards all these years. Life has had you bent over its knee since you came out of the womb. You've only known spanking since day one. It's been so long now that to get an erection; you need to see someone being fucked by life harder than you.
There are some variants of bondage you guys seem to like more than others, for example, breast bondage. Breast bondage is a double whammy. First, it gives you control over a part of the women's anatomy you crave. Second, it makes the titties look larger, swollen, and ready to be sucked on by perverts like us. It also turns the tits to a royal purple color. Purple is the color of royalty, you know.
Another example is mummification. Mummification is when a bitch is totally wrapped up, unable to move. This is often accomplished with plastic wrap so that others can still enjoy their naked body. Once again, this gives the man an unending sense of power over the situation. A mummified bitch can't do anything you don't let her.
It's also a great variant of BDSM to combine with other aspects. For example, once a bitch is immobile, you can edge her, poke her with needles, whip her thighs, throat fuck her, and generally be an asshole. You can even use your asshole to be an asshole.
Bananas are for More than Your Asshole
My readers' assholes are disgusting. That's because my fans aren't the type to eat their vegetables. Instead, they stick to a high sugar diet that completely lacks life-giving nutrients. Perhaps you guys should ponder alternative ways to get your days minerals and vitamins.
One option is rhaphanidosis, also known as sticking a radish in your ass. Why radishes? That's an excellent question. The practice originated in ancient Greece as a punishment for sodomites and adulterers.
I feel like it's not really a punishment. Wouldn't you enjoy a radish if you like having a dick in your ass? They aren't particularly dangerous looking. I imagine even an anal virgin might be able to get one in there.
What my readers crave the most is a sexual slave. My readers want a bitch that isn't allowed to say no, no matter how horrific the act or how unappealing you are sexually. Ownership of a sex slave is the only way you could ever hope to have steady access to pussy. Fortunately, there are plenty of women who enjoy being slaves. But, unfortunately, they just don't want to be your slave.
Some bitches will, though. They will see your revolting body as another aspect of the kink. If she had any choice, she would choose to never fuck you, but she must because that bitch is enslaved.
While there are realities in the multiverse where you come to own a sex slave, they are few and far between. You're much better off sticking to BDSM porn and crying yourself to sleep at night. So try to make sure you don't get tears on your keyboard.
If BDSM is on your porn menu today, I recommend visiting Pornhits. Pornhits is a tube-based site that offers a wide selection of porn. While the whole library is terrific, I will focus on the BDSM content for this review if you can't tell.
While not purpose-built to house BDSM porn, they still manage to cobble together one of the best BDSM collections you'll ever find. I even think someone in charge of locating content for the place has a kink.
Pornhits gathers its videos from all of the best porn studios. That includes Zenporn, Brazzers, Reality Kings, Blacked, Naughty America, Fakehub, Mofos, Team Skeet, Czech AV, X art, and Bangbros Network, among many others.
The main menu sits up top and contains the options Home, a Search bar, Upload, A link to the best porn reviewer, Videos, Categories, Pornstars, and Pornsites.
Down the right side is a massive category checklist. The checklist gives you the ability to choose multiple categories at once. Instead of just looking up BDSM, you can look up big titty BDSM. It makes finding content so much easier.
Category checklists are one of those features that every porn site should adopt. It can clean up a menu in a heartbeat and negates the need to have both tags and categories. Plus, it's easy as fuck to pull off. You won't need to hire the best programmer ever to get it done.
Speaking of big tit BDSM, the two stars of "Devils Film - My Husband Brought Home His Mistress #16" have a titty surplus. I bet all you married fucks would kill someone if it meant your wife would let you bring home a mistress. Especially a teen with fat, suckable boobs.
Not only does this bitch let him have his mistress, but she joins in on the fun. I don't know who is enjoying themselves more. I think it might be the teen. She's getting her pussy blown up like Bikini Atoll by a dude old enough to be her pops.
Christmas Wishlist
There are few things I love more in this world than holiday-themed porn, and "Horror Porn - Bad Santa / Horror Porn 26" delivers in spades. This Santa is more than bad. He makes Billy Bob Thorton look like a fucking saint - this is an evil Santa.
Evil Santa starts by fucking a bitch while she sleeps. I'm not sure what this cunt is taking to help her go to bed at night, but it must be strong. This Santa is railing the shit out of her, but she doesn't so much as a rustle. I expected to see a half-blown line of Ambian on her nightstand.
After Santa finishes fucking this sleeping bitch he moves everyone in the house down to the living room and in front of the Christmas tree. Now that the family is together, he starts fucking the daughter with a giant fake candy cane. If it's the kind with a hollow tip, I know it's got to hurt.
After the candy cane foreplay, Santa's dick is hard enough to start fucking again. While balls deep, he starts looking around the room and finds a plate full of cookies and milk. After eating a cookie, he dips a dildo in the milk for lube and starts pounding this cunt with it. To be honest, I don't think the milk helps much.
The Horror Porn series is one of the best on Pornhits. "Horror Porn - Predator Dick Hunter / Horror Porn #49" is another of my favorites. After seeing The Predator, you can't tell me that you didn't wonder, "what does that mouth do?" According to this film, it sucks the fuck out of a cock.
The movie starts with a couple of soldiers exchanging fire with the Predator and ends with them firing loads into the Predators' mouth. As I always say: all's well that ends well.
Pornhits is a perfect website selection no matter what type of porn you hope to watch, but it's particularly well suited for BDSM fans. They have a selection of films you will have never seen anywhere else.
I love the website design. The checklist-style category list makes finding porn so easy that you won't ever want to stop. It's a good thing, too, because they source material from all the best porn studios, including Horror Porn and Team Skeet.
The only complaint I can make against Pornhits is the ads. Not only are they pop-ups, but they are one of the worst kinds. When you click on content, you're moved to a new window. That new window has your selection, but the previous window replaces Pornhits with an ad. So if you want to return to the site, you must bring up the ad and hit the back button. It's a less than ideal situation.
My readers love BDSM porn, and Pornhits has more than enough to sate all of your desires.
Holiday characters and film remakes
Checklist style category list
Extreme content
Pop-ups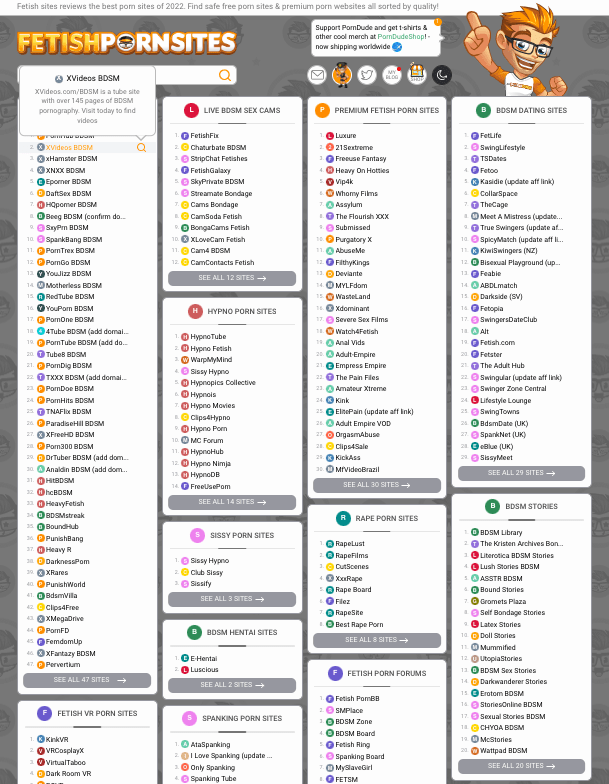 47+ Free Fetish Porn Tubes LIKE PornHits BDSM