PornTube BDSM (add domain webmaster program)
Show
47+
sites like

PornTube BDSM (add domain webmaster program)

:
PornTube BDSM (add domain webmaster program)
I love me some BDSM. I think every masturbator does at some point in his life if he keeps a steady beating schedule. The more porn a man consumes, the more stimulation he needs. And the best way to get that stimulation is to watch more extreme content. BDSM's middle name is extreme, so it's the perfect way to take your porn up a notch or two… or five.
Every BDSM aficionado has his own preferred brand. There are a thousand and one options, so no matter what dark dreams your penis has, you can find relief for it somewhere in the community. I put more work in than most, so I wouldn't say I have a favorite as much as I would say I have a bunch of favorites.
No matter what variant of BDSM I might be watching, cum torture is a part of it. I don't know what it is about the denial of cumming that makes me want to cum so badly, but I'm glad for it. There's nothing better (or worse) than being tied up with no control while a bitch takes you right up to the edge before backing off and forcing you to imagine what it would be like to cum right now.
In another version of cum torture, a bitch will just barely take you over the line of cumming but then let go of your cock. These are called ruined orgasms. You will never beg to be touched more than when your cock is cumming all alone. The sly, knowing look a bitch will give you while she does it makes it worse.
These cum tortures are best done when tied up. Whether it be a bitch that's tied up or the dude, I love it. The lack of control is exciting for both participants. When some cunt ruins my orgasm, you can bet I'll get my revenge eventually. Not only will I be ruining her orgasm, but she will also receive a thorough spanking.
What Did the Five Fingers Say to The Ass Cheek?
Spanking is a classic form of BDSM that almost everybody takes part in. It can range from a little hand pat to brutal paddling with boards, chains, and whips. Afterward, the booty can either look rosy and blushed or red and bloodied. I bet you can guess which one I prefer. When I'm done spanking a bitch, she can't sit down for a week. She won't even be able to wear pants without her coagulated blood, causing her clothes to stick to her wounds. This isn't a fucking game, bitch.
Cages are a great option if your knot skills are lacking, but you still want to lock a bitch up. They contain and trap a bitch without your needing to be an experienced sailor and fisherman. Also, barred cages leave plenty of room to fit your cock because there's only one way a bitch is getting out of this predicament: by sucking and fucking my cock properly. Otherwise, she better plan to live out the rest of her days in my basement dungeon.
My readers know we have barely scratched the surface of where BDSM can go in more extreme circumstances. Bodily fluids are a considerable part of the community, and I'm not talking about pussy juice and baby batter. I'm talking about piss and shit. Piss and shit sound extreme, but it's a popular aspect of BDSM. Enough so that it comes in many different flavors.
Some guys just love how degrading it is. You can't disrespect someone much more than by pissing in their face. It makes a bitch feel like she is worthless scum, no more appreciated in this world than a full porta-potty. Have you ever seen a bitch's tears mix with your urine on her face? It's really a sight to behold.
On the other end, many men of wealth and power, such as CEOs and politicians, are tired of being bosses by the end of the day; they want to be the ones disrespected for once. Everyone in these men's professional life sucks their cock and would never say a word against them, let alone urinate on their face. So when these types of men get home and into the bedroom, they don't want to continue being powerful. Instead, they want to relax and be degraded and disrespected. Perhaps the shortest route to that result is a bitch using you as her personal toilet. It only takes a second, and the results are immediate.
Given the popularity of BDSM content, there are plenty of places to find it on the internet. Not only are there dedicated websites, but almost any regular tube site will have it in their library. As with most things in modern life, the problem isn't that there aren't enough options. It's that there are too many. There are a billion places to get the BDSM content you crave, but those places often suck ass. Don't worry—that's why I'm here.
Porntube is one of the most well-known names in porn. While they are not a dedicated BDSM site, they have a fantastic selection. Plus, you get to deal with a veteran website that knows what the fuck they are doing.
In the years Porntube has been in the industry, they have developed an excellent site that is both functional and looks great. They have also expanded into a network of websites, including 4tube, Pornerbros, and Fux.
The main menu sits up top and includes the options Search bar, Settings, Sexual preference, Log in, Sign up, Home, All videos, Categories, Channels, Pornstars, Playlists, Bang, VR porn sites, Live Sex, and Porn deals. The settings include a day and night switch and a thumbnail video preview switch.
Below the main menu is a filter to help narrow down your search past just BDSM. You can organize content by either most popular or most recently added. You can also filter by upload date, video quality, and duration. Between the two, you will be able to find all your favorite BDSM porno.
Below the filter is a fat stack of yummy thumbnails. There are around five thousand videos in Porntube's BDSM collection, and each is better than the last. If you scroll below the thumbnails, you'll find a list of suggested channels such as BDSM XXX, Wasteland Exclusive BDSM Videos, and Hell of BDSM. Finally, at the bottom of the page is a list of related searches such as BDSM domination, BDSM lesbian, BDSM hardcore, and BDSM anal.
Let's take a peek at some of the most popular content to give you an idea of what's happening here on Porntube. Despite it not having the best video quality in the world, "Slave Girl BDSM Practice" is one of the most viewed videos, and it's easy to see why. This little cunt is ready to be a slave to a man who will use her as an object to make him cum and nothing more.
It starts with a man in a gimp mask demanding his already tied up slave to bend over his lap for a round of lively spanks. Once her cheeks have been adequately abused, he forces her into a cage and locks up the door. Because of her tied-up hands, she struggles to get inside. She is eventually let out, and I'll let you imagine what happens next.
Teeing Off On Your Pee Pee
On the other end of the spectrum, we have "BDSM Dominatrix Beauty." This one starts with a man wearing a ball gag while locked in a cage. A buxom blonde circles the cell talking shit. Eventually, she's nice enough to start stroking his cock a bit. After getting him going, she drags him out of the cage, lays him down, and pulls out a fucking golf club. She makes like she's about to hit his balls out of his throat but makes the last-second decision not to neuter the fellow.
There are many places to get your fill of BDSM porn, but few are as good as Porntube. These guys have been around forever, so it's no surprise that they have developed such a fantastic website. Navigation is simple, and everything is where it feels like it should be. They have a large selection of BDSM content and the filters required to find what you are looking for. You will love the lack of ads and the stellar video quality.
Just because they have been around forever doesn't mean that the place is ideal. There's still room for improvement. For example, I think they could expand the filter a bit more to include tags so that you can filter for tit size and the like. What can I say? I'm a man who loves detail.
Porntube can meet the needs of even the most demanding BDSM fans. Not only that, but they have a wide selection of all porn variants.
Vets
Great web design
Lack of ads
Needs to expand filters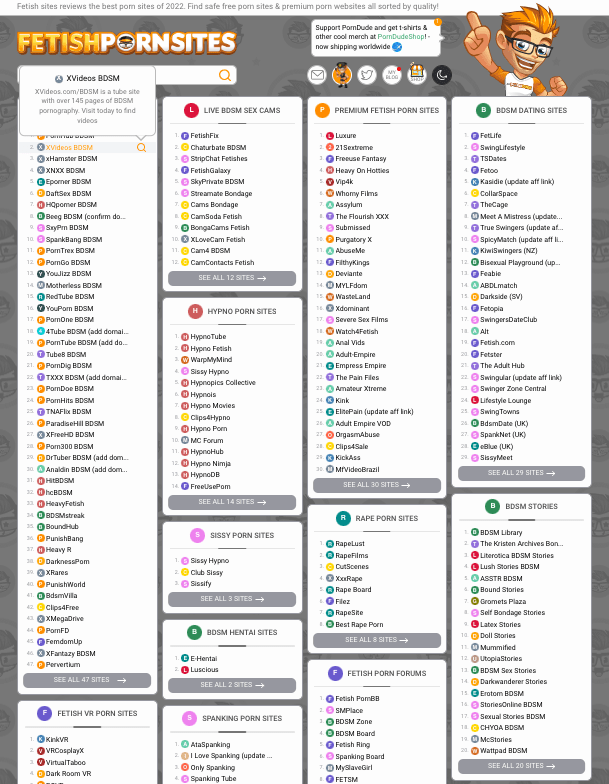 47+ Free Fetish Porn Tubes LIKE PornTube BDSM (add domain webmaster program)